Thick and creamy vegan coconut pudding made with just 5 ingredients in 1 bowl! Naturally sweetened, easy to make, and perfectly balanced taste and texture! Great as dessert, breakfast or snack, this coconut pudding can be easily upgraded with different extras.
I hope you'll LOVE this recipe! It's:
Vegan
Nourishing
Creamy & Soft
Thick
Naturally sweet
Easy to make
& Super delicious
Wholesome
So Good!
Ingredients list
Coconut Butter – coconut butter has a thick creamy texture that is the base for our raw vegan pudding.
Banana – perfect to add a bit of sweetness to our pudding, plus it blends perfectly with the coconut butter texture.
Coconut Oil – coconut butter jars come with a bit of coconut oil on top, this being the reason why coconut oil got included in this recipe.
Peach – delicious flavor and perfect texture for our pudding.
Cashew Nuts – a delicious way to add a bit of crunchiness to this creamy pudding.
Cinnamon (optional) – a little goes a long way … and adds a wonderful flavor too!.
Cardamom (optional) – one of my wife's "secret" pudding ingredients … try it and you'll see how it will upgrade any kind oof desserts (and great in hot chocolate too!).
This vegan coconut pudding can be upgraded!
This coconut pudding will be delicious by its own but, in case you want to mix-up the flavors a bit, this raw vegan coconut and banana bowl can be easily customized. Check-out some of my ideas below:
Use fresh mango or apricot instead of peach.
Replace cashew nuts with pine nuts or walnuts.
How about adding a few squares of dark chocolate?
Replace bananas with dates or add 1-2 medjool dates into your pudding.
How about adding 1-2 tbsp of fresh or frozen berries like cranberries or blueberries?
If you like this raw vegan coconut pudding please share it with someone you love … and enjoy it without guilt because it's super healthy! I would appreciate if you could leave us a review and rate the recipe.
What is your favorite coconut pudding recipe? Would you try this raw vegan coconut pudding? Share below!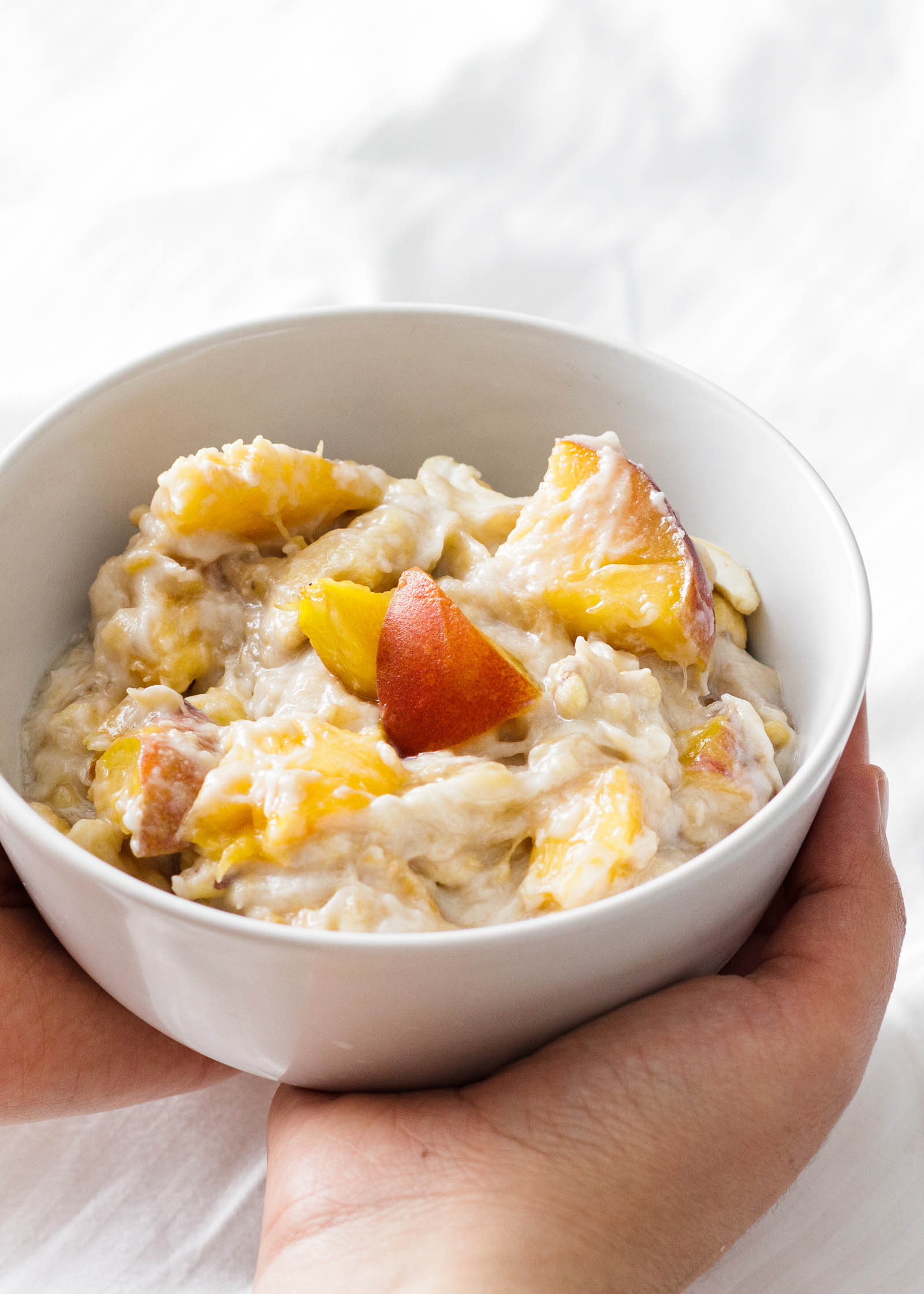 1-Minute Vegan Banana Coconut Pudding
Print Recipe
Thick and creamy vegan coconut pudding made with just 5 ingredients in 1 bowl! Naturally sweetened and so easy to make, this raw pudding has the perfect balance between taste and texture. Enjoy without guilt!
Ingredients
100

g

coconut butter

2

small bananas

(mash with a fork)

1

tbsp

coconut oil

(optional)

1

big peach

(remove seed, cut big)

1

handful

cashew nuts

1/2

tsp

cinnamon

(optional)

1/2

tsp

cardamom

(optional)

pinch of

salt

(optional)
Instructions
Add peeled bananas to a bowl and mash using a fork.

Add coconut butter plus optional coconut oil and combine with mashed bananas.

Throw in peach slices and cashews, and mix them with the pudding.

Separate the content into two servings and decorate with cinnamon, cardamom or with both.

Your coconut pudding is now ready!
More 1-minute raw bowls to love!