Different and sooo delicious, this Apple Cinnamon Raw Bowl was ready in 2 minutes and tastes like a raw cookie on wheels. Sweet and a bit sour, loaded with apple and cinnamon, plus crispy coconut chips, this bowl is perfect as a morning treat or a nighttime healthy snack.
This raw breakfast bowl was AMAZING and here's why:
Smells and Tastes AMAZING
Vegan, Low-carb & Raw
Naturally sweet
Refreshing
Nourishing
Delicious
Different
Breakfast ready
Child approved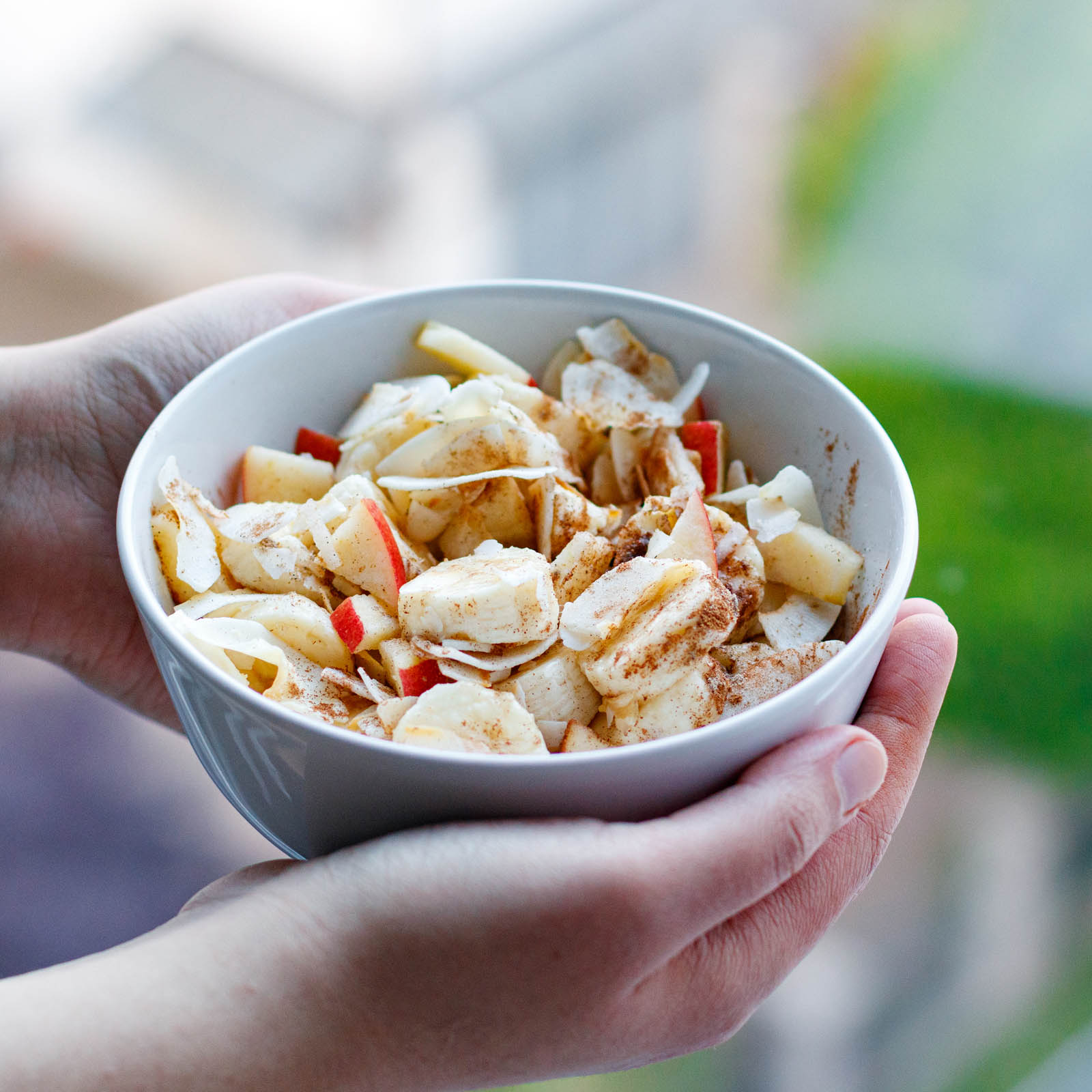 How to make this apple cinnamon bowl
You'll only need a few ingredients to make this apple cinnamon bowl:
Fresh Apple (sweet snd a bit sour)
Coconut Chips (we used roasted coconut chips)
Banana (not to sweet please!)
Cinnamon powder
Cardamom powder
This dessert-bowl doesn't require any kind of special tools or preparation. Just cut the ingredients and add them to a bowl of your choice.
While you're there, you can easily upgrade this dessert with your favorite extras (see next section). Serve with a tablespoon or a fork and enjoy every bite.
Sounds simple enough? Well … that's because it only takes 2 minutes to make but it's worth every seconds. You'll see what I mean once you'll taste the apple, cinnamon, banana, coconut combination. It is absolutely de-li-cious!
Upgrade this dessert to perfection
This simple treat is delicious as is but there are a few ways that you can "upgrade" it to create endless variations. Check-out some of my ideas:
Nuts – I find that adding a handful of walnuts, pecans, or hazelnuts goes a long way when it comes to flavor combinations. Perfect and so easy!
Hemp Seeds – I find 1-2 tbsp of hemp seeds to mix perfectly into this raw bowls (we didn't had any when we made this one).
Dried Fruit – If you want to make it even more special and sweeter (with more electrolytes) add 1 tsp of raisins, 1 dried figs or 1-2 dried prunes to the mix.
Nut Butter – Add 1-2 tablespoons of cashew butter or almond butter on top of this raw bowl. Mix and serve!
Chocolate – Throw in a few squares of dark chocolate and you'll be amazed of the flavor combination. For those with extra courage, use 100% dark chocolate.
Frozen Berries – Personally I like raspberries, but my wife loves blueberries and sour cherries. What's you favorite berry type?
Coconut Oil – If you're looking to make this a favorite while experiencing the keto diet, throw in a tablespoon of extra virgin coconut oil for a boost of healthy fats (MCT Oil works as well).
Crème Fraîche – Add 2 tablespoons of crème fraîche or beat your own whipped cream and add a bit on top of this raw bowl.
This simple dessert is all about healthy nutrients in a small bowl. That being said, I hope you'll enjoy it as much as we did.
If you like this apple cinnamon raw bowl, please share it with someone you love … and enjoy it without guilt because it's super healthy! I would appreciate it if you could leave us a review and rate the recipe.
What's your favorite simple dessert-bowl? Would you try this one? Share in the comments.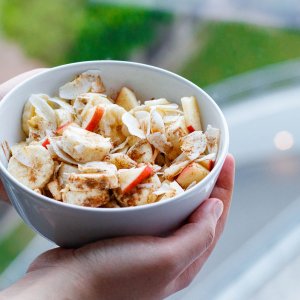 Apple Cinnamon Raw Bowl (Delicious & Low-Carb)
Print Recipe
Sweet and a bit sour, loaded with apple and cinnamon, plus crispy coconut chips, this bowl is perfect as a morning treat or a nighttime healthy snack.
Ingredients
4

small bananas

(slices)

1/2

apple

(cubed)

3-4

handful

coconut chips

(80-100g)

1

tsp

cinnamon

1

tsp

cardamom
Instructions
Add half of bananas, apples and coconut chips to a bowl.

Add cinnamon and cardamon and mix for 10-20 seconds until all the ingredients have combined.

That's it! Do the same for the other bowl.
Notes
We used roasted coconut chips but you can easily use plain coconut chips or make you.
Prepare your own roasted coconut chips from plain normal coconut chip by adding the chips to a skillet and keeping them over medium heat for a few minutes, until they develop a brown-yellow tint. Make sure to steer through using a spatula, you don't want the chips sticking (use a bit of coconut oil if needed).
Other raw desserts to try
Looking for similar options? Check-out these delicious and easy to make raw bowls: