I'm happy to report that our Beet Banana Red Smoothie redefines what a smoothie should be like. Thick and creamy with a deep red color, this delicious smoothie is spicy and sweet, and this makes for a very special smoothie experience. It's one of those smoothies that will keep hunger away for hours … especially if you drink two glasses, like I did!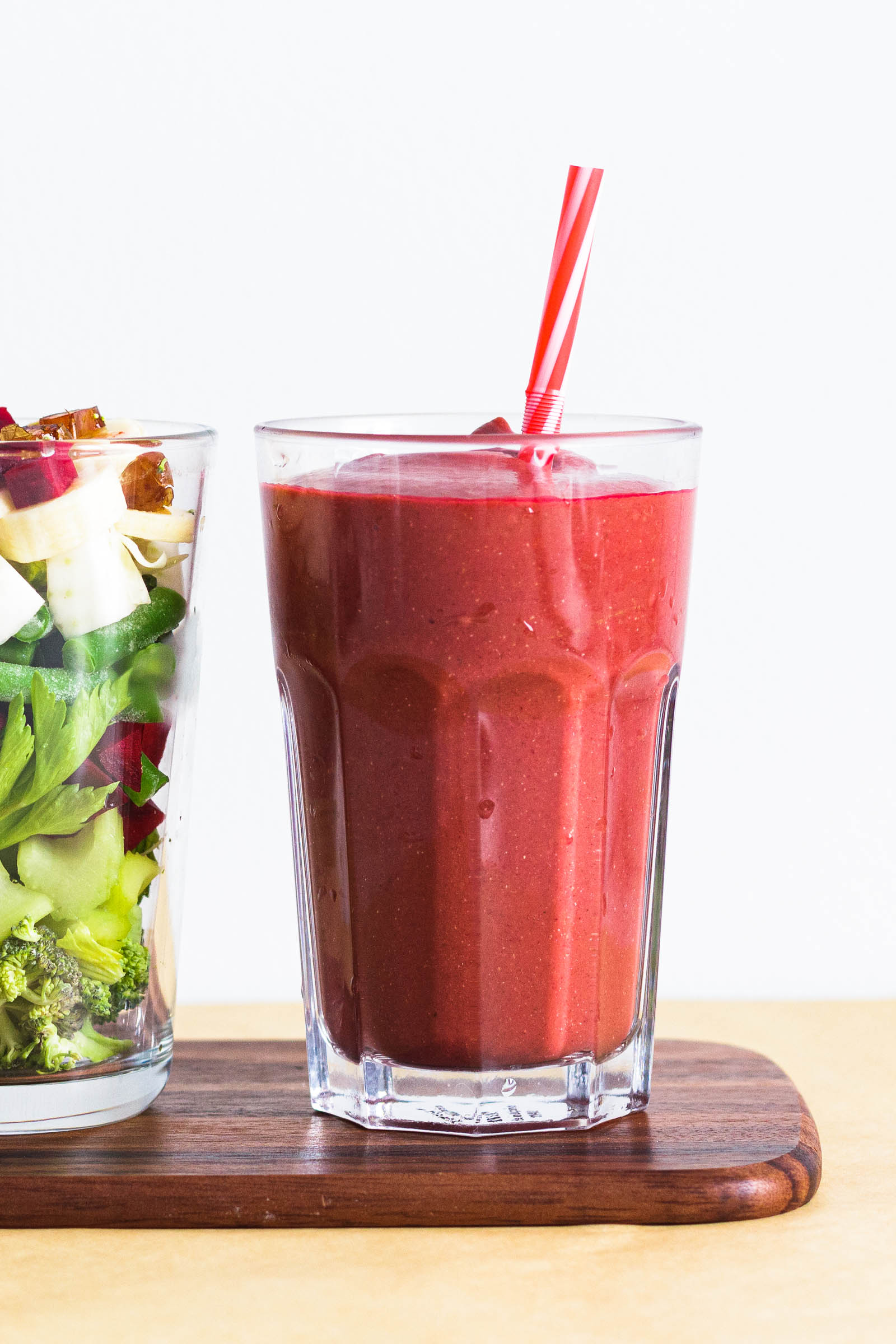 Why you will love this beet banana smoothie
Here are a few more reasons to LOVE this creamy red smoothie. It's:
Plant-Based
Wholesome
Vegan
Naturally Sweet
Deep Red
Creamy
Thick
Well Mixed
Healthy
& Tasty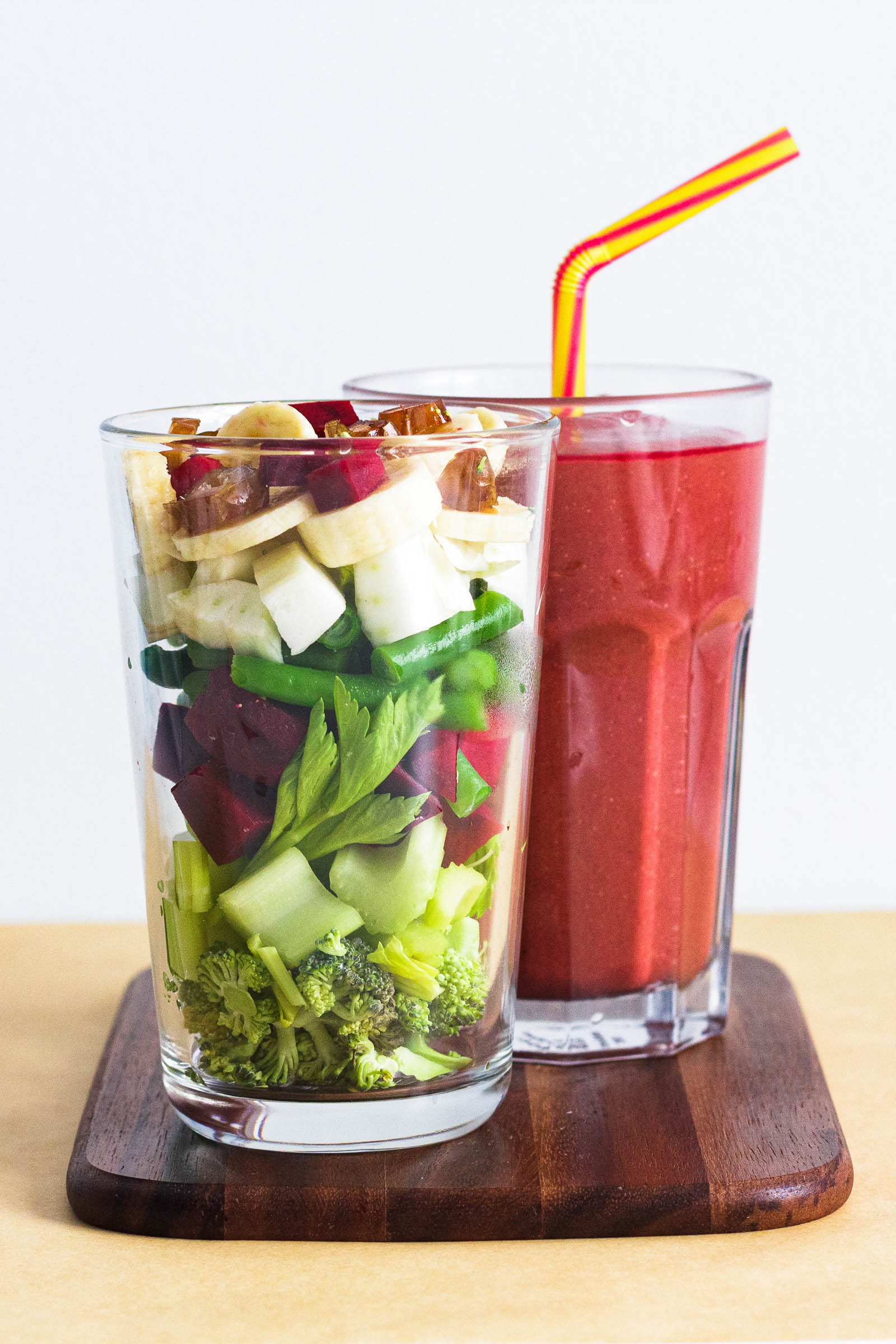 Ingredients for our Beet Banana Deep Red Smoothie
Avocado – The key to making creamy smoothies is using perfectly ripen avocados.
Green Beans (lightly boiled) – I prep my green beans in advance and I always start with frozen green beans that I boil in water for about 2 minutes. After boiling them, I discard the water and let them cool down overnight in the fridge.
Broccoli (lightly boiled)  – Same as with the green beans above, lightly boiled broccoli is a great way to add lots of nutrients to your smoothie.
Carrot – This orange baby is a nutritional powerhouse.
Cucumber – I like using fabio cucumber which is another plant that is "good-for-you"!
Red Beet (Beetroot) – Are you wondering where does our smoothie gets its deep red color? From using raw beets, where else!?
Banana – The best fried of avocado, banana will make your smoothie creamy and thick.
Celery stick – Smoothies are a great way to sneak in high nutrient plants like celery (use celery root or stalk, whichever works fine).
Fennel – Do you know what goes hand in hand with celery? Fennel does!
Cacao Butter – A wonderful aroma and lots of nutrients, especially if you are a cacao lover as we are.
Ginger powder – What a great way to add a lightly spicy taste (and more nutrients) to your smoothie, right?
Cinnamon powder – Cinnamon always adds a subtle fresh aroma to any smoothie (and desserts too).
Turmeric powder – Smoothies are a great way to sneak in some raw turmeric , and powder is great since it's so easy to add it and your blender won't strive to chop it.
Fenugreek powder – Not something that you would normally see in your average smoothie recipe … but why not?
Vanilla Extract – Use either liquid or powder as both work great. Stay away from fillers and added sweeteners by using pure vanilla extract or powder.
Lemon – I like using freshly squeezed lemon zest as a way to balance all those healthy fats but also for its antioxidant properties.
Himalayan Salt – A pinch of salt goes a long way and balances the taste of a smoothie is a very subtle way.
Dried Dates – In case you need more sweetness and/or more electrolytes, why not use something natural instead of traditional sweeteners.
Water – Use just enough water to cover the ingredients and a bit more to help your blender mix everything smoothly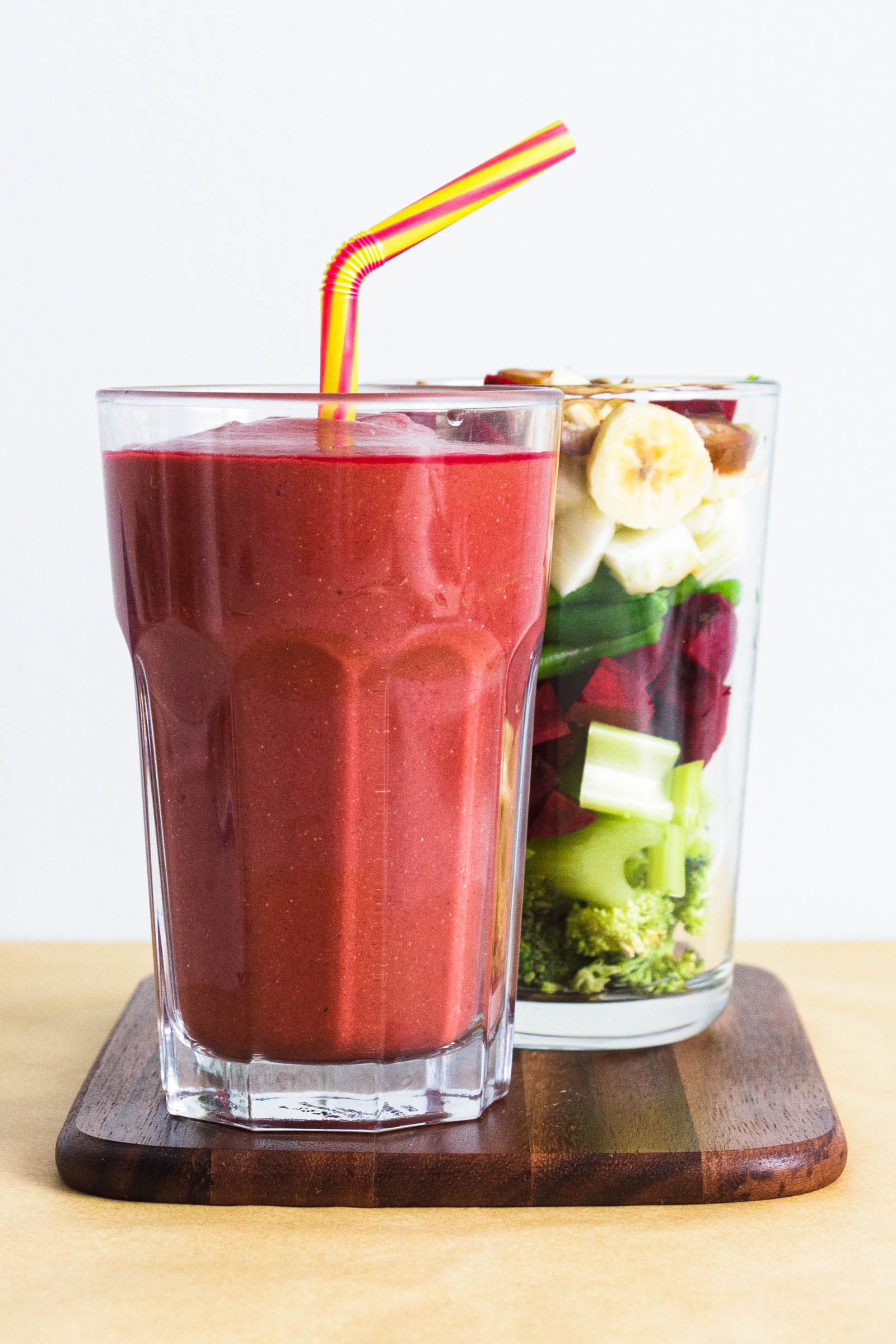 This smoothie is healthy and here's why!
Nutritional powerhouse – This smoothie is made from raw plants that we are designed to eat and digest easily.
Vitamins and Minerals – It's packed with unaltered vitamins and minerals to keep your whole system working in harmony..
Enzymes and Fiber – Raw enzymes, plus soluble and insoluble fiber from all those nutritionally dense plants. These will enhance digestion and support your gut health in many different ways.
Phytonutrients – Raw plants also have phytonutrients which is a fancy name for all those natural compounds found in many different forms in literally all plants. Phytonutrients work synergicslly with all the other nutrients to promote good health of your immune system.
Healthy Fats – This smoothie is low in carbs and naturally sweetened, but also comes packed with healthy fats for healthy everything (since fats are an important part of many cellular processes in the human body.
Lots of Health Benefits – In terms of actual health benefits, drinking a raw vegan smoothie like this one every day will slowly (but surely) add-up to amazing health benefits, Think better sleep, better digestion, faster recovery, perfect mood, good appetite for natural foods, less perception if stress and more calmness, and of course shiny hair and softer skin without eczema,
Health is your natural state
I'm not here to convince you to blend one of these smoothies every day … this is definitely your choice! What I can tell you though is that it worked for me and that's the only reason why I'm sharing these smoothie recipes with you now.
I hope you'll like this smoothie as much as we did. Please consider letting me know what you think about it by leaving a review below. Also, don't forget to @refreshmyhealth on Social Media.
I'm curious to know what is your favorite ingredient to use in smoothies? Mine is beetroot … or banana …ahm! … avocado, maybe? Wait … I know! There are so many different plants out there that it's practically impossible to choose only one, right?!
Thanks for reading and I hope to see you on our next recipe. Don't forget to spread love in the world and to share a smoothie!
Beet Banana Deep Red Smoothie
Print Recipe
Thick and creamy with a deep red color, this delicious Banana Beet Red Smoothie is one very special blend of nutritious vegetables that taste amazing. To be enjoyed as breakfast, lunch or dinner!
Ingredients
2

avocados

(skin and seed removed)

200

g

green beans + broccoli

(lightly boiled, cooled)

1

carrot

1/2

cucumber

2

red beets

(peeled)

1

banana

1

stick

celery

1

big slice

fennel

5-6

tsp

cacao butter

1

tsp

ginger powder

1

tsp

cinnamon powder

1

tsp

turmeric powder

1

tsp

fenugreek powder

2

tsp

vanilla extract

(liquid)

1

slice

lemon

(organic)

1

tsp

Himalayan salt

2

dried dates

(seedless)

600-700

ml

water
Instructions
Add everything into your blender, including water.

Blend on medium to high until everything looks smooth and creamy. If it looks too thick, just add more water.

Serve fresh or store in the fridge for 2-3 days.
Notes
Color: deep red
Texture: just perfect, creamy and thick, well mixed
Taste: sweet (red beets + banana) and a spicy aftertaste (asian warming spices)