This Berries and Beet Spicy Smoothie is like a good wine waiting to be discovered. Much like a French wine, it has that dark red color, pure aroma and a strong taste, leaving your taste buds with a very distinct and pleasant aftertaste that simply makes you want more.
What better way to make your smoothie red than to use berries and beets?! But let's not stop here, let's add some healthy fats for extra flavor … Things like avocado, coconut butter and extra virgin coconut oil will make your smoothie creamy, and super healthy too!
Don't forget to include lots of veggies and warming spices (turmeric, ginger, cinnamon) for added taste and health benefits. This is my recipe for a healthy smoothie!
Healthy fats are always healthy
I really think that getting one avocado a day will transform your life in so many positive ways. The same goes for 1 teaspoon of extra virgin coconut oil, a handful of olives or simply eating coconut in various forms. All those healthy fats will nourish your gut, your skin and basically your whole body, both on the inside and the outside.
Putting things in perspective, if you want to live healthy (and who doesn't?) your goal should be to become fat adapted. This simply means that you have to teach your body how to burn fat for fuel instead of carbs. Do this and you'll be on your way to health. Easier said than done, right?
In our present "modern" society we're taught that all fats are bad and that all carbs are good. We're advised to eat low-fat meals and we're told that fat is the main cause for heart disease, obesity, high blood pressure and basically all the dis-ease out there. Is this true? is this false? Read below.
Well … the reality turns out to be a bit different and a bit more complicated. Let's break down the facts:
we must carefully choose our carbs sources mostly from plants (veggies and mostly low-carb fruits).
we must avoid high-carb meals, and especially added sugar and wheat products.
in fact, we must avoid any processed foods of any kind.
we must consume healthy fats like saturated and monounsaturated fats, eating polyunsaturated fats (PUFA) from fresh sources only.
PUFA oils are tricky and the oils extracted from these fats are dangerous for your health.
we must avoid processed fats like trans fats, oxidized fats, hydrogenated fats and basically all industrially processed seed oils.
The discussion about fats can be a long one and I don't want to confuse you with too many details. My advice is to take it one step at a time and start consuming those naturally occurring fats: things like nuts, seeds, avocado, olives, and coconut. Another option could be to try one of these smoothies loaded with veggies and healthy fats.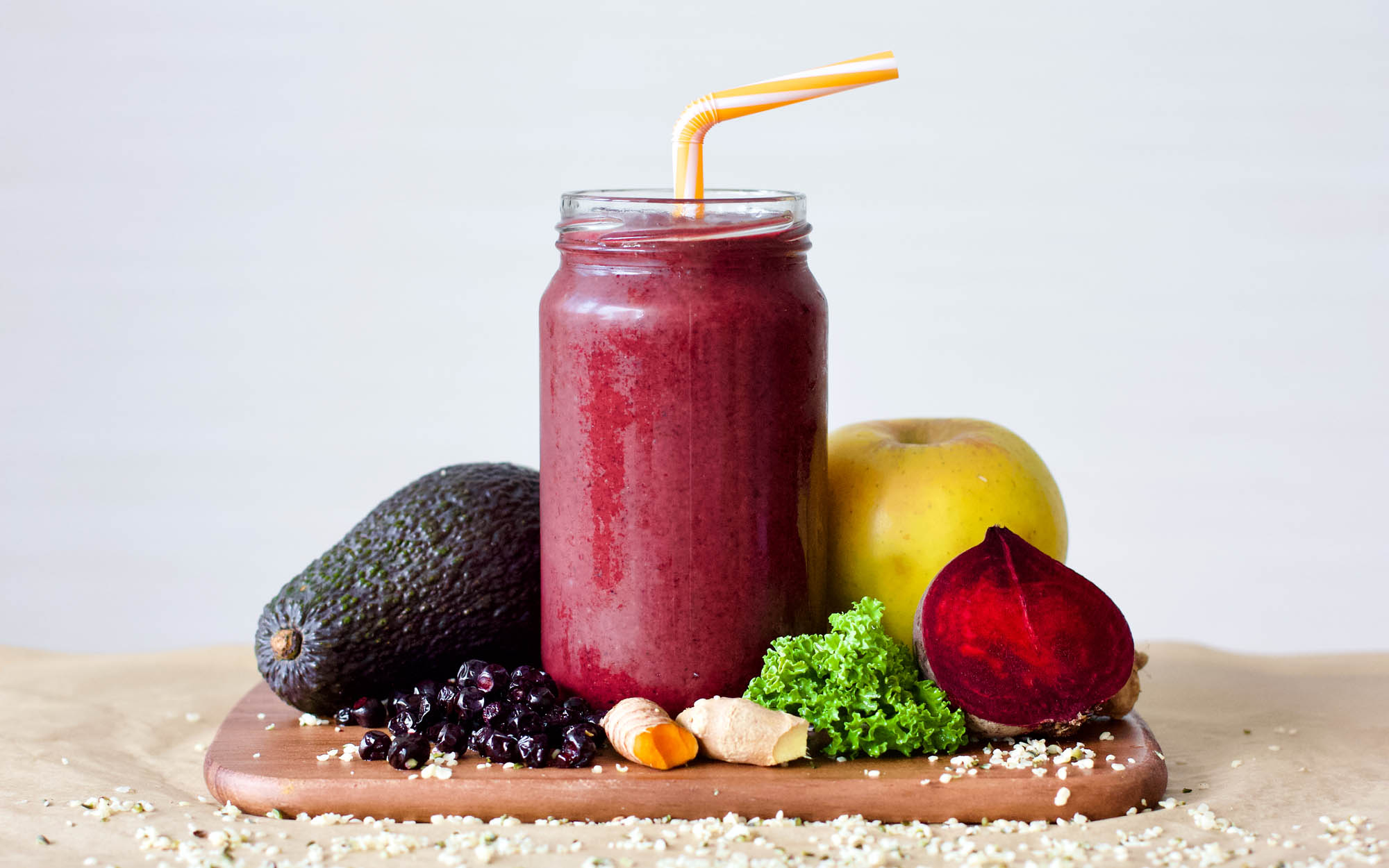 A nourishing low-carb smoothie
I hope you'll decide to blend this berries and beet spicy smoothie because it's:
Loaded with healthy fats
Energy giving
Fat burning smoothie
Spicy and Sweet
& With a Cinnamon taste
Dark red
Refreshing
Creamy
My smoothie is ready now and it simply looks and smells amazing Taking the first sip, I can feel the wonderful aroma of berries. The smoothie has a sweet taste to it, coming from the combination of red beet and berries. It also has a creamy texture and that makes it very easy to drink with a straw, no problems there! The ginger and cinnamon aftertaste leaves my whole body nourished and wanting for more.
I simply feel great when I drink one of these smoothies and, at the end of the day, I believe this is what counts. It may not be the best smoothie out there (since there is no such thing) but for sure it's one of the best I've made in a while.
This smoothie was amazing and it's definitely a keeper for me.
If you decide to try this recipe, don't be shy and leave a comment below. Share a photo on Social Media and tag it @refreshmyhealth so I can follow up with you. Enjoy!
Ever tried a red smoothie like this? What is your favorite type of healthy smoothie? Share below!
Berries and Red Beet Spicy Smoothie
Servings:
4
smoothie jars
Print Recipe
This smoothie is like a good wine waiting to be discovered. Much like a French wine, it has that dark red color, pure aroma and a strong taste, leaving your taste buds with a very distinct and pleasant aftertaste that simply makes you want more. Enjoy!
Ingredients
200-250

g

frozen blueberries

2

tbsp

frozen cranberries

1

big

avocado

(skinned and seeded)

2

carrots

(sliced)

1

red beet

(chopped big)

1

golden apple

(chopped big)

2

tbsp

coconut butter

1

tsp

raw cacao powder

1

tbsp

extra virgin coconut oil

1/2

tsp

cinnamon powder

1

tsp

ginger powder

1

tsp

turmeric powder

1

slice

lemon

(cut in 4, organic)

500

ml

water
Instructions
Add all fruits and veggies into the blender.

Add liquid (in my case water) and blend on medium to high speed until everything looks smooth and creamy.

Pour into glasses and enjoy! You could also store it in the fridge for 2 days and serve later.
Notes
If you're not using an organic lemon, make sure to remove the skin. Did you know that conventionally grown citrus fruits (lemons, limes, grapefruits, oranges, mandarins) are often sprayed with chemicals that accumulate in their skin, making it toxic for human consumption?
---
Color:

deep dark cherry red

Texture:

just right, perfect smoothie texture

Taste:

spicy and sweet with a light cinnamon taste (for the connaisseur)