The broccoli and guacamole plateau is all about eating delicious healthy meals at home, without putting too much effort into cooking. This is a special kind of meal for me and I eat it all the time. It's loaded with broccoli and avocado, two of the most nutrient-packed plants that you can eat, plus it's delicious and satisfying.
Be prepare to enjoy a vegan plateau like no other so let us get started!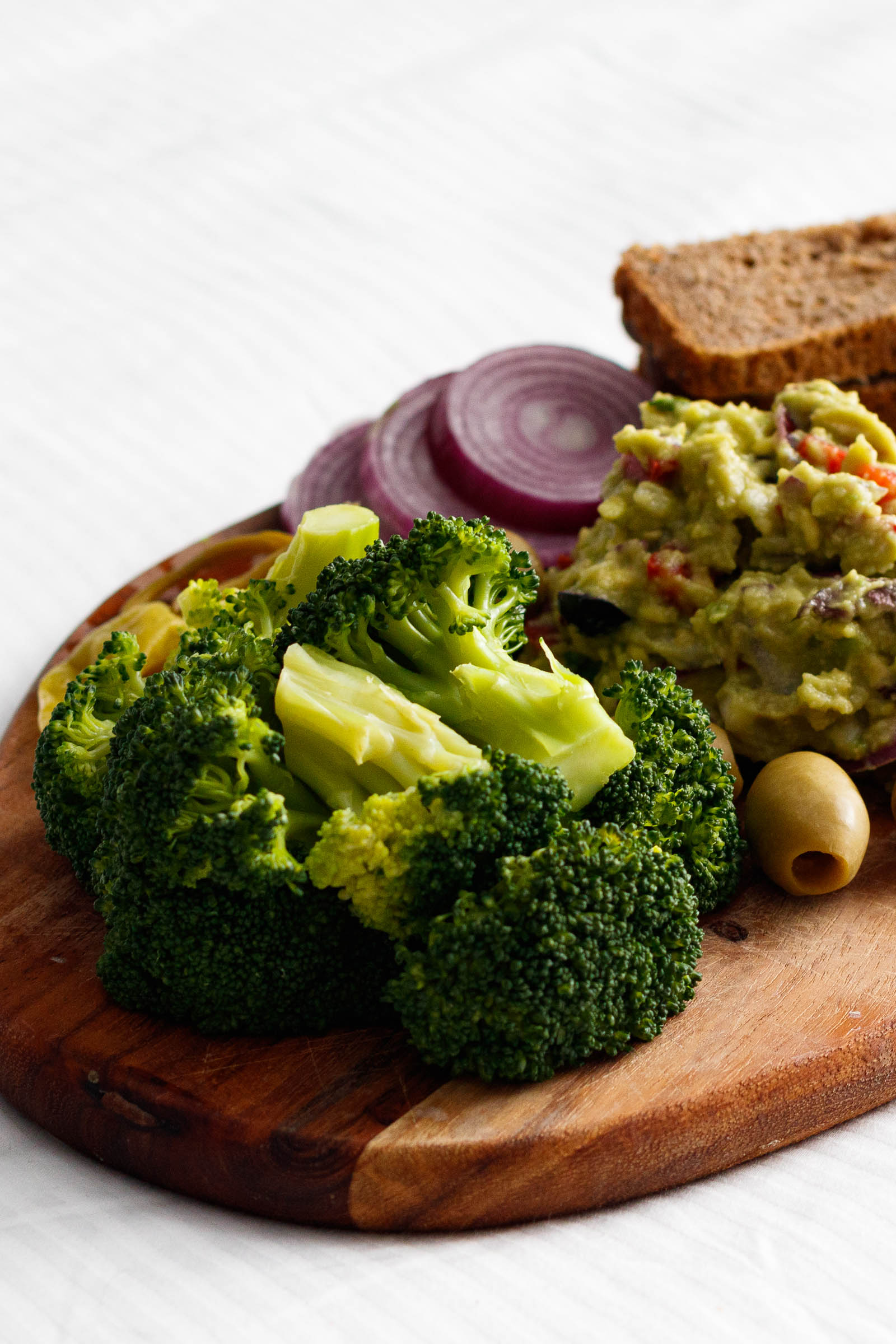 This broccoli and guacamole plateau is:
easy to prepare and family approved
prepared from natural whole foods
loaded with vitamins and minerals
packed with healthy fats from plant sources
comes with plenty of healthy fiber and raw enzymes to enhance digestion
besides the boiled broccoli, this recipe is actually raw
perfect as lunch, dinner or as a healthy snack-meal
easily extendable with your favorite extras
so easy to make that even a child can put it together
coming to you, freshly prepared, in 10-15 minutes
What goes into the Broccoli and Guacamole Plateau
In a nutshell, these are the ingredients that go into this delicious plateau:
Guacamole Recipe

Avocado – you'll be making your own guacamole (always use the best creamy avocado you can find)
Red Onion – delicious in guacamole because it balances those healthy fats
Bell Pepper – we use it to add texture and color to the guacamole
Kalamata Olives – 2-3 of these wonderful salty olives will get your guacamole to the next level
Extra Virgin Olive Oil – great way to include healthy fats and phytonutrients into any meal
Lime Juice – lots of antioxidants to keep those healthy fats from oxidizing when exposed to oxygen
Salt – you know this one already!
Main Plateau
Broccoli – we lightly boil the broccoli in water for 1 minute and sprinkle salt on top
Guacamole – De-li-cious!
Red Onion – a few slices look great and will enhance the flavor of this whole meal
Green Peppers (salty, marinated in brine) – spicy, salty and marinated in brine 🙂
Green Olives – these come with lots of nutrients in a small package
Sourdough Bread – lately I prefer to eat a few slices of organic rye bread, naturally fermented and low in gluten
How to put this plateau together
This must be one of the easiest recipes that you can prepare. It doesn't take more than 10-15 minutes and these are the basic steps to success:
Prepare the guacamole using my instructions in the recipe section below.
Boil the broccoli in hot water for about a minute (I like using frozen broccoli here).
Once the broccoli is ready, drain the water and move the hot broccoli to a separate dish. Sprinkle salt on top and mix a bit.
That's it for the cooking part. Now take your time and arrange all the ingredients on a plate, as seen in my images.
Pro Tip: I truly believe that delicious food is all about balancing the ingredients, making sure that you always listen to your own body. This plateau can be easily extended with your favorite extras. Maybe you want to include walnuts, cashews or maybe a few half-pecans. Maybe you feel like tomatoes and cucumbers today. Or how about jalapenos and pickled vegetables?
Enjoy this vegan plateau with someone you love!
As always, go fresh, local and organic … and don't forget to spread the love by sharing this post!
Broccoli and Guacamole Plateau (Vegan)
Print Recipe
The broccoli and guacamole plateau is all about eating delicious healthy meals at home, without putting too much effort into cooking. Enjoy a vegan plateau like no other!
Ingredients
Guacamole Recipe
1

medium avocado

(skin and seed removed)

1/2

red onion

(chopped)

1

slice

red bell pepper

(chopped)

2

kalamata olives

(slices)

2

tsp

extra virgin olive oil

1/4

lime

(juice only)

1/3

tsp

salt

(I used white saline salt)
Plateau Ingredients
300

g

frozen broccoli

homemade guacamole

(see recipe above)

1/2

red onion

(slices)

2

green peppers

(salty, marinated in brine)

handful

green olives

(or olives of your choice)

2-3

slices

sourdough bread
Instructions
Guacamole Recipe
Prepare the ingredients as indicated and add them into a medium sized bowl, except for the lime juice and salt.

Using a fork, mash the avocado and combine everything into a paste. Work on it until the avocado mash turns into a paste and it combines evenly with all the other ingredients (using a creamy avocado is highly advised).

Add salt and lime juice and mix everything slowly until the paste becomes creamy like in my pictures.

That was it! Serve with my suggestion meal below;
How to Serve
Add cooked broccoli to a wooden chopping board. Add bread slices and a few tablespoons of guacamole.

Complete the plate with the following extras: olives, onion slices, green peppers or anything else your might enjoy.

Doesn't this look amazing? Wait until you've tasted to see what I'm talking about … it's amazing! Enjoy!
Notes
Feel free to extend this plateau with your favorite extras. Things like nuts and seeds, tomatoes, cucumbers, other types of olives, or maybe pickled vegetables. Which one is your favorite?