This recipe is my take on the classical coconut-chocolate bars. If you like coconut and chocolate together, then these Coconut Chocolate Keto Bars should definitely be on your list. These are low-carb, crunchy, loaded with coconut and chocolate, and super tasty.
To tell you the truth, I was thinking for some time to work on a coconut and chocolate bar, but I never quite got to it. I guess it's because I was too happy with all my other chocolate desserts.
Until one day, when I simply was in the mood for coconut … plus I had a bunch of extra coconut products. Think coconut butter, coconut chips and extra virgin coconut oil, I had them all in my pantry. And so I needed to find a way to use some of them in my recipes, and this is how (or why) this amazing coconut-chocolate bar was born.
Delicious coconut-chocolate keto bars
I like these coconut-chocolate bars because they're loaded with healthy nutrients, they're super easy to make and so good. Seriously! These coconut-chocolate bars are "good-for-you" and you should try them!
They are loaded with healthy fats from coconut butter, coconut chips or coconut oil, plus cacao butter. But they're also low in carbs since I only used a bit of coconut sugar to make them taste good, without making them too sweet overall.
And since this recipe is low in carbs and high in healthy fats, it's actually perfect for a low-carb or keto eating style. Did I mention that it's also vegan, paleo and whole30 compliant? Yes, I did mention … just now!
I absolutely love these chocolate-coconut keto bars because they are perfect when served as a healthy snack, dessert and even as a yummy breakfast on-the-go.
All of the healthy fats & protein inside will keep you satiated in between meals! And if you're fat adapted, these will give you plenty of fat-burning energy for hours. How amazing is that? I know!
Here are a few more reasons to try this chocolate coconut bar. It's:
Healthy
Super Tasty
Crunchy
Chocolatey
& Coconutty
Easy to Make
Satisfying
Different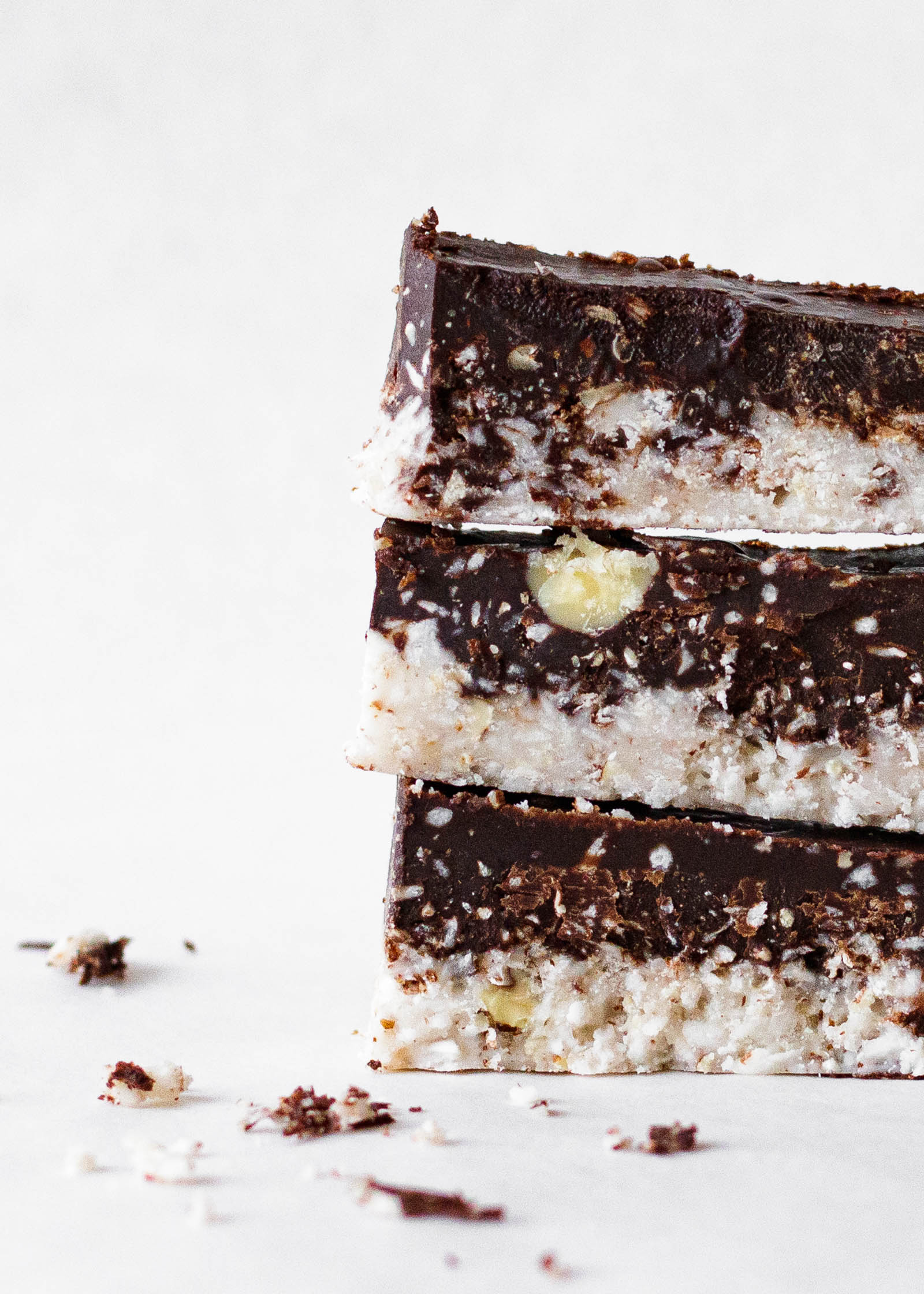 Ingredients for our Chocolate-Coconut Keto Bars
This recipe doesn't call for many ingredients and that's really amazing considering how delicious it is. Here's a breakdown of the ingredients that you'll need to make delicious keto bars:
Bottom Layer – Coconut
Cacao Mass
Cacao Butter
Extra Virgin Coconut Oil
Vanilla
Cinnamon
Himalayan Salt
Coconut Sugar
Top Layer – Chocolate
Coconut Butter
Extra Virgin Coconut Oil
Coconut Chips (Flakes)
Steps to make this keto dessert happen
This simple keto dessert may look complicated at first but let me tell you that it's actually pretty easy to make.
It's one of those no-bake no-cooking raw desserts that won't take much effort to make and won't resist in the fridge much time either (maybe because they are so good?!).
These are the steps you'll have to follow (as always, find the complete details in the recipe card):
The bottom layer is made of various coconut ingredients that you'll have to melt in a classic double boiler.
Once everything has combined into a coconut paste, pour into a small tray and move into the fridge to solidify just a bit.
The top layer is made of chocolate that you'll prepare in a separate double boiler. This time you'll be using cacao mass, cacao butter, coconut oil and spices.
Once the chocolate paste is ready, simply pour over the coconut layer (which should be almost solid by now).
You'll basically end-up with 2 distinct layers: chocolate on top and coconut at the bottom. Almost ready now!
Move into the fridge once again to solidify, this time for a few hours.
Ta-daa! Remove from the fridge and cut into bars of desired size. DONE!
Tips for making better low-carb desserts
When I start working on any new low-carb or keto recipes, I have a few guidelines that I always follow. This is my way of making sure that a recipe like this one will turn out healthy and tasty (aka cannot-stop-eating-it).
Here are a few guidelines to help you make better desserts no matter what. In my opinion, a healthy dessert should always:
support a healthy lifestyle
be prepared using real food ingredients, as unprocessed as possible
make use of organic ingredients if possible
be prepared with coconut sugar instead of refined sugar
be low in carbs and high in healthy fats (no refined fats or trans-fats please!)
avoid using refined seed oils (and in general any kind of seed oils, even organic or cold pressed brands)
use at least one of the following healthy fats: coconut, avocado, nuts or seeds
be naturally sweetened using raisins, dried dates, dried plums, dried figs or coconut sugar (which is derived from organic coconuts)
look great and make you wanna taste it
be interesting even to people that eat "regular" sweets loaded with sugar (sugar is not the king of desserts, you know!)
Bonus: if it can work as a meal replacement, that's even better!
Long story short, these coconut bars have been a big hit. The only downside is that they have to be refrigerated for a few hours when making them, but taste-wise they are absolutely amazing!
If you already made these chocolate-coconut keto bars, share a photo on Social Media, tag it @refreshmyhealth and I will follow-up with you.
I would appreciate if you can leave me a review below. Enjoy your health journey!
What are your secrets for making healthier desserts? Would you give this coconut chocolate bars a try? Share below!
Coconut-Chocolate Keto Bars
Print Recipe
This recipe is my take on the classical coconut-chocolate bars. If you like coconut and chocolate, then this little dessert should definitely be on your list. It's low-carb, crunchy, loaded with coconut and chocolate, and super tasty.
Ingredients
Bottom Layer (Coconut)
50

g

coconut butter

2

big tsp

extra virgin coconut oil

(big teaspoons)

70-80

g

shredded coconut chips
Top Layer (Chocolate)
50-60

g

cacao mass

50

g

cacao butter

1/2

tsp

vanilla powder

1-2

tsp

cinnamon powder

2

tsp

extra virgin coconut oil

pinch of

Himalayan salt

2-3

tsp

coconut sugar

(optional)
Instructions
Bottom Layer (Coconut)
Add all the ingredients for this layer into the double boiler.

Slowly melt and combine these ingredients together. Your goal is to obtain a thick coconut paste.

Once everything has combined into a coconut paste, pour into a glass or ceramic tray and place in the fridge to solidify a bit.

First layer is done! Let's work on the chocolate layer now.
Top Layer (Chocolate)
Again, start by adding everything for this layer into a double boiler. Make sure not to overheat the ingredients.

Once everything has combined into a liquid chocolate paste, remove from heat and set aside to cool down a bit.

Let it cool down for a few minutes until it becomes thick almost like a spread (but not solid). It the paste becomes solid, just melt again for 30 seconds on the double boiler.
Assembling this Keto Bar
Remove the coconut layer from the fridge. Make sure it does not become rock solid, but solid enough to support the chocolate layer. The chocolate, on the other hand, has to be thick like a cream (or spread). Your goal is to have the chocolate paste "stick" onto the coconut layer.

Pour the chocolate paste on top of the coconut layer, spreading it evenly over the entire surface.

Place the tray back in the fridge for a few hours to solidify,

After a few hours (or when it has solidified) remove tray from the fridge and slowly cut into your desired kind of bars.

Ta-daa!! These coconut-chocolate keto bars are delicious as dessert of a quick grab-and-go snack. Enjoy without guilt because these bars are healthy!
Notes
These coconut-chocolate bars require less time to solidify compared to treats made using berries or raisins.
They won't melt quickly at room temperature as other fudgy desserts do.
If the coconut layer becomes rock solid, the chocolate paste won't "stick" to it and will probably break loose when you'll cut the bars. In this case, let the tray sit on the counter for half an hour before pouring the chocolate paste.
In case the chocolate paste has solidified, simply put it on the double boiler for 30 more seconds and it will magically become creamy again.