Refreshing and super tasty, this raw vegan fruit bowl is also healthy and nutritious. It's loaded with vitamins and minerals, high in fiber and packed with healthy fats, and just perfect to serve at any time of day.
This fruit bowl will take you less than 5 minutes to put together, and buying all the ingredients won't cost much either. Let's make this raw fruit bowl together!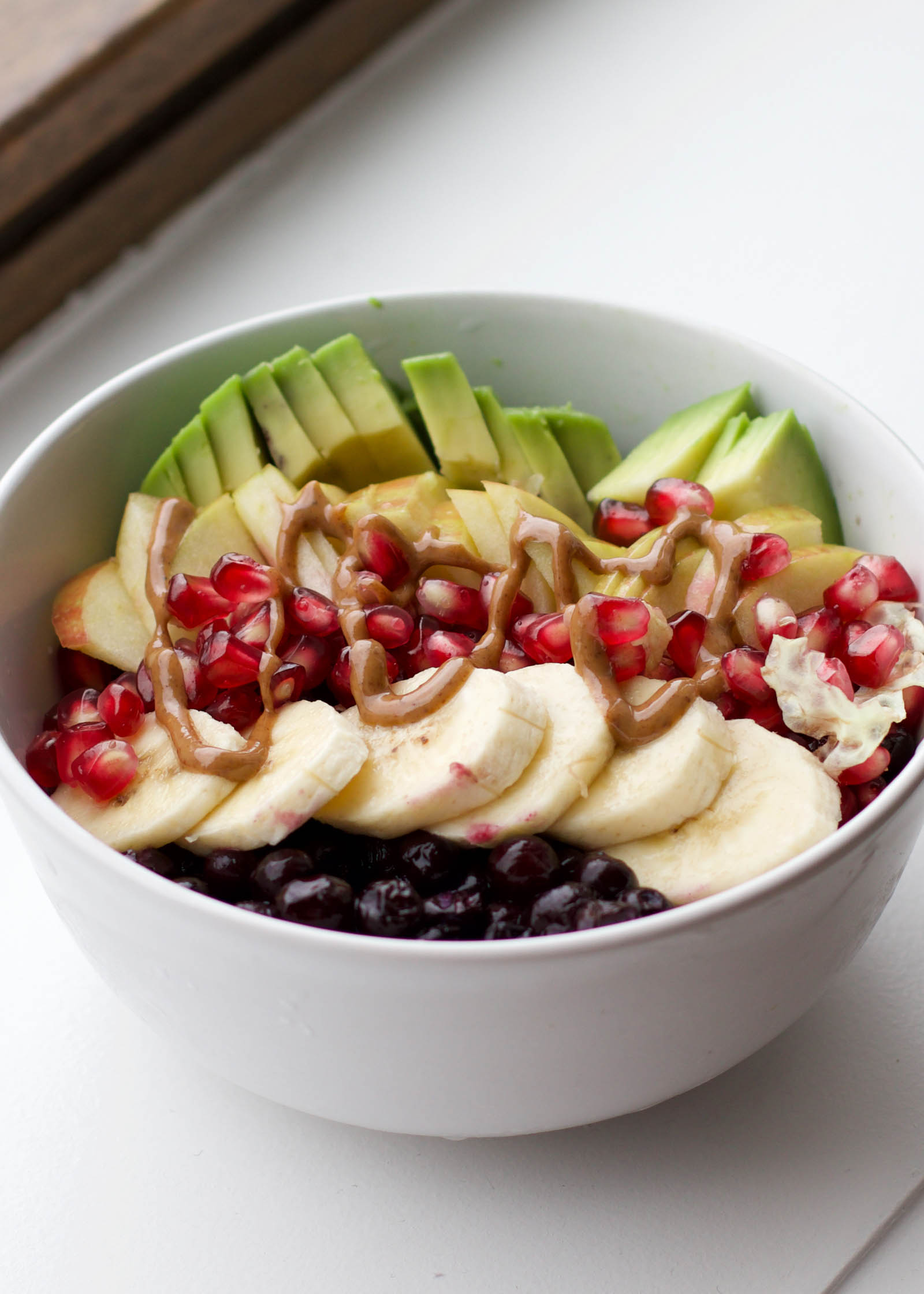 Easy raw fruit bowl to love
This raw vegan fruit bowl was amazing and here's why. It was:
Easy
Nutritious
Refreshing
Delicious
Satisfying
Vegan & Raw
Fruity
Creamy
Just Perfect!
Why you will love this raw fruit bowl
So why would you make this raw fruit bowl for your next breakfast meal? Let me tell you why:
This vegan fruit bowl keeps hunger away for at least a few hours (even more if you're used to eating plants).
It's gluten-free, sugar-free and free of refined seed oils.
Naturally sweet because we're using fresh fruit and zero added sugar.
Packed with healthy fats and low in carbs.
Creamy and easy to east, with an interesting texture (you'll see!).
It's packed with plenty of "good-for-you" fiber so your gut-friendly bacteria will be happy, and you're belly will stay nourished all day long.
Loaded with vitamins and minerals, plus antioxidants and enzymes to help you digest everything easily and without effort.
Eating this raw bowl will help you burn fat for energy, especially if you follow a low-carb eating style.
Lastly, putting together this raw fruit bowl is super easy and doesn't cost much either. Breakfast is served in just a few minutes!
Ingredients list
Frozen Blueberries – For this raw fruit bowl we decided to use frozen blueberries, but you can certainly use any type of berries that you like. Keep in mind that using frozen berries will make for a very refreshing dessert-bowl.
Avocado – Avocado is one of the best ways to incorporate those healthy fats into your daily meals routine. But that's not all that avocado has to offer … avocado also comes with potassium, a bit of magnesium and plenty of gut-friendly fiber. Make sure to use a perfectly ripen avocado and go organic if possible, since organic avocados are always delicious and have that perfect green color on the inside.
Apple – Use a few apple slices to add texture and a sweet-ish taste to this delicious raw vegan bowl. What kind of apples do you enjoy most?
Banana – Sweet, packed with potassium, magnesium and healthy fiber, banana is definitely the way to go for adding sweetness to a raw fruit bowl like this one.
Pomegranate – I used the seeds from a fresh pomegranate but you can definitely use frozen pomegranate seeds just as well. In fact, using frozen pomegranate seeds will make this raw fruit bowl even more refreshing.
Almond Butter – Nut butters come with plenty of healthy fats and protein, plus other beneficial nutrients like an assortment of vitamins and minerals. In case you don't like almond butter (or you're looking for a different flavor) you can successfully use cashew butter and even peanut butter instead. Due to health reasons, I advise you to choose organic peanut butter only.
Cinnamon Powder – One of my favorite spices for all kinds of desserts and hot beverages, cinnamon gives a sensational flavor to most desserts where fresh fruits are used.
Cardamom Powder – Another one of those miracle asian spices, cardamon goes hand in hand with both vanilla and cinnamon. For this dessert we haven't used vanilla, but you can definitely add it as an extra or use it instead of cardamom.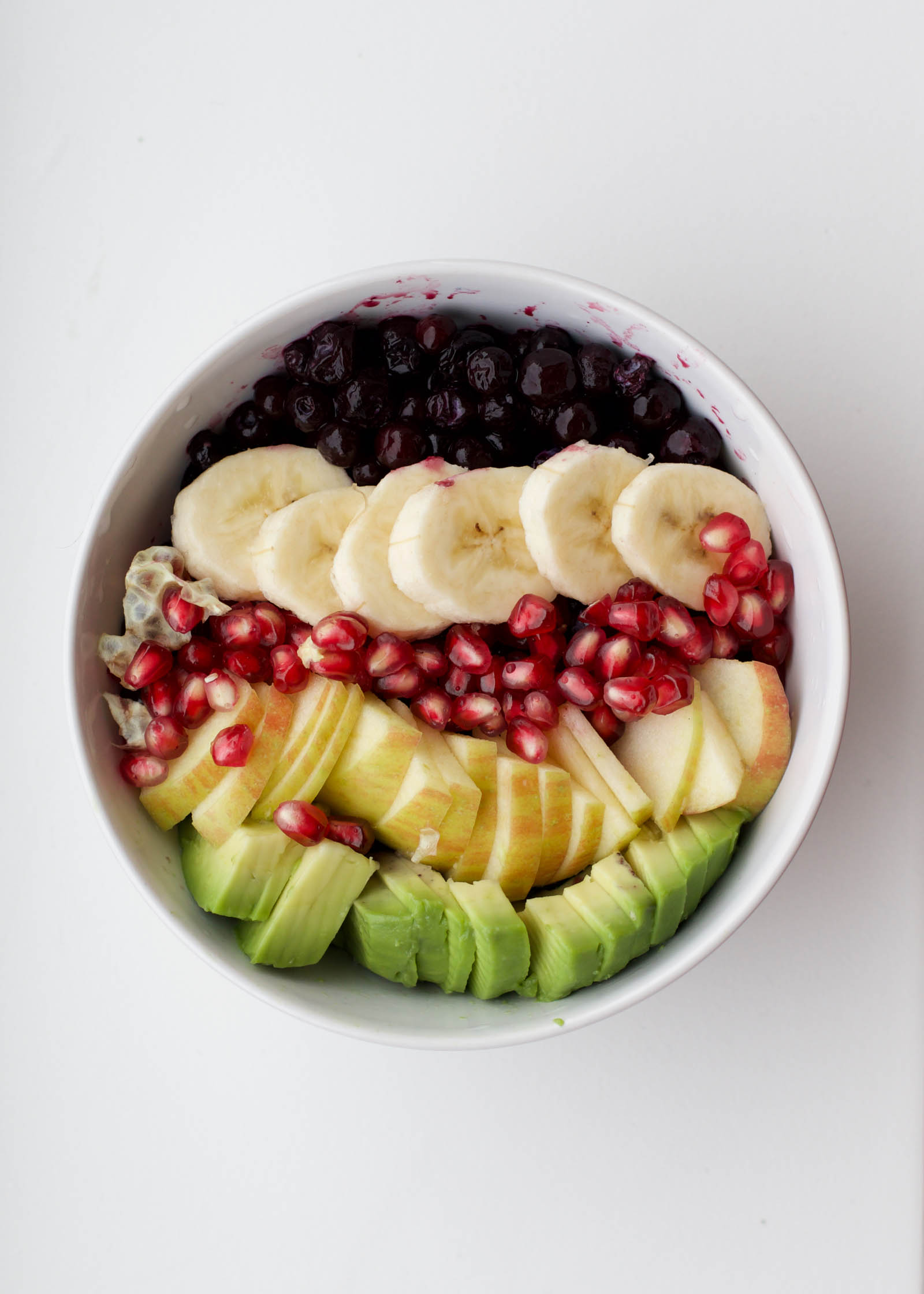 This vegan raw bowl can be upgraded!
This simple raw fruit bowl is delicious by its own but, in case you want to mix-up the flavors a bit, you can definitely customIze it with different extras or substitutions. Check-out some of my ideas below:
Seasonal Fruits – How about adding fruits that are in season where you live? For instance, you could use peach, nectarines, strawberries and even grapes will work great with this vegan fruit bowl.
Tropical Flavors – You can definitely include any of the following tropical fruits in your raw fruit bowl: mango, papaya, pineapple are awesome choices! Why not include a few pieces of Galia melon or Cantaloupe melon as well?!
Raw Nuts – For texture and more healthy fats, as well as plenty of protein, vitamins, minerals and fiber, you can definitely add a few raw nuts. Walnuts, pecans or cashew nuts, or even a handful of pine nuts could be added to this raw fruit bowl.
Other Nut Butters – You can definitely replace almond butter with cashew butter or peanut butter. And in case you feel adventurous, you can even use hazelnut butter which has the strongest flavor of all. One note: should you decide to go with peanut butter, make sure to use organic peanut butter since that is the healthiest version of peanut butter.
Dark Chocolate – 1 or 2 squares of dark chocolate won't hurt anyone, right?! If you ask me, I will be using 85% dark chocolate or more.
Medjool Dates – Drop 1-2 medjool dates into this fruit bowl for extra sweetness, as well as for more nutrients like potassium and magnesium (great for recovery after a long walk or run in the forest).
Vanilla Powder – Along with cinnamon and cardamom, vanilla is one of my top absolute favorite spices to use in desserts, smoothies or hot beverages. You can use it instead of either cinnamon or cardamom, or as an extra.
Pinch of Salt – Optionally you can also mix a pinch of salt, and this works great in case you feel the need to balance those healthy fats.
If you feel this real-deal raw fruit bowl is something that you'd enjoy, please try it and don't forget to share it with others. This raw bowl is super healthy and delicious and it deserves some top love!
I would appreciate if you could leave us a comment and rate the recipe 5-stars, should you enjoy it. Thank you from all my heart!
What are your favorite ingredients to use in a raw fruit bowl like this one? Share below!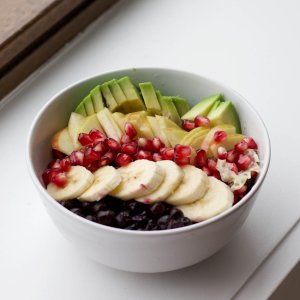 Colorful Real-Deal Raw Fruit Bowl | Vegan & Low-Carb
Print Recipe
Refreshing and super tasty, this raw vegan fruit bowl is also healthy and nutritious. Loaded with vitamins and minerals, high in fiber and packed with healthy fats, this raw fruit bowl is perfect to serve at any time of day.
Ingredients
300

g

frozen blueberries

1/2

small

avocado

(peeled, sliced small)

1/3

green apple

(small slices)

1

banana

(peeled and sliced)

2

tbsp

pomegranate seeds

100

g

almond butter

(or as much as needed)

1

tsp

cinnamon powder

1

tsp

cardamom powder
Instructions
The quantities above are used for making 2 servings but my instructions below are for making only one serving. Note: You'll be adding the ingredients in vertical layers, one by one, as seen in the pictures.

In a medium size bowl, add half of the quantity of frozen blueberries. The other half will go to the other bowl (we're making two servings).

Add the following ingredients on top of the berries, one besides the other in columns: banana slices, pomegranate seeds, apple slices and avocado slices. Take a look at my pictures above to understand what I did.

Add cinnamon powder and cardamom powder on top of everything.

Finish by decorating this vegan bowl with almond butter using as much as you want. Optionally you can include the "extras" that you want.

DONE! How easy was this?! Do the same for the second bowl and share it with someone you love.
Notes
You can definitely use the kind of berries that you prefer, be creative and experiment with different types of berries.
Using frozen berries will make for a more refreshing dessert but fresh berries will work just fine.
Feel free to use the kind of apples that you want and like - I used a sour-ish type of apples called Granny Smith. If you feel like using a sweet apple, or a sweet and sour apple, please be my guest.
When it comes to nut butter, I decided to go with organic almond butter. Depending on your preference and taste, you can also use cashew butter or peanut butter instead of almond butter, and it'll work just fine.
In case you decide to go with peanut butter, make sure to only use organic peanut butter since conventionally grown peanuts may have pesticides and herbicides from the soil that they are grown in.