This delicious recipe for scrambled eggs with vegetables is low in carbs (also whole30 and keto friendly), it's super easy to prepare and tastes amazing! Ready in 10 minutes, this whole plate is loaded with plenty of real nutrients … think vitamins, minerals, phytonutrients, healthy fats, plus lots of those gut friendly stuff like soluble fiber and raw enzymes.
Guys … and girls, this recipe is simply amazing! It's:
Flavorful
Satisfying
Colorful
Nutrient packed
Versatile
Fun to Make
Keto, Low-Carb and Whole30
& Incredibly delicious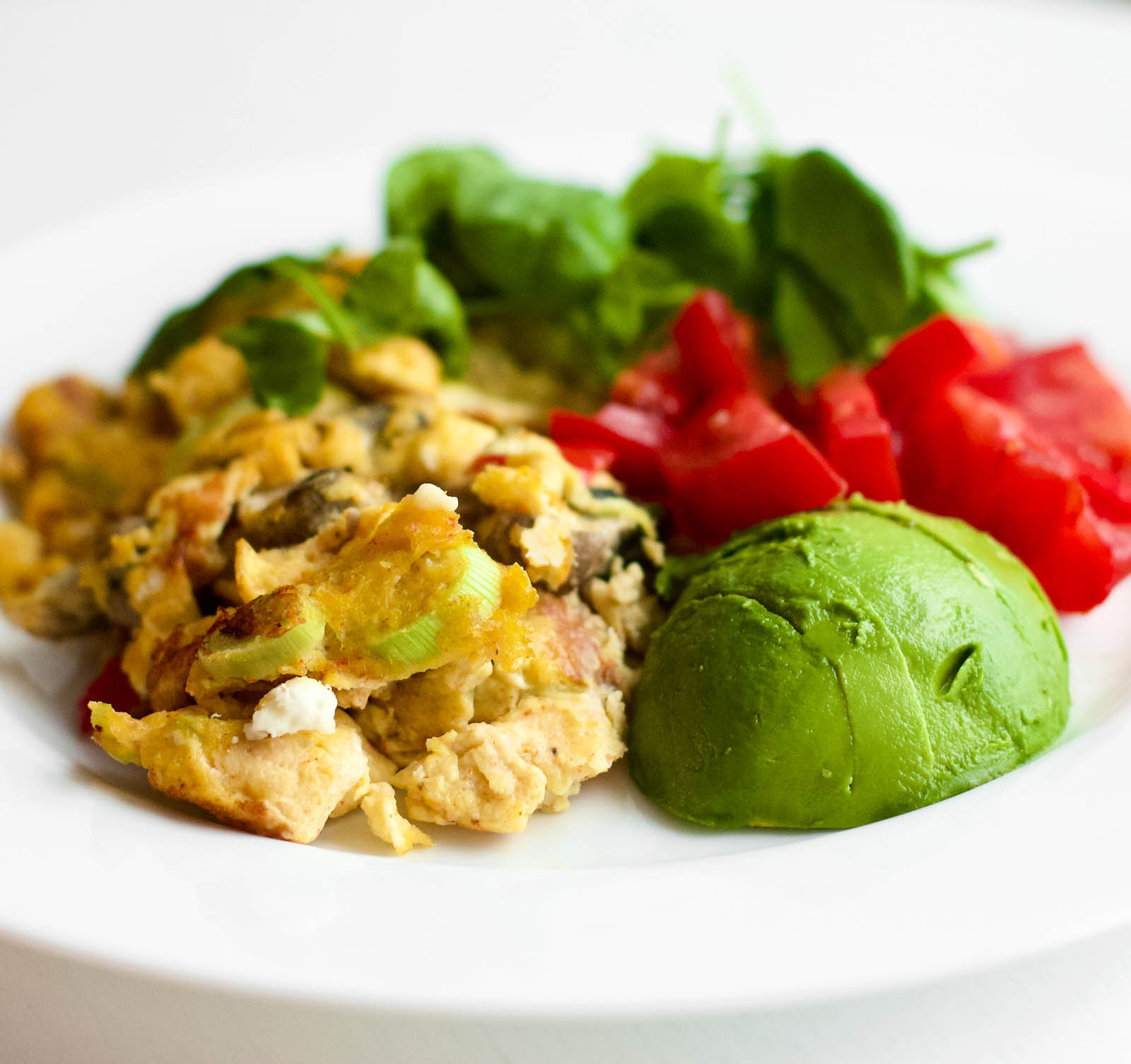 What goes into this recipe
Before we go into the kitchen, let's see what exactly goes into this recipe for scrambled eggs with vegetables. We have:
Scrambled Eggs
Eggs – Eggs are one of the most nutrient packed things you can eat plus, when cooked right, they are literally amazing!
Leeks – We use leeks to balance the eggs's fatty content, but I also love leeks because it enriches the taste of this entire meal. But that's not all because leeks are loaded with prebiotic fiber which is food for your gut bacteria.
Kapia Pepper (or Bell Pepper) – Peppers add color and taste to the whole eggs recipe, plus they are a nutrient dense plant that works great in all kinds of raw recipes like salads, sandwiches, guacamole and so on. Buy organic if possible!
Mushrooms – The white and brown mushrooms are the most common mushrooms you can find at the store. They're packed with phytonutrients and fiber, vitamins and minerals, plus they are simply delicious when cooked right!
Grass-Fed Butter or Coconut Oil – As you probably know by now, we use these types of healthy fats for cooking any meal that needs cooking (not only eggs). Besides being a healthy cooking type of fat (think "no oxidative stress") these fats improve the fat profile of any meal, so you'll end-up eating more healthy fats and hopefully keeping your body in the fat burning zone.
Himalayan Salt – Unfiltered unrefined pure salt straight from the mountain. No additives and preservatives, please!
Side Veggies
Avocado – This creamy organic avocado adds texture and flavor to any meal. And like mushrooms, avocados come with plenty of healthy soluble fiber and potassium (plus other minerals). But that's not all, because avocados are one of the best sources of healthy fats out there.
Tomatoes – I grew up in Romania, eating tomatoes with every salad (especially in the summer). They are nutrient-packed plants that, when grown correctly, will taste amazing. Buy organic if possible!
Baby Spinach – You don't need a lot of spinach to make a great side for almost any meal (well … except for soup I guess!). Fiber and phytonutrients, plus that light-bitter taste are just a few straight reasons why you'd want to include baby spinach here. Again, buy organic if possible.
Lime or Lemon Juice – We use freshly squeezed lime or lemon juice on top of the avocado, as a way to balance the fatty taste but also to protect the delicate fats from oxidation.
How to serve these scrambled eggs
If you ask me, I like serving this amazing dish with freshly baked Danish rye bread (Dansk Rugbrød) or another sourdough type of bread. The Danish rye bread is my all-time favorite bread due to its low gluten content and distinctive sour taste. From my travels I discovered that German people also love sour breads and you can easily find different variations (although not the original Dansk Rugbrød).
Besides the avocado, tomatoes and baby spinach, you may also want to include a few other things as extras. Here are a few ideas that I hope will inspire you for adding to future meals like this one:
raw walnuts
kalamata or green olives
other raw vegetables like cucumbers, radishes, onion, jalapenos or chili peppers
lightly boiled vegetables like broccoli or cauliflower
feta cheese
cooked and cooled sweet potatoes or white potatoes
sourdough bread (with raw butter on top)
other spices like thyme or basil
1-2 tbsp of extra virgin olive oil on top of raw or cooked veggies
grapefruit juice in place of lime juice
Give this recipe a try and I bet you won't regret it! This simple meal works great as a breakfast or lunch, but also as a recovery meal after a training session. Last, don't be shy to try any of the "extras" and to let me know which are your absolute favorites!
Colorful Scrambled Eggs with Vegetables
Print Recipe
Delicious keto friendly recipe for scrambled eggs with a vegetables side. Super easy to prepare and tastes amazing! Ready in 10 minutes, this recipe is loaded with real nutrients that will help you thrive all day long.
Ingredients
Scrambled eggs
4

medium eggs

5

cm

leeks

(chopped)

1/2

kapia red pepper

(cut small)

2

white or brown mushrooms

(cut into squares)

pinch of

Himalayan salt

black pepper

1

tbsp

butter or coconut oil

(for cooking in the skillet)

fresh dill or parsley

(optional)
Side Veggies
1

avocado

1

tomato

2

handful

baby spinach

lemon juice

(freshly squeezed, or lime juice)
Instructions
Scrambled eggs
Beat the eggs into a medium sized bowl together with salt and black pepper.

In the same bowl, add in chopped mushrooms, chopped leeks, and bell pepper. Mix a bit to combine everything.

Preheat the cast iron skillet and add the butter used for cooking (or coconut oil). Make sure not to burn the butter by keeping the heat to medium temperature.

Once the butter is almost melted, add in the entire eggs mixture and cook gently on small to medium heat. Using a wooden or silicone spatula, stir constantly making sure that the eggs cook evenly.

When the eggs are cooked, remove from heat and set aside to cool down for 1-2 minutes.

Transfer to a plate and decorate with fresh herbs. Add the side veggies below and enjoy while still hot.
Side Veggies
Add half of the scrambled eggs to a big plate.

Peel the avocado and remove the seed using a knife. Slice it gently into thin slices.

Add ½ sliced avocado, ½ sliced tomato and one handful of baby spinach into the plate with the eggs. Add a bit of freshly squeezed lime or lemon juice on top of the avocado.

That was it! Enjoy!
Notes
Want to enjoy this recipe while doing the Whole30? Just replace the butter used for cooking the eggs with one of the following: avocado oil, extra virgin olive oil or coconut oil.
Add a bit of freshly squeezed lime or lemon juice on top of the avocado to "cut" the avocado fats - this makes it more easily to eat. Or you can try a pinch of Himalayan salt which should produce the same effect.
Adding lime juice and salt on top of the avocado should also make it more flavorful and easier to eat.
If avocado is not your thing, start with only 2-2 thin slices and next time increase the portion a bit more.
Optionally you can also add walnuts or olives - kalamata olives or salty green olives are perfect with this dish
What's your favorite way of cooking eggs? Would you try this recipe? Let me know in the comments.