Sweet, creamy and so refreshing, this pink nice cream is a treat you could enjoy on repeat all year long. We use banana and avocado to make it ultra creamy, while frozen raspberries add a subtle flavor that transforms this dessert into an exquisite experience for your taste buds.
This pink nice cream is all about enjoying a delicious and healthy dessert prepared on the spot, from 100% natural ingredients. It's so easy to make, sweet without being too sweet, and it's loaded with raspberries. Perfect as dessert or a mid-afternoon snack on any day of the year!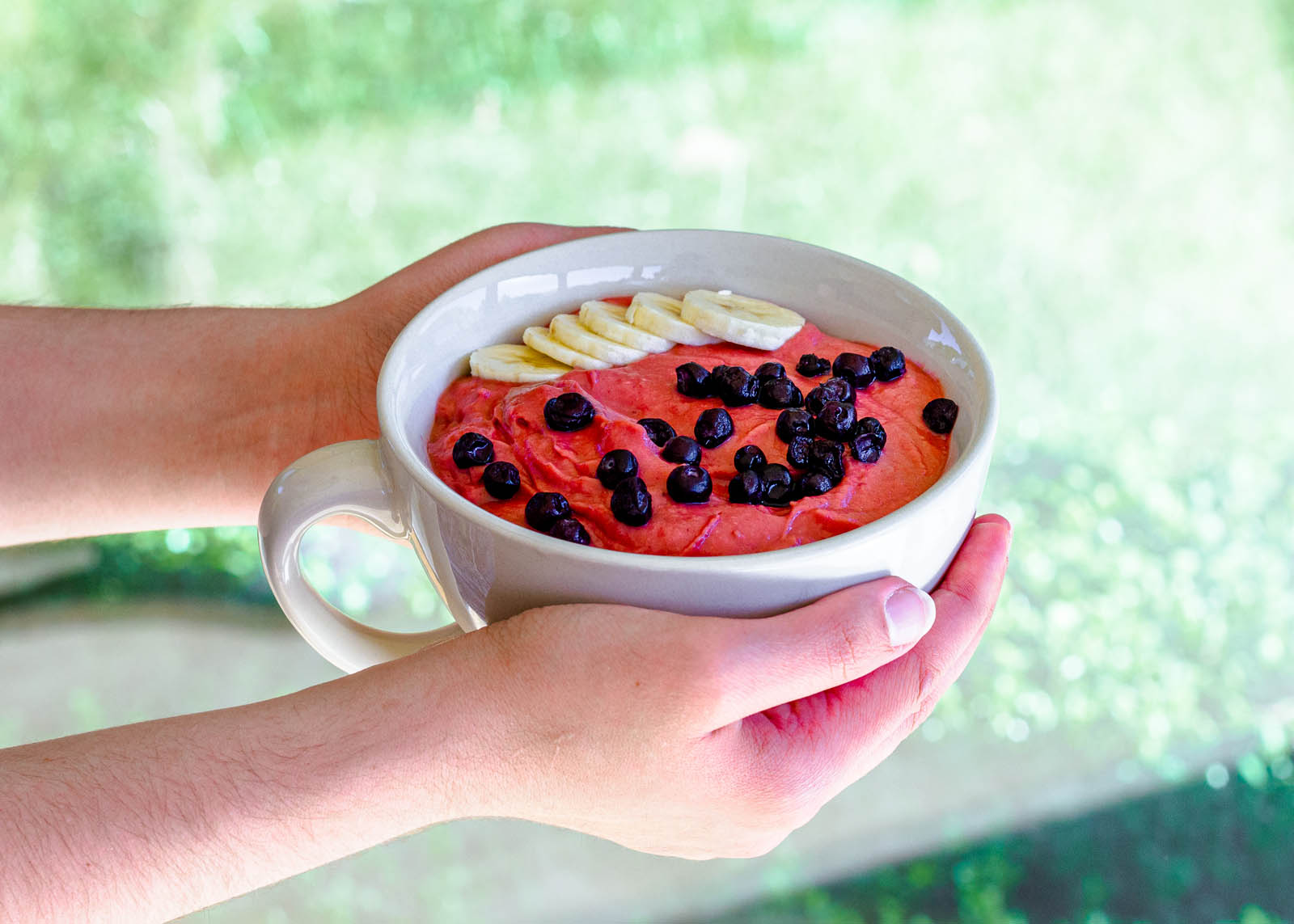 You will love this pink nice cream
I absolutely loved this simple nice cream and here's what makes this it special. It's:
Creamy
Thick
Vegan
Low-carb
Easy to Make
Delicious
Refreshing
Healthy
Made in Heaven
Ingredients needed to make pink nice cream
Avocado – Creamy due to its high content of healthy fats, avocado is always there to help blend the perfect nice cream. Did you knew that avocado is literally one of the healthiest plants that you can consume? In fact, avocado is considered to be a fruit … but I'm sure you already knew this. Great!
Banana – Avocado always goes hand in hand with banana, especially for making creamy and thick nice cream. You don't have to use frozen banana here and, in fact, I never use frozen banana in my nice creams. Of course, should you want to use frozen banana, you can definitely add it to your nice cream and it'll turn out perfect.
Frozen Raspberries – Instead of using frozen banana, I tend to use frozen berries. I always keep frozen berries in my freezer as they are perfect to add in smoothies, smoothie bowls and nice creams. For nice creams though, make sure to use those quality frozen berries that won't leave too much water in the final mix.
Squash – Optionally you can add a bit of squash and you won't see any difference in the taste of the final recipe. The important thing is that we managed to "hide" one vegetable in this simple dessert.
Blueberries (for decoration) – We used blueberries again, this time for decoration. This is one of those places where you can definitely use the kind of berries that you like.
Banana (for decoration) – Here we use banana again, this time for decoration. A few slices of fresh banana will make your nice cream look even more appealing.
Best toppings for our pink nice cream
Sliced Fruits – kiwi, banana, mango, apricots, plums or other fruits like these.
Berries – blueberries, raspberries, cranberries, blackberries.
Seeds – sunflower seeds, pumpkin seeds or hemp seeds.
Nuts – walnuts, pecans, pine nuts or cashews.
Herbs and Powders – cinnamon, cardamon, anise, mint, ginger.
Others – coconut chips, apple chips, raisins, dates, dark chocolate (grated), homemade chocolate sauce.
Why you should try this simple nice cream?
These days we don't buy anything sweet from the store, instead we always prepare something ourselves. We love preparing creative nice cream recipes in the comfort of our kitchen.
Why would you make your own nice cream? Simply because homemade desserts like this one are more delicious, always cheaper, but also because it's more fun to make something yourself!
Think about making this pink nice cream for your next breakfast:
It's loaded with healthy nutrients.
Has the perfect creamy texture.
Perfect as breakfast, dessert or mid-day snack.
It's Naturally sweetened.
& Tastes like banana and berries combined.
You know exactly what ingredients go into this recipe.
And you get to use only wholesome plants.
Homemade is always cheaper … and healthier.
This nice cream is gluten-free, sugar-free, and generally free of unhealthy stuff.
Pro Tip: Feel free to use the kind of berries that you like (we used frozen raspberries) but also the color of your nice cream might change, based on what type of berries you're using. Experiment with different types of berries and see what you can make!
I hope you'll enjoy this pink nice cream as much as we did and don't forget to share this recipe with someone else.
If you've tried this pink nice cream, let us know what you think about it by leaving a comment and a 5-star rating, if you liked it.
What is your "secret" nice cream recipe? Share below!
Delicious Pink Nice Cream | Vegan & Keto
Print Recipe
Sweet, creamy and so refreshing, this pink nice cream is a treat you could enjoy on repeat all year long. Yes, it really is that good!
Ingredients
1

big avocado

(skin and seed removed)

300

g

frozen raspberries

1

banana

(skin removed)

1/2

squash

(peeled, optional)

2

tbsp

blueberries

(for decoration)

1/2

banana

(for decoration)

no liquid added
Instructions
Prepare all the ingredients as indicated and add everything into your blender, except for the ingredients used for decoration.

Blend on medium to high speed until you obtain a creamy consistency.

Pour into 2 big cups (or 2 bowls) and decorate each one with blueberries and a few banana slices.

That was it! Enjoy fresh or store in the fridge for later.