Make ahead healthy recipes like this Easy Low-Carb Chocolate Cake are a great way to have a grab-and-go healthy snack at all times … and eat it too!
What makes this easy chocolate cake so good? You get a dose of healthy chocolate cake that comes packed with healthy fats from multiple sources and hidden vegetable.
This is one of the easiest and most delicious low-carb chocolate cake recipe ever! Shredded carrots makes it moist and nutritious and your kids will never know you are sneaking in carrots or avocado.
This chocolate cake is family approved, and it's great instead of the traditional breakfast or when you want something chocolatey but healthy in the same time. Perfect with a hot cup of tea or coffee!
If you give it a try, let us know what you think by leaving a comment and rating it. It's so helpful for us and other readers. We'd love to see what you come up with. Cheers, friends!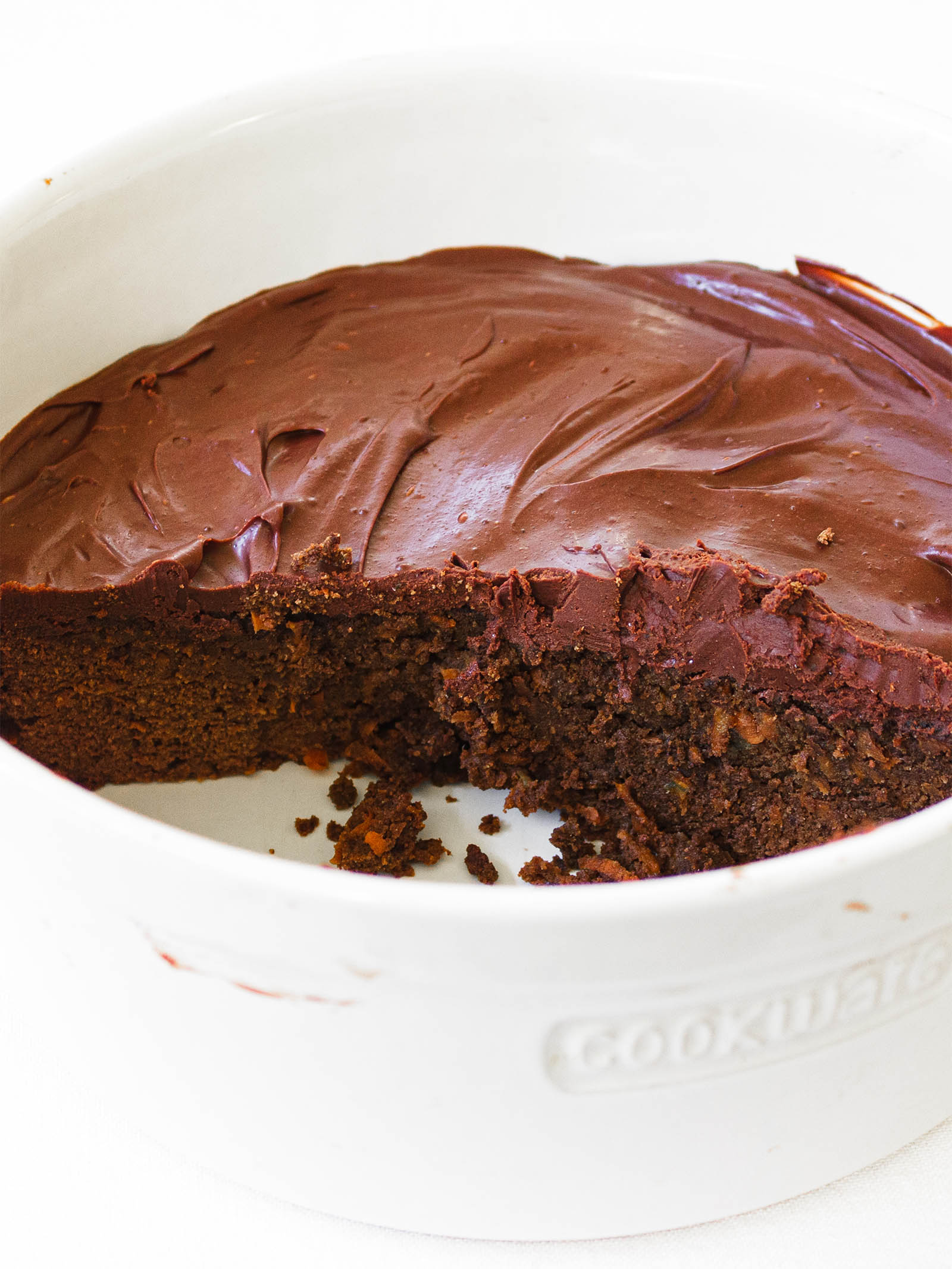 Easy Delicious Low-Carb Chocolate Cake
Print Recipe
This delicious low-carb chocolate cake is a great way to have a grab-and-go healthy snack (or meal replacement cake) at all times … and eat it too!
Equipment
Bowl

Whisk

Heat Resistant Tray
Ingredients
Chocolate Cake Base
2

cups

coconut flour

(400-450 g in total)

1/2

cup

cacao powder

(about 80-100 g)

1/2

cup

coconut sugar

(or as much as you want)

2

tbsp

extra virgin coconut oil

(melted, room temperature)

1

avocado

(seed and skin removed, sliced)

6

eggs

(beaten)

6-7

small

carrots

(shredded)

vanilla powder

cinnamon powder

pinch of

salt

2

tsp

baking soda

2

tsp

baking powder
Chocolate Buttercream
80-100

g

cacao mass

2

tsp

extra virgin coconut oil

2/3

tbsp

cacao powder

3-4

tsp

coconut sugar

vanilla powder

150

g

butter

(slightly salted, 1% salt, 80% fat, softened)

pinch of

salt

(optional, add when using unsalted butter)
Instructions
Chocolate Cake Base
In a large mixing bowl, combine all solid ingredients. That's everything from the cake ingredients, except for the eggs, coconut oil, avocado, and carrots.

Beat eggs separately and add over solid ingredients. Use a spatula to mix until well combined.

Stir in shredded carrots and sliced avocado.

Lastly, slowly incorporate melted coconut oil (now at room temperature) into batter

A thick batter should start to form. If batter looks rather liquid, add more coconut flour, more carrots or both. Slowly incorporate the new additions until a thick batter has formed. You can taste the batter to make sure that it's sweet enough or has enough cacao.

Once batter is ready, spread into a round heat resistant dish and level using a silicone spatula.

Transfer in the oven and bake for 40-45 minutes at 180 Celsius or until toothpick inserted in center comes out clean. Check from time to time, making sure the cake doesn't turn dry or overbaked.

Remove from oven when done and set aside to rest until it reaches room temperature.

While the cake is resting, you can work on the chocolate chocolate buttercream frosting. In case you're planning to work on the chocolate buttercream the following day, move baked cake into the fridge for safe keeping overnight.

Congratulations! The cake layer is now ready.
Chocolate Buttercream
The buttercream frosting is made by combining creamed butter with a homemade chocolate paste.

Start by making the chocolate paste on a double boiler using all the ingredients, except for the butter.

Work on low temperature until a liquid cream has formed.

Remove from double boiler and set aside to cool down. Let the chocolate paste to cool down at room temperature and avoid keeping it in a cold area or it will solidify quickly.

Now it's time to work on the chocolate buttercream. Start by beating the butter using a whisk until creamed.

Slowly incorporate chocolate paste into creamed butter. The chocolate paste should be at room temperature but still liquid enough to be poured.

Mix using a silicone spatula until all the chocolate paste has incorporated into creamed butter.

Congratulations! The chocolate buttercream is now ready.
How to Assemble Cake
Once the chocolate cake has rested, and the chocolate buttercream has reached room temperature, it's time to assemble our cake.

Remove cake from the fridge and simply add a thick later of buttercream frosting on top. Use a silicone spatula to make things easier for you.

Move cake back into the fridge to rest for a few hours.

When serving, cut a slice of cake and place on a small plate. Keep the rest of the cake in the fridge to stay fresh.

Congratulations! This chocolate cake is ready and you can enjoy it.
Notes
You can keep this cake for at least 3 days in the fridge and it'll feel fresh and taste amazing. For freshness make sure to keep the cake covered at all times.
When making the chocolate buttercream, you could replace cacao mass with extra dark chocolate. Use 90% dark chocolate or even 100% chocolate, since this kind of dark chocolate is made using cacao mass and cacao butter with very little sweetener.
In case you're planning to replace coconut flour with almond flour, keep in mind that coconut flour tends to absorb more liquid overall. When using almond flour, use one egg less for the batter or add more almond flour, or more carrots.
Use as much cacao powder as you like, until you obtain the taste that you prefer.
For the chocolate buttercream you can use unsalted butter or even a slightly salted butter (we used slightly salted butter with 1% salt). When using slightly salted butter, do not add the extra pinch of salt.
Using quality ingredients makes all the difference. Strive to use raw unprocessed cacao powder, quality cacao mass (or dark chocolate), extra virgin coconut oil, grass-fed butter and so on. For best results, use only organic ingredients.
Other low-carb cake recipes to try!