This skillet with spinach and broccoli (plus other veggies) is simply delicious and extremely healthy. You probably know that I'm in love with spinach and this recipe is all about cooking spinach and broccoli in a simple and delicious way.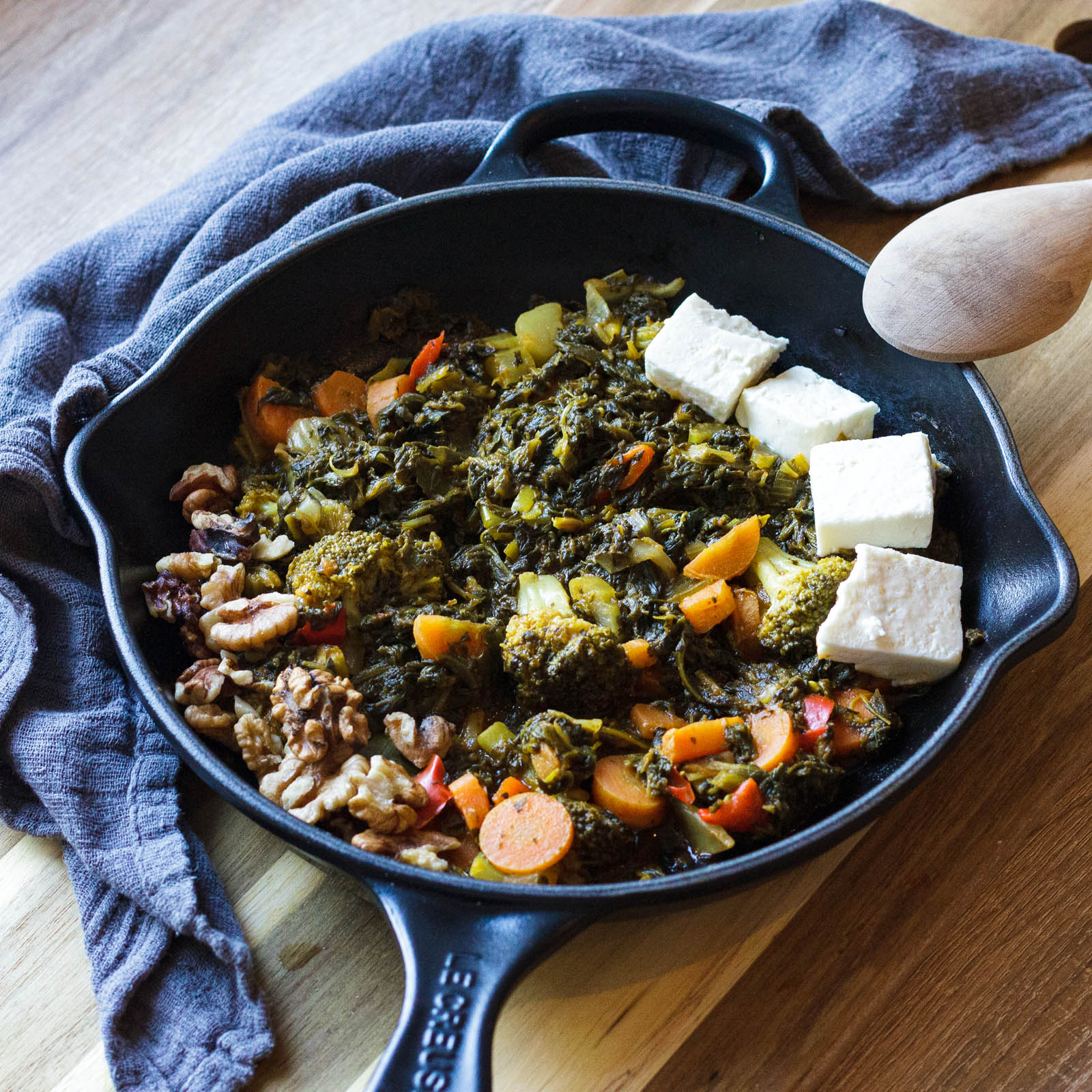 You can't go wrong with this recipe and here's why:
Spinach is packed with good-for-you nutrients such as vitamins, minerals, healthy fiber, phytonutrients, and even protein or omega-3 fatty acids.
Broccoli is a cruciferous vegetable that comes with vitamins, minerals, phytonutrients, fiber and even omega-3 fatty acids or sulforaphane (compound found in many cruciferous vegetables, linked to health benefits such as heart health, digestion, type 2 diabetes and even anti-cancer properties).
Both spinach and broccoli are linked to many important health benefits such as better digestion, less inflammation, less oxidative stress, better weight management, appetite control, more energy, a positive mindset and the gut-brain connection …. These plants are good to have around, wouldn't you say so?!
Both spinach and broccoli are loaded with healthy fiber, which not only helps with digestion and moving stool through your intestines, but can also help with overall gut health.
This recipe is super easy to cook and requires minimal prep work. Go for it!
I also love it because it's 100% vegan and satisfying. My body feels awesome after eating this kind of light easy to digest meal.
Great as lunch or dinner, it's low-carb, keto and whole30 approved.
You can easily store this spinach and broccoli skillet in the fridge for several days without it going bad. Plus it reheats beautifully and only takes a few minutes to have a meal ready.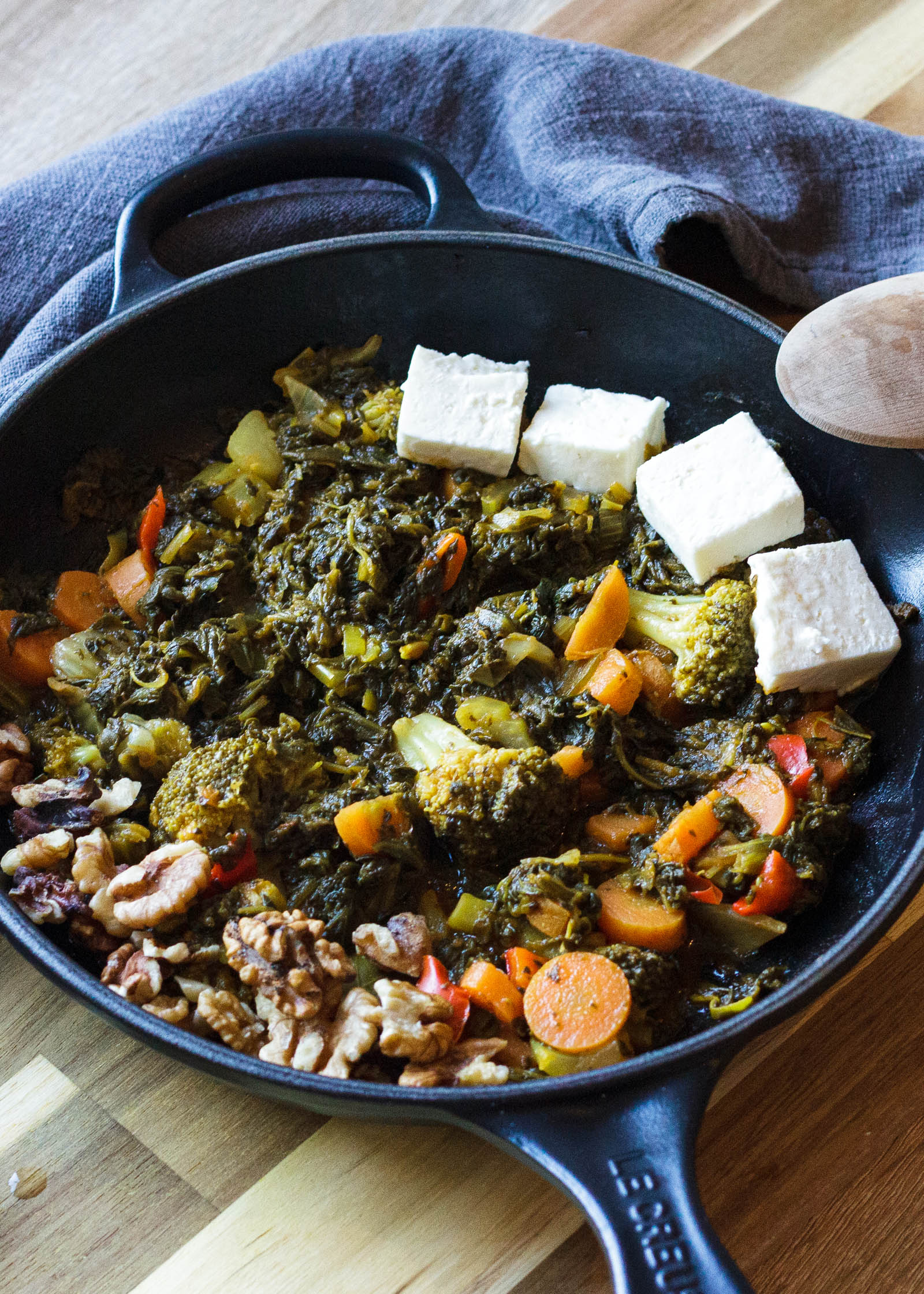 Ingredients for this delicious spinach broccoli skillet
frozen spinach (or fresh)
frozen broccoli (or fresh)
carrots
fennel
bell pepper
shallots
leeks
extra virgin coconut oil
spices: bay leaves, dried basil
Himalayan salt
tomato sauce
How to make this spinach broccoli skillet
I absolutely love how easy it is to cook this recipe, you can't go easier than this:
First we'll prepare the veggies. This simply means peeling, chopping or slicing all the ingredients except for the frozen spinach and frozen broccoli.
Now add them into the skillet. Since this is a one-pot meal, add all the veggies into the skillet and cook them in water until they become soft. Add more water if needed, but don't overdo it.
Finish with spices and tomato sauce. Once the veggies are cooked and the water has evaporated, add in spices and tomato sauce.
Portion and serve!
Ways to upgrade this spinach broccoli skillet
I'm completely satisfied with this recipe but there are some delicious ways to create variations or simply enhance it? Check-out these simple ideas:
Serve it with a few tablespoons of greek yogurt or creme fraîche on the side.
Add a few slices of Feta cheese or brie cheese, or even aa few slices of vegan cheese (as long as it's soy-free).
How about a handful of walnuts on the side (other nuts work great as well).
Serve this spinach broccoli skillet with one fried egg on top of each portion.
If you prefer bread, add a slice of true sourdough bread to really see what "de-li-cious" means!
If you make this spinach and broccoli skillet, consider letting me know how it turned out in the comments. I love hearing from you and hope this recipe is a big hit for you and your family.
Share it with your loved ones and enjoy your health journey, Friend!
What's your absolute favorite way to cook spinach and broccoli together? Have you tried this recipe? Let's exchange ideas in the comments.
Easy Spinach Broccoli Skillet
Print Recipe
Pin Recipe
This skillet with spinach and broccoli (plus other veggies) is simply delicious, extremely healthy and 100% vegan. Learn how to cook spinach and broccoli to culinary perfection, in a very simple way.
Ingredients
400

g

frozen spinach

(chopped small)

100-200

g

frozen broccoli

(chopped)

3

carrots

(sliced)

1

slice

fennel

(from a medium fennel)

2-3

slices

red bell pepper

2-3

shallots

(slices)

8

slices

leeks

(not too thick)

1

tbsp

extra virgin coconut oil

2

bay leaves

(chopped big)

1

tsp

Himalayan salt

dried basil

(to taste)

1

cup

tomato sauce
Instructions
Prepare all the vegetables as indicated in the ingredients list (see the parenthesis - basically peel, slice or chop everything, except for the frozen veggies).

Add everything into the skillet, except water, spices and tomato juice. In a nutshell, add to the skillet the following ingredients: frozen spinach, frozen broccoli, carrots, fennel, bell pepper, shallots, leeks, extra virgin coconut oil and bay leaves.

Cook on medium heat and continue to add more water as it evaporates. You'll know when you're almost done when the spinach is cooked (although the carrots can still be a bit on the hard side, they're ok).

At that point add salt, spices and the tomato juice. Cook a bit more until almost all the water has evaporated.

That's it! Enjoy this spinach by its own or with Feta cheese and raw walnuts.
Other lunch and dinner recipes you will enjoy: