This delicious recipe for guacamole on bread is the sandwich you've been wishing for! Ready in 5 minutes, super delicious, loaded with healthy fats and other "good-for-you" nutrients, and so versatile that can be served anytime.
This recipe is fancy-tasty without being complicated. We also love it because it's:
Different
Satisfying
Easy
Nourishing
Real Food
Versatile
Nutrient Packed
Special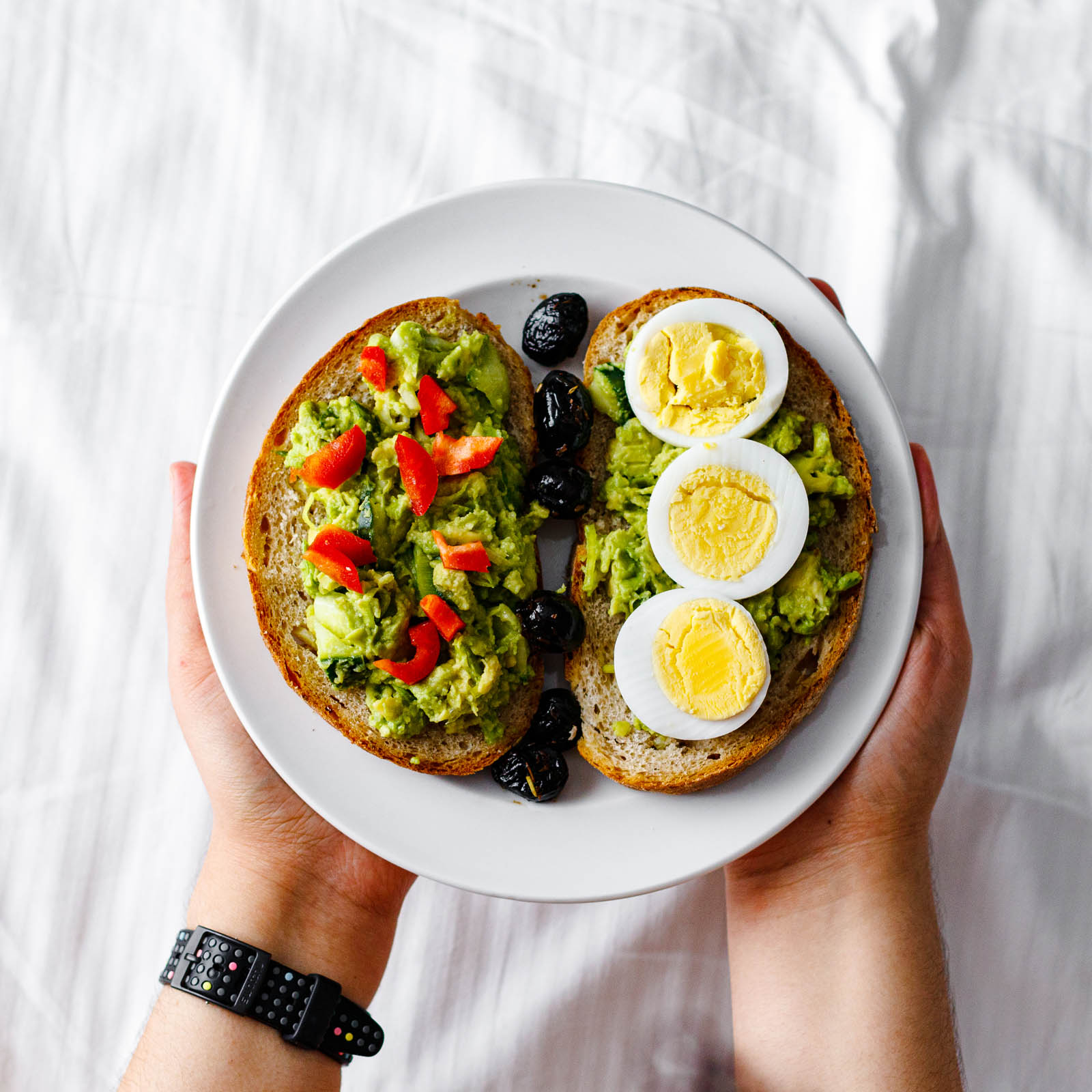 Let us prepare this guacamole "sandwich"
We start with a natural homemade guacamole that you'll prepare using the most creamy avocado, plus leeks, cucumber, lime juice and salt. Great flavor there, let me tell you!
Besides the guacamole, you'll need hard boiled eggs, salty dry olives, bell pepper and a few slices of true sourdough bread, Of course, you can use any kind of bread, including keto and low-carb breads made with almond and coconut flour.
My choice for bread here is organic sourdough bread made in Berlin, Germany (I'm traveling as I write this). If you aren't familiar with sourdough bread, know that it's a low-gluten naturally fermented bread, usually made from rye flour. Just so you know, not all sourdough breads are made entirely using rye flour, most of the time you'll end-up with a combination of regular flour and rye flour.
The sour taste of this bread works perfectly to balance the fatty taste of the avocado, and that is the reason this bread is perfect for this sandwich. Add a few salty Greek olives and some red peppers chops for taste, and you end-up with a healthy meal that's ready in no time!
And the best part is …
This entire recipe is low in carbs (even with the bread) and perfect to serve as breakfast, lunch or dinner, and even as a recovery snack.
I love this kind of meal because it's ridiculously easy to prepare and tastes amazing (especially if you're a fan of guacamole), plus it comes packed with real nutrients that will nourish your body from the inside out. So healthy, super tasty and easy to prepare, what else would you want from a sandwich?
I hope you'll enjoy this guacamole on bread recipe as much as we did. If you try it please let me know what you think, and don't forget to share it with someone you love. Enjoy without guilt because this is one super healthy recipe!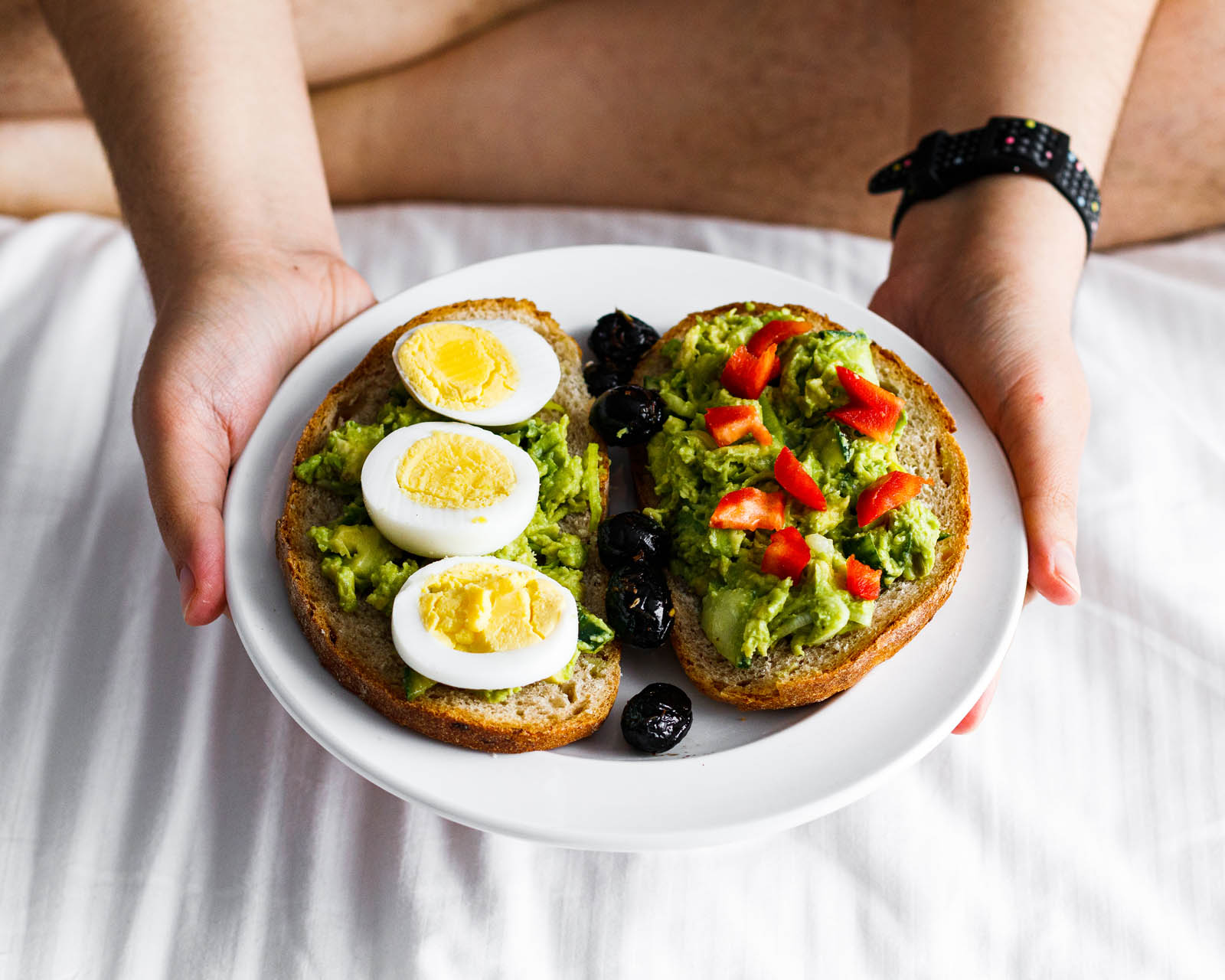 Healthy 5-Minute Guacamole on Bread
Print Recipe
Check out a delicious guacamole on bread recipe! Ready in 5 minutes, super delicious, loaded with "good-for-you" nutrients and so versatile that you can serve it as breakfast, lunch or dinner.
Ingredients
Main Ingredients
2

slices

bread

(I used organic white bread with potatoes)

1

boiled egg

(cut in slices)

6-7

olives

(salty and dried, with Provence herbs)

1-2

slices

kapia red pepper

(cut small)

homemade guacamole

(as needed, see below for recipe)
Guacamole Recipe
1

medium avocado

(skin and seed removed)

5-6

slices

leeks

(chopped small)

3-4

slices

cucumber

(cut in 4s)

1/4

lime

(juice only)

1/2

tsp

salt

(I used white mountain salt)
Instructions
Guacamole Recipe
Add sliced avocado, spring onion, leeks, cucumber, salt and lime juice to a medium sized bowl.

Using a fork, combine everything together into a paste. Don't worry if it take 1 minute or 5 minutes to combine everything. Work on it until it looks like a paste (using a creamy avocado is advised).

Note: You can also use a blender or anything similar to make the paste.

Serve alongside your favorite salad or enjoy with your favorite kind of healthy bread.
Putting it Together
Let's assemble everything to make it look like the pictures. Here goes …

Take one slice of bread and, using a tsp, add half of the guacamole (or as much as you can handle), making sure to spread it evenly. Do the same with the other slice.

Add kapia red pepper on the first slice, while adding the eggs slices on the other slice.

Place the guacamole-bread slices on a plater and decorate with the rest of kapia peper; don't forget to add your favorite olives.

That was it! Enjoy and serve with love and gratitude.
Notes
If you want to keep this meal as a vegan meal, just replace the eggs with more plants (peppers, cucumber, spring cabbage, etc), boiled vegetables (broccoli, cauliflower) or use a vegan cheese instead.
In my experience, the best guacamole is always prepared from soft creamy avocados (if you can buy organic that's even better). I've discovered that organic avocados are always more creamier and their green color is out of this world beautiful. Your guacamole will taste so much better with a healthy grown avocado!
Other guacamole recipes
If you like guacamole, I'm sure you'll enjoy these recipes:
What's your favorite way of eating avocado and do you enjoy guacamole often? Let's chat it in the comments!