Refreshing and creamy, this healthy superfood smoothie redefines what a smoothie should feel and taste like. Packed with lots of vegetables and fruits, low in carbs and naturally sweet, this creamy red smoothie is our new favorite smoothie.
You will love this healthy red smoothie
This sweet and spicy superfood smoothie was amazing and here's why. It was:
Easy
Red
Creamy
Thick
Refreshing
Nourishing
Delicate
Satisfying
Vegan
This sweet red smoothie is a nutritional powerhouse
Calling all smoothie lovers out there … this refreshing and healthy superfood smoothie is:
Packed with all kinds of vegetables and low-carb fruits.
Nutrient dense and perfect to boost your immune system.
Packed with superfood plants that bring real nutrients to your body.
Loaded with vitamins, minerals, phytonutrients, raw enzymes and fiber.
Perfectly blended, creamy and thick, like any smoothie should be.
Great as breakfast or mid-day snack.
Designed to keep hunger away for a few solid hours.
Naturally sweet because we used frozen berries and other low-glycemic fruits.
Low in carbs and balanced with plenty of good fats.
Vegan and Awesome!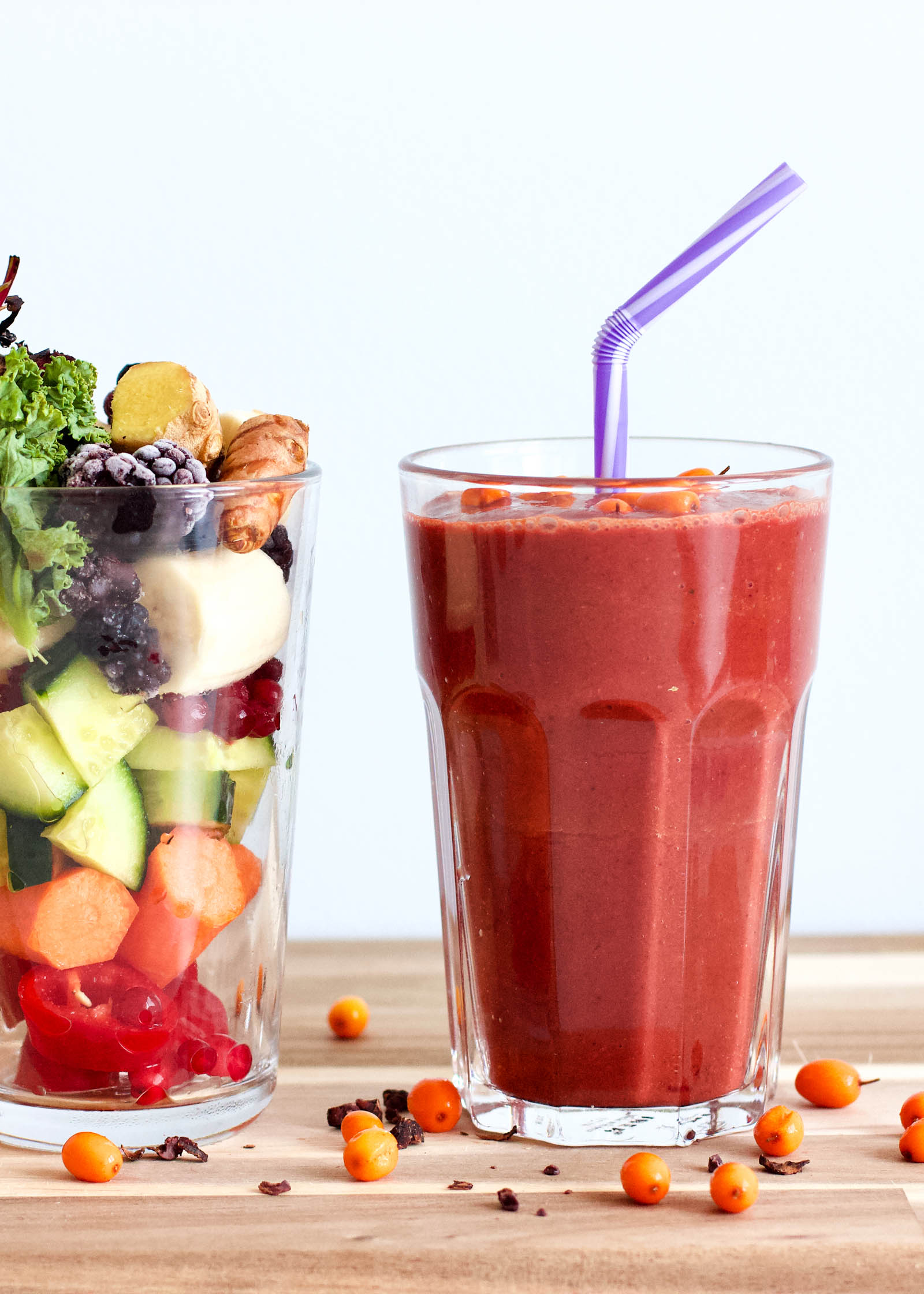 Ingredients list for Healthy Superfood Smoothie
This creamy red smoothie comes with a rather long list of ingredients but I believe this makes it even more awesome and interesting to blend.
Let's have a look over all those wonderful plants that go into our red smoothie, shall we?!
This is the long list of plants that go into this super healthy and awesome superfood smoothie:
Frozen Broccoli – What a nice way to start a refreshing smoothie, wouldn't you say so? Adding frozen broccoli to your smoothie automatically means you're getting lots of beneficial nutrients and from only a single smoothie ingredient. It turns out that frozen broccoli also helps with the overall creaminess of your smoothie so it's a win-win in smoothies.
Avocado – I almost always use avocado in my smoothies, mostly due to avocado being a great source of healthy fats, but also because it makes a great base for a creamy and thick smoothie.
Kale – We use kale for its nutritional value which translates into lots of vitamins, minerals and antioxidants, plus a bit of protein and omega-3 fatty acids. Consuming kale in raw form in smoothies simply means that your body will easily absorb all the nutrients.
Red Beet (Beetroot) – Beetroot is responsible for the amazing red velvet color of our smoothie and partly for the sweet taste. But that's not the main reason why I chose to include beets into this smoothie recipe. Beets are a nutritional powerhouse (lots of phytonutrients and antioxidants) and adding them in smoothies means you will get to consume them raw, which only means more nutrients per serving. When it comes to smoothies, beets are always a winner!
Cucumber Fabio – Fabio cucumbers are those long thick cucumbers that seem to be available all year round. They are not expensive to buy (even if you choose organic) and I love them because they deliver an assortment of healthy nutrients while making your smoothie even more refreshing.
Grapefruit – In case you don't like to consume grapefruit by itself, smoothies are a great way to include it in your daily eating routine. Grapefruit is well known for its antioxidants (vitamin C, lycopene, polyphenols, limonoids) and healthy gut-friendly fiber. Simetimes I may even serve grapefruit as a quick grab-and-go breakfast, that's how much I love it.
Carrot  – You'll be using more than one carrot for this one, and I can tell you that you are in for a delicious treat (Ahm … smoothie). The fact is that carrots are "good-for-you" and are especially great when eaten in raw form. Raw carrots retain all their nutrients intact so eat your carrots! Carrots are literally packed with vitamins, fiber, some minerals and an assortment of antioxidants.
Parsnip – Parsnip is the big brother of carrot, or at least this is what my mother used to tell me. Compared to the well-known orange carrot, parsnip is more fibrous and a little bit sweeter overall. Together with carrots, they go hand-in-hand in all kinds of soup recipes, but it turns out that parsnip is also great when added to smoothies.
Banana – Yes, banana! Almost forgot about the classic refreshing organic banana. I always, always use at least one banana in my smoothies, and I always go for organic bananas. Using banana and avocado together, you are guaranteed to end-up with a creamy and thick smoothie.
Red Pepper  – When it comes to peppers and smoothies, you can use any kind of pepper that you want to use. For this recipe I used one of those kapia red pepper (a long red pepper that are very common in Eastern Europe).
Frozen Berries – I used equal parts of frozen cranberries and blackberries. You can definitely use the type of berries that you have available and this shouldn't change the overall taste of your smoothie too much. Frozen berries are a nice subtle touch to a vegetable smoothie like this one, and their aroma will translate into the final taste of the smoothie, making it sweet-ish. Hint: beets are also sweet and together with banana will make for a sweet smoothie.
Chia Seeds – Good source of dietary fiber and fatty acids (omega-3 fatty acid, alpha-linolenic acid – ALA), chia seeds will be completely pulverized when blending your smoothie. It's a nice and easy way to boost the nutrient content of your breakfast smoothie.
Special Powders – I used a number of quality organic nutrient-rich plant powders, as follows: I used cardamom , ginger, turmeric, cinnamon, aniseed, and dandelion root powder. You can definitely use whatever you like, skip and adapt as needed.
Himalayan Salt – This is one of those times when a little salt goes a long way. We use salt to balance the overall taste of the smoothie blend.
Water – My liquid of choice for smoothies is plain water. Sometimes I may use nut milks like coconut milk or almond milk, but for the most times I will use water. Since my smoothies are always high in vegetables and healthy fats, the best neutral liquid to use in this case is pure water. Water helps blend everything nicely and smoothly, and the final smoothie won't separate when stored in the refrigerator.
I hope you'll come to appreciate this healthy red smoothie as much as we did. If you decide to blend it, please don't be a stranger and let me know what you think about it. I'd appreciate if you can leave a 5-star rating and a comment.
Want to share a picture online? Don't forget to @refreshmyhealth on Social Media so I can see what you came up with. Thanks in advance!
What's your favorite recipe for a creamy and thick smoothie? Would you try this healthy superfood smoothie? Share your smoothie wisdom with everyone!
Healthy Superfood Smoothie (You'll Actually Love!)
Servings:
5
big smoothie glasses
Print Recipe
This healthy superfood smoothie redefines what a smoothie should feel like. It was creamy and thick, sweet and a bit spicy, super refreshing and packed with an assortment of vegetables, while being low in carbs and naturally sweet. Blend and enjoy!
Ingredients
150

g

frozen broccoli

2

avocados

(skinless and seedless)

2

kale leaves

1

red beet

1/2

grapefruit

(no skin)

1/2

cucumber fabio

3

small carrots

1/2

parsnip

1

banana

(skinless)

1

kapia red pepper

4

tbsp

frozen cranberries

4

tbsp

frozen blackberries

1

tbsp

chia seeds

1

tsp

cardamom powder

1

tsp

ginger powder

1

tsp

turmeric powder

1

tsp

cinnamon powder

1/3

tsp

aniseed powder

1

tsp

dandelion root powder

1/2

tsp

Himalayan salt

700-800

ml

water

(or as much as needed)
Instructions
Add everything into your blender, including water.

Blend on medium to high until everything looks smooth and creamy. If it looks too thick, just add more water.

Serve fresh or store in the fridge for 2-3 days.
Notes
All powders are of organic origin, as well as most of the ingredients. Always choose organic if possible, especially for the plants with edible skin.
---
Color: bright red (aka red beet red)
Texture: thick, creamy, easy to drink, like a shake (banana + avocado + red beet)
Taste: sweet and spicy taste but you can also feel the aroma from berries.