Learn how to make a simple plant-based salad with healthy ingredients in 5 minutes or less! This salad is perfect with any kind of meal, plus it's fresh, nutritious and delicious!
Have you recently transitioned to a plant-based way of eating and are looking for delicious salads that are also easy to prepare? Don't worry, I've got you covered! Learn how to put together a basic salad without compromising on taste, nutrients or even on your budget.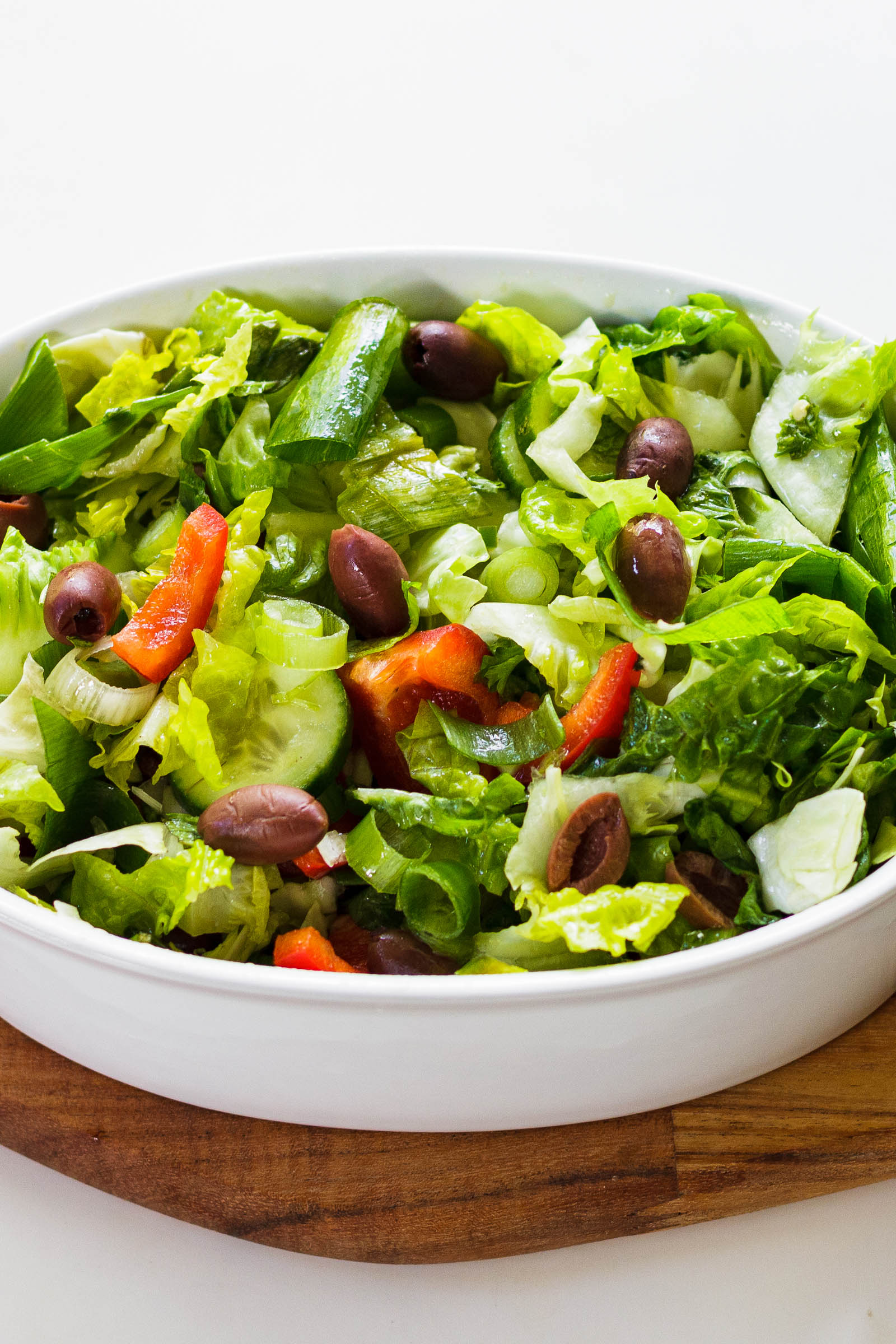 Why you'll love my "salad formula"?
My "formula" for making a delicious plant-based salad is all about fresh ingredients and no cooking. Made with your choice of lettuce, spring onion, bell pepper, cucumber, olives, tomatoes, jalapeño, extra virgin olive oil, freshly squeezed lemon juice and a pinch of salt. That's it!
This vegan gluten-free salad is perfect to serve with any kind of meal and you can use it as a template for other kinds of salads. Want to expand on this salad? No worries, just add your favorite extras and you'll have a new salad in no time.
Let me tell you about this basic salad. It's:
Very easy to make
Perfect with any kind of meal
Loaded with green vegetables
Refreshing and loaded with fresh salad ingredients
Can be "upgraded" with your favorite extras
Perfect to surprise your partner
Super healthy, loaded with all kinds of "good-for-you" nutrients
Has plenty of healthy fats from those olives
100% Vegan & Gluten-Free
Keto & Low-carb approved
No sugar or refined seed oils added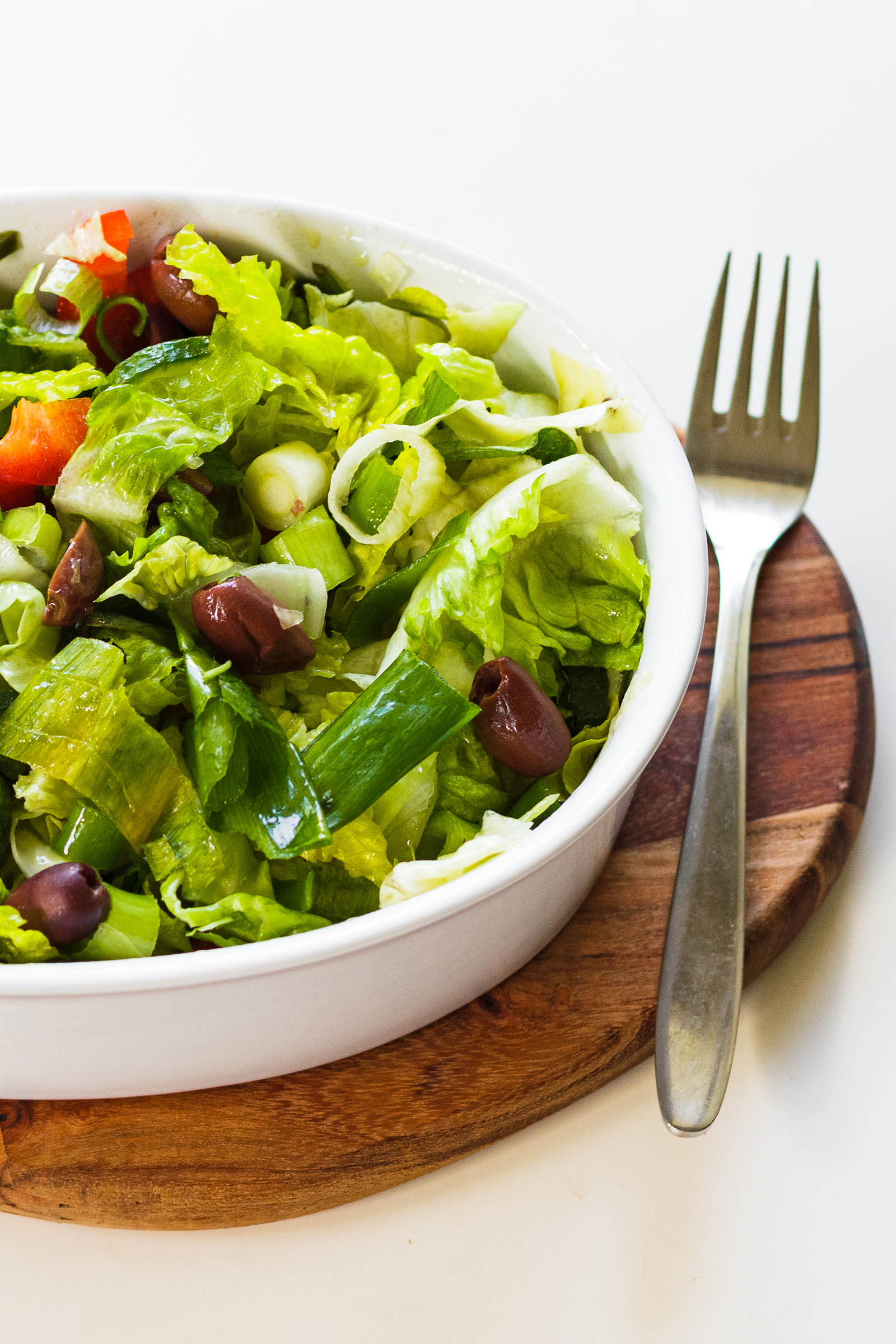 How to make simple delicious salad
I decided to start with a few basic ingredients and share with you my logic for including them in my salad.
Lettuce – I used Iceberg lettuce but you can swap it for any other type of lettuce. You can even use baby spinach or summer cabbage, but lettuce is the "safest" option if you're a beginner with making your own salads. You'll have time to experiment later on so my advice is to keep it simple for now.
Spring Onions – Onions are always part of a delicious salad, at least where I come from. For this simple salad, I decided to go with spring onions (scallions) but you can definitely use classic white or red onion, or shallots. In case you're feeling adventurous you can replace scallions with leeks and discover one of the healthiest plants out there.
Bell Peppers – Peppers will add color, texture, taste and nutrients to any salad. Depending on where you live, they come in different varieties, shapes and colors. And let me tell you that they will taste differently based on whee you live. Interesting, right?
Cucumbers – You definitely need cucumber in your salad. Cucumbers come in different sizes and varieties, and this is where taste and nutrients come into our little discussion. Try different types of cucumbers and buy organic if possible, since the skin of organically grown cucumbers will always be free of pesticide residues.
Olives – I like using kalamata or green olives in different proportions. Definitely use olives for their healthy fats content and feel free to use the kind that you like most. Make sure to use Greek olives that come in glass jars and are free of additives, preservatives or fillers (just salt, water and optionally vinegar).
Tomatoes – Definitely a staple of summer salads, tomatoes come in so many types, shapes and flavors. Fun fact: in Romania (where I come from) we have a traditional salad made only 2 ingredients … with tomatoes and feta cheese. That's it and nothing more! How about that for a quick summer meal?
Jalapeño – What can I say, I like my salads a bit spicy and jalapeños are perfect for this (plus they are super healthy)! Use the kind of hot pepper that you like or skip it all together if peppers are not your thing.
Lemon Juice – Freshly squeezed lemon juice is there to protect both the vegetables but also the good fats, from oxidation. You won't need much and you can also use freshly squeezed lime juice, in case lemon is not your thing.
Extra Virgin Olive Oil – Besides lots of easy to chew greens, a basic salad needs lots of antioxidants and good fats. And that's where pure virgin olive oils comes in.
Wondering how you can test for a quality virgin olive oil? Observe the color, smell it and taste it. Extra virgin olive oil is made from green olives so its color should be green (due to chlorophyl in the green olives), while its smell should be grassy and natural (you'll know!). When it comes to taste, a good EVOO should be fruity yet pungent, creating a peppery or burning sensation at the back of your throat when you swallow. You'll know for sure!
Pinch of Salt – Salt is great especially if you've included quite a bit of extra virgin olive oil. Note: if the olives that you're using are salty, use less added salt. Taste your salad before proceeding to add the salt.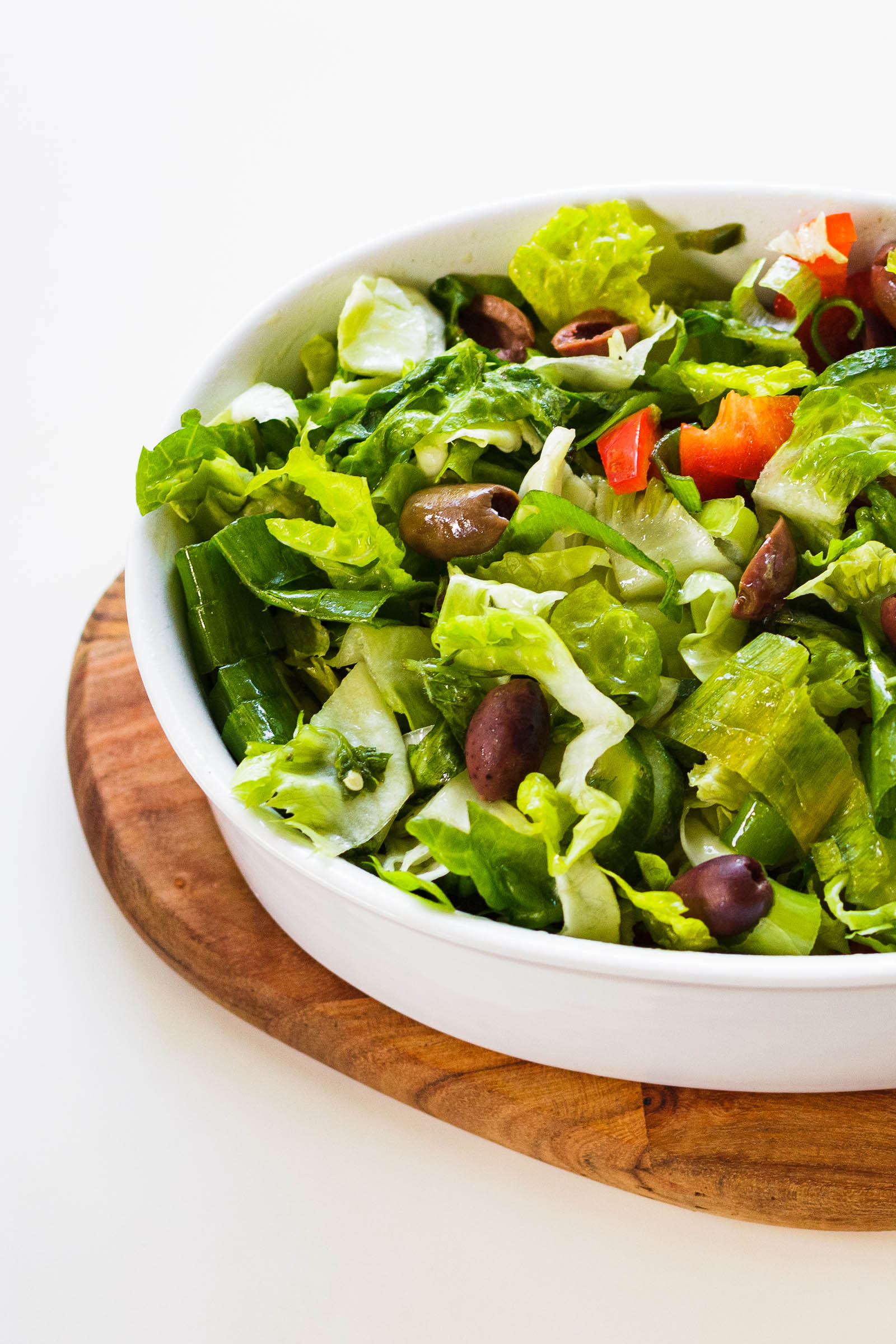 I simply love this easy salad because it's super easy to put together and comes packed with fresh vegetables, healthy fats and quality proteins. It's loaded with vitamins, minerals, plenty of phytonutrients, it's vegan and comes packed with plenty of healthy fiber.
Enjoy this recipe with someone you love! … And don't forget to let me know your favorite ways to enhance this recipe!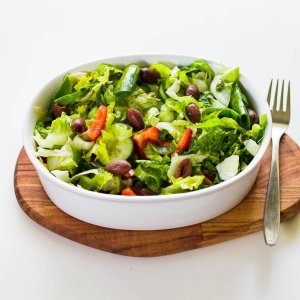 How To Make A Simple Salad + Recipe | Vegan & Gluten-Free
Print Recipe
Learn how to put together a simple plant-based salad without compromising on taste or nutrients. Ready in just a few minutes, perfect with any kind of meal. Simple, always fresh, nutritious and delicious!
Ingredients
iceberg lettuce

(as much as needed)

1

spring onion

(chopped)

1/2

bell pepper

(cubed)

1/2

cucumber

(slices)

handful of

kalamata olives

(seedless)

1

tomato

(optional)

1/2

jalapeño

(optional)

fresh lemon juice

(or lime juice)

1-2

tbsp

extra virgin olive oil

pinch of

Himalayan salt
Instructions
Prepare all the ingredients as indicated and add them into a salad bowl.

Pour extra virgin olive oil and gently mix until incorporated.

Add salt and lemon or lime juice. Gently mix again for a few seconds.

That was it! Serve and enjoy all day long!
Notes
Feel free to skip any of the ingredients if you don't like eating it. The same it true for including other ingredients, if you happen to like them.
Salads are all about playing with the food and making it yours. Play with the quantities and the ingredients list, finding your own salad formula that you like.
Be creative with your choice of lettuce. You could even use baby spinach instead of lettuce or as an extra.