Our immune boosting wellness smoothie comes packed with nourishing plant-based ingredients like avocado, spinach, beet, banana, plus other healthy plants. This immune boosting smoothie is great for mood, skin, digestion and basically the whole body, packs antioxidants and anti-inflammatories and tastes delicious!
Enjoy it for an easy, refreshing breakfast or snack, whenever you feel that you need a boost of beneficial nutrients, or simply want to enhance your immune system.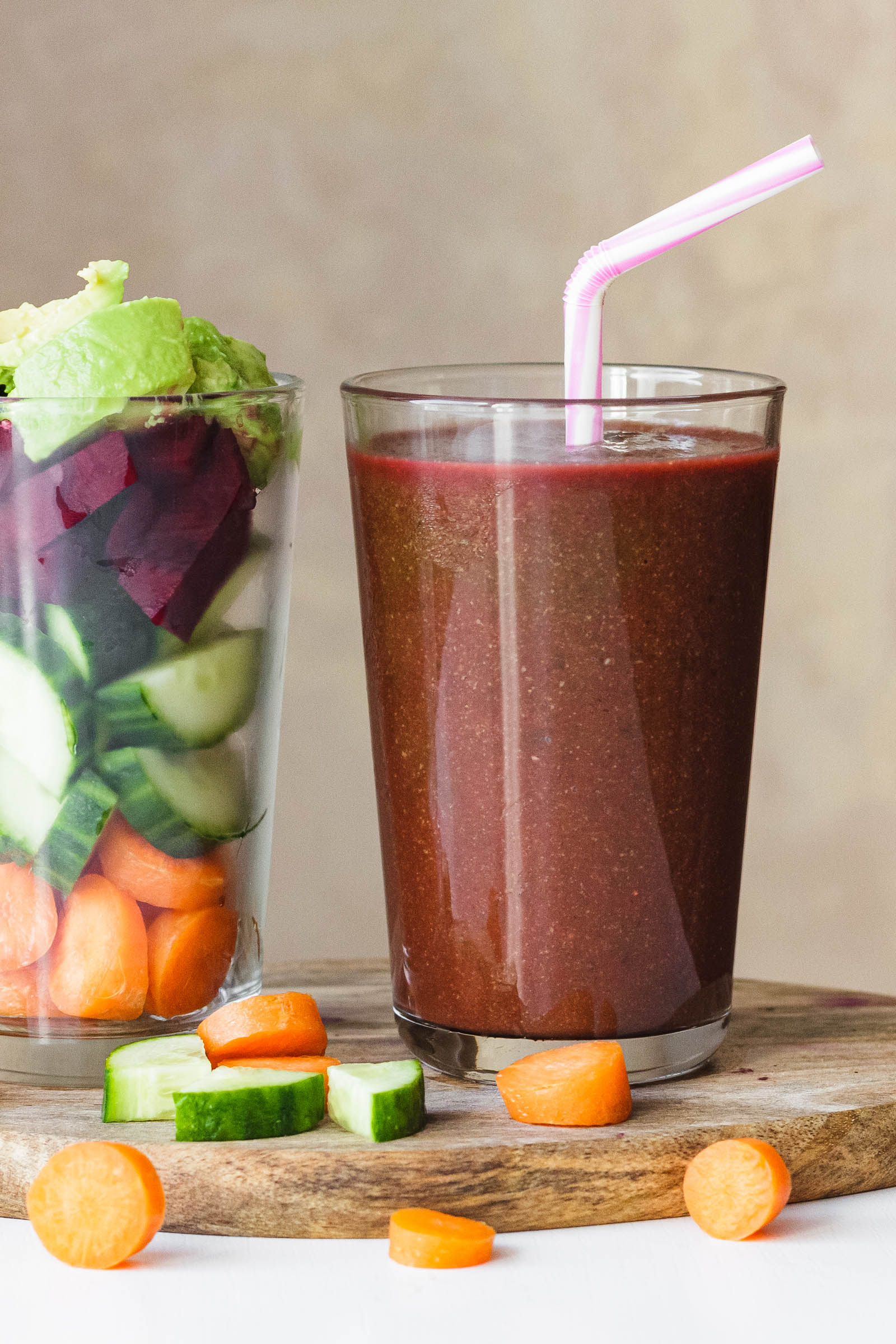 You will love this immune boosting smoothie
Here are a few reasons why you should give this Immune Boosting Wellness Smoothie a chance. It was:
Easy
Fun
Healthy
Delicious
Sweet
Surprising
Nutritious
Satisfying
Refreshing
Vegan
Amazing ingredients in this immune boosting smoothie
Not only does this smoothie tastes fantastic with hints of banana, beet and spinach, but it also includes ingredients that boost some pretty incredible health benefits. Here's what you'll need to make it:
Beet: Beets are literally a nutritional powerhouse and smoothies are one of the easiest ways to consume raw beets. Another way to consume raw beets (which deliver all the nutrients intact, as opposite to cooked beets) are salads made using raw beets as the base.
Banana: Packed with healthy fiber (read gut-health), some sugars and potassium, banana is part of the base for this smoothie. Banana helps us obtain a creamy and thick smoothie. Note that green bananas have less fructose and more fiber, while a yellow colored banana is the opposite.
Frozen Spinach: I love using frozen spinach in smoothies and, together with banana and avocado, spinach adds creaminess to our smoothie. Using frozen spinach in smoothies is not only fast but also great for delivering a healthy dose of fiber, vitamins and all kinds of potent nutrients into your system (all before lunch time).
Avocado: Together with banana and frozen spinach, avocado helps us obtain that creamy texture in any smoothie. Avocado comes packed with beneficial nutrients that include healthy fats, potassium, magnesium, vitamins and phytonutrients (antioxidants included).
Carrot: How many raw carrots are you consuming daily? Smoothies are a great way to eat more of these nutrient-rich plants. Carrots are rich in vitamin A, potassium and many plant compounds, including carotenoids.
Cucumber: Using cucumber in smoothies is a nice way to boost the nutritional value of your smoothie with vitamins, minerals, and antioxidants.
Fennel: Fennel will add a subtle sweet taste to your smoothie but, most importantly, will boost the nutritional value of the smoothie with vitamin C and various minerals, as well as powerful antioxidants.
Extra Virgin Coconut Oil: Smoothies are a great way to sneak-in different sources of healthy fats, and coconut oil is the king of fats. Consuming coconut has so many health benefits that I don't know where to start. From fat burning to skin health, antioxidant protection, to improved digestion, better mood, lowering blood glucose, having more energy, to mental clarity, to antimicrobial and anti-fungal properties.
Ginger Powder: One of my favorite boosters for adding into smoothies.
Turmeric Powder: Another one of my favorite boosters to use in my daily smoothies.
Ginger root: Fresh ginger helps with digestive issues, reducing inflammation and even pain in some cases.
Water: I mainly use water as the liquid for my smoothies. You can also experiment with using coconut milk or coconut water if you want.
How to make this smoothie thick & smooth
I have a few tips for making this immune boosting wellness smoothie thick, cold, perfectly smooth and well mixed every time:
Use THE combo: banana + avocado + spinach. This is my best kept secret for making a creamy and thick smoothie. Banana and avocado are both creamy fruits and will mix perfectly with frozen spinach.
Use frozen spinach. Using frozen spinach is advised since it helps to keep the smoothie cold and thick. Spinach will combine easily with both banana and avocado.
Or use frozen banana. In case you only have frozen banana in your freezer, you can use that instead of frozen spinach (and still use plain raw spinach). The rule is to use at least one of these as frozen (either banana or spinach, I personally prefer using frozen spinach).
Watch how much liquid you add. Start with just enough liquid to cover all the ingredients and maybe a bit more. Don't be afraid to add more water if your smoothie is too thick or won't fully blend.
Use a high powered blender. High powered blenders tend to blend frozen plants much better. If you have a regular blender you may need to use a bit more water in order to blend everything smoothly.
Start low, go high. Start the blender on medium speed, then gradually increase to high speed and use the pulse function a few times to help chop all the ingredients. Finally turn with the blender to medium speed again until smoothie turns exactly as you want it.
I hope you'll enjoy this immune boosting wellness smoothie as much as we did! If you make it, be sure to rate the recipe and leave a comment to let me know how you liked it.
What's your favorite smoothie combo? Would you try our Immune Boosting Wellness Smoothie recipe? Share in the comments!
Immune Boosting Wellness Smoothie
Print Recipe
Immune boosting smoothie packed with nourishing plant-based ingredients like avocado, spinach, beet, banana, and other healthy plants. Our Immune Boosting Wellness Smoothie packs antioxidants and anti-inflammatories, it's super healthy and tastes delicious!
Ingredients
1/2

red beet

(peeled)

1

banana

(peeled)

200

g

frozen spinach

1

avocado

(skin and seed removed)

2

carrots

(chopped)

1

big

cucumber fabio

(sliced)

1

slice

fennel

(chopped)

1

big tbsp

extra virgin coconut oil

1

tsp

ginger powder

1

tsp

turmeric powder

a bit of

fresh ginger root

(slices, optional)

650

ml

water
Instructions
Add everything into your blender, including water.

Blend on medium to high speed until everything looks smooth and well mixed. If it looks too thick, just add more water and use the pulse function a few times.

Done! Pour into favorite glass, serve fresh or store in the fridge for 2-3 days.
Notes
Color: dark red
Texture: with fiber but well mixed, easy to drink
Taste: very sweet, banana + spinach + red beet, easy to drink, refreshing