This low-carb apple carrot pie is all about enjoying a low-carb dessert that smells and tastes amazing, in the cozy Scandinavian atmosphere. We developed this recipe in a cold autumn day while living in Norway and it all started with a hot cup of tea.
This apple pie is a fall dream. It's:
Warm
Healthy
Naturally Sweet
Perfectly Spiced
Loaded with Apples
& Cinnamon-Infused
Perfect with Tea or Coffee
& Seriously Simple
Satisfying
Low in Carbs
I want to share with you not only this delicious pie, but also the cozy mood behind it. Let's get cookin'!
A delicious low-carb pie
This apple and carrot pie reminds me of the cozy Norwegian autumn days when the nature starts shifting towards the cold winter. It's mid-September now and the Norwegian summer was over for almost a month. The days are getting shorter and colder, and we started making tea every evening because it's so cozy and calming.
It's raining almost daily now and we end-up spending more time inside, in the "let's cook something" mood. We've prepared for the cold days to come with a kitchen (and pantry) stocked with all the plants and low-carb ingredients that you can think of. Fresh fruits and vegetables, frozen veggies and frozen berries, spices, nuts and seeds, nut butters, and so on.
As you know by now, we loooove cooking low-carb recipes and this cozy cooking mood is what brought this recipe to life. Take a cozy mood, quality ingredients, some cooking experience and a creative mood, and you'll end-up with a delicious low-carb pie. Guys, it really is that easy!
This low-carb pie is simply amazing and this is how my wife describes it:
When baking this pie your house will end-up smelling like baked apples and cinnamon.
Perfect to serve with your favorite cup of coffee.
Great to serve at any dinner party.
Your neighbors will ask you for the recipe next morning.
Low-cab and delicious, so you can actually eat as much as you want.
Great as breakfast or as a grab-and-go snack.
This is not only a great dessert, it can also work as a low-carb meal.
Great when served both fresh and hot, or cold from the fridge.
What ingredients you'll need for this pie
Let's discover all the wonderful ingredients that make up this delicious low-cab pie:
Apples and Carrots – We use a combination of apples and carrots that will give this pie a sweet and delicate aroma. Who doesn't love those cooked apples infused with cinnamon? Wait until you've tasted the pie to see what I mean … De-li-cious!
Cinnamon and Vanilla – These amazing spices work together to enhance the flavor of the cooked apples and carrots. Plus, while the pie is cooking, your house will smell amazing!
Extra Virgin Coconut Oil – Using healthy fats transforms a dessert like this one into something that is guaranteed to be healthy and good for you. Does it matter that it also tastes amazing?!
Coconut Flour and Almond Flour – We use these healthy flours as the base for our delicious pie. They are gluten-free, low in carbs, rich in healthy fats, natural and free of harmful ingredients, and totally organic. If you haven't baked with almond flour or coconut flour before, you're in for a treat.
Eggs – Great for keeping the pie together, the eggs also add healthy fats and quality protein to the mix, plus they come with plenty of vitamins and minerals to our pie.
Coconut Milk – Loaded with healthy fats, the creamy coconut milk will make the pie … well, creamy!
Banana – Banana is first and foremost used as a natural sweetener, but it also adds healthy fiber (resistant starch) as well as potassium. Told you this pie is gonna be good!
Himalayan Salt – I always add a bit of salt to any of my desserts, mainly as a way to balance the sweetness and the fatty content (especially with low-carb and keto desserts).
Strawberries – We've included strawberries as a way to add color and a bit of berry-aroma to our pie. The strawberries combine perfectly with all the other ingredients, and look spectacular on top of the pie.
How do you make this apple carrot pie?
This apple carrot pie is quite easy to make but you'll have to spend around 20-30 minutes in the kitchen, plus baking the pie for another 40 minutes or so. Nothing to worry, right? Ok … these are the basic steps that you'll have to follow:
You'll start by cooking the grated apples and carrots in a skillet.
Next step is to mix the coconut and almond flours with the eggs, coconut milk and banana.
Next, incorporate the apple carrot mixture into the batter.
Pour in an oven resistant tray (or skillet) and decorate with strawberries on top.
Bake in the oven for 30-40 min, making sure not to over-cook this wonderful pie.
Remove from the oven when toothpick comes clean and set aside for 10 min to cool down.
DONE! Enjoy fresh or store in the fridge until consumed.
I hope it doesn't sound too complicated and that you'll give this recipe a go. Find the complete instructions in the recipe section at the bottom of this post.
And the best part is …
You can serve this delicious pie by the cozy fire or with a cup of your favorite tea (or coffee). It's great for parties and perfect for a romantic week-end night when it snows outside.
We love this pie because it's sweet enough without being too sweet, plus it's naturally sweetened without extra calories. Plus it smells like cinnamon and apples, and strawberries on top. The texture is smooth and creamy, but still solid and easy to cut. You can eat it with a fork or simply using your hands but, whatever the case might be, I bet you'll ask for more!
Now that I think about it, I guess it looks more like a cake than a pie. We call it a pie due to the delicious combination of apples and cinnamon, but I guess you can also call it a cake. You'll have to try it in order to see what I mean … It is simply de-li-cious!
If you decide to usher in fall with this gorgeous apple carrot pie, be sure to tell us! Leave a comment or take a picture and tag it #refreshmyhealth on Social Media.
We always love seeing what you came up with. Cheers and enjoy this pie with someone you love!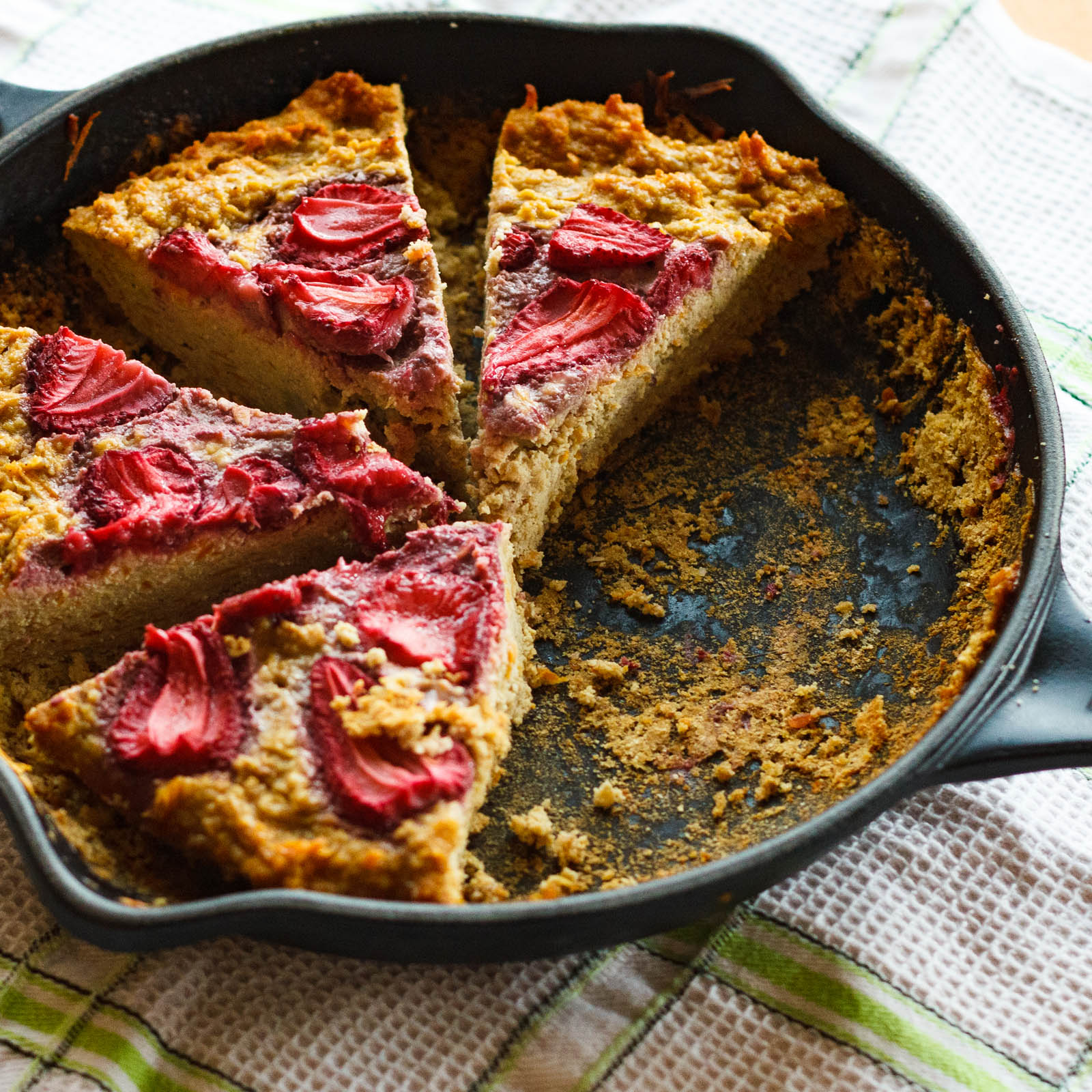 Low-Carb Apple Carrot Pie (Easy & So Good!)
Print Recipe
This low-carb apple carrot pie is all about enjoying a low-carb dessert that smells and tastes amazing, plus it's ridiculously easy to make. Let's get cookin'!
Ingredients
Apple Carrot Filling
4

apples

(grated)

2

big carrots

(grated)

1

tsp

cinnamon powder

1/2

tsp

vanilla powder

1

tbsp

extra virgin coconut oil
Main Pie
100

g

coconut flour

100

g

almond flour

5

eggs

(no shells)

100

g

coconut milk

1

banana

(mashed)

pinch of

Himalayan salt
Topping
15-20

strawberries

(fresh or frozen, cut in half)
Instructions
Add grated carrots and apples to a skillet. Also add cinnamon powder, vanilla powder and extra virgin coconut oil.

Cook over medium heat until the natural juices from the apples and carrots have evaporated from the skillet. Steer constantly, making sure that the contents of the skillet will not stick. This process should take you around 10 minutes or so.

Once all the water has evaporated, remove from heat and set aside to cool down. Next, we'll take care of the main dough.

Crack the eggs into a bowl and beat them well with a whisk or fork.

Add the coconut milk and mix until combined with the beaten eggs. Add mashed banana and incorporate it into the beaten eggs as well.

In another bowl mix the dry ingredients: coconut flour, almond flour and pinch of salt. Add the mixture of dry ingredients to the bowl with the beaten eggs and mix to incorporate.

Now it's time to incorporate the apple carrot filling into the batter. Using a spatula, add the contents of the skillet over the batter, mixing gently with a spatula until incorporated evenly.

You should end-up with a batter that's neither liquid nor thick (something in-between). If your batter is too thick, consider adding a bit of coconut milk. In case the batter turned out on the liquid side, consider incorporating a bit more coconut flour into the mix.

Transfer the entire batter into an oven resistant dish (or cast-iron skillet, as I did) and decorate on top with half strawberries.

Preheat the oven at 180-200 Celsius and bake for 30-45 minutes or until the pie becomes solid. Check regularly to make sure that you don't over bake, in which case your pie will end-up a bit dry.

Remove from the oven when ready and set aside for 10 minutes to cool down. Cut into desired portions and transfer on a plate.

DONE! You can serve it fresh or store it in the fridge for up to 3 days.
Notes
You won't need any kind of levering agent like baking soda or baking powder - this pie will already be soft and creamy from all the healthy fats that we're using.
Have you made low-carb apple carrot pie before? Would you give this recipe a try? Share in the comments!
Similar low-carb bake-desserts you'll love
If you liked this Low-Carb Apple Carrot Pie, you'll love these delicious oven-bake recipes: