This easy 5-minute vegetarian plate is all about fresh veggies, delicious homemade guacamole (lots of avocado!), hard boiled eggs, and a lot of love for healthy food. Simple and delicious, healthy, so customizable and satisfying.
You won't need any kind of special cooking skills for this one so let's get started!
Guys, this plate is out of this world good. It's:
Delicious
Flavorful
Nourishing
Easy to prepare
Customizable
Low-cab, Keto & Whole30 ready
Loaded with those "good-for-you" nutrients
Ready in 5-Minutes
Here's what goes into this simple and delicious plate:
Homemade guacamole
Hard boiled eggs
Guacamole filled eggs
Boiled broccoli
Raw veggies: tomatoes, cucumbers, pickled cucumbers, bell pepper
Sourdough bread (organic please!)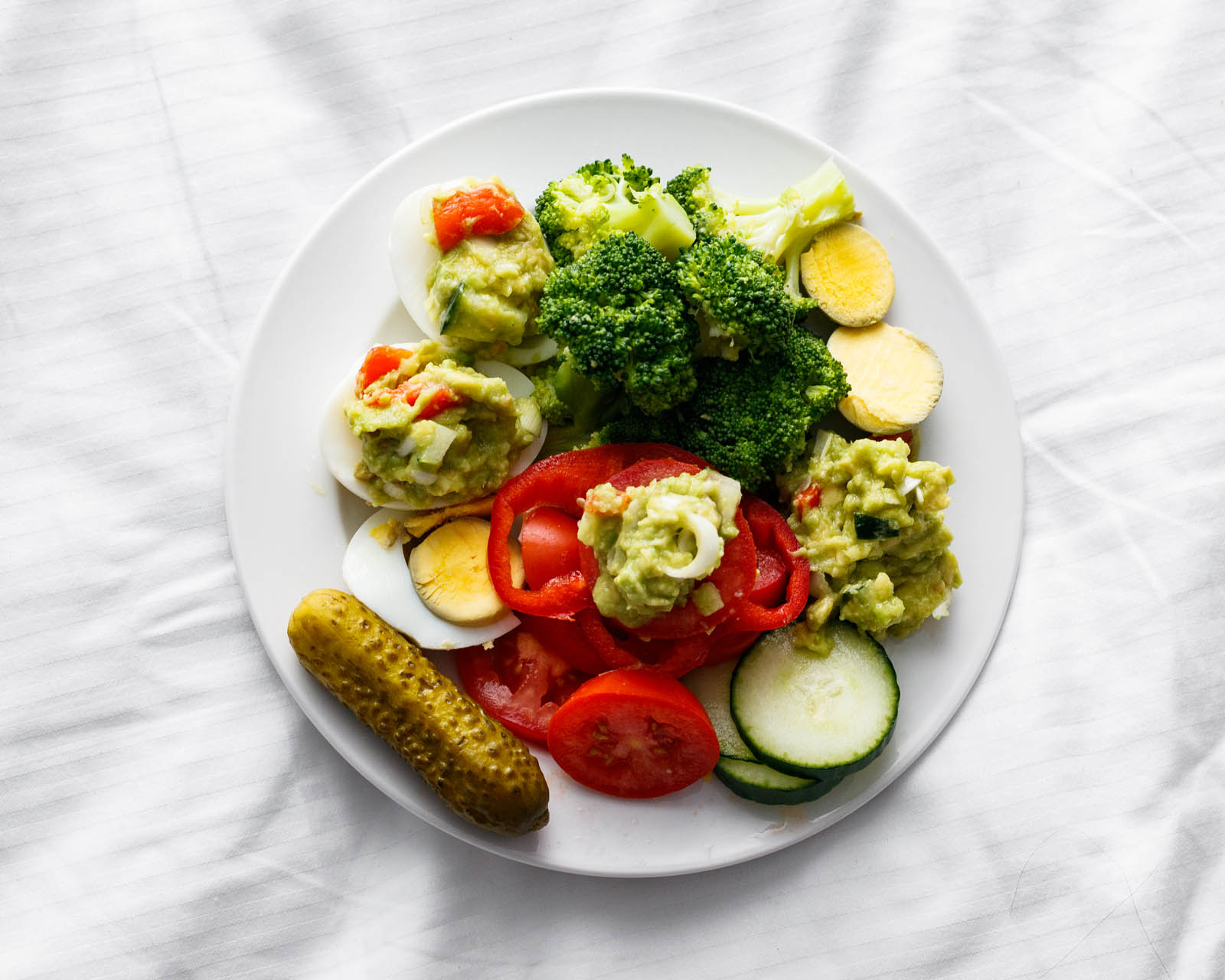 This plate doesn't come with a specific guacamole recipe, but feel free use any of my other guacamole-inspired recipes below:
This plate with avocado, eggs and veggies is so customizable that you can also use it as a template for other variations, enhancing the nutrient value as you find fit. Feel free to add you favorite ingredients or maybe remove some of the ingredients that you don't like. You could add your favorite kind of olives, maybe nuts or other raw or cooked vegetables.
I truly believe that eating healthy should, first and foremost, be enjoyable. Eat the plate that you want to eat and don't look back!
If you find this plate interesting, please share it with someone else. Sharing is caring! Thank you from all my heart.
Messy Avocado Eggs Veggies Plate
Print Recipe
Easy 5-minute vegetarian plate with lots of veggies, homemade guacamole, hard boiled eggs and a lot of love for healthy food. Simple, delicious, so customizable, healthy and satisfying!
Ingredients
200

g

frozen broccoli

(boiled)

2-3

hard boiled eggs

(cut in half)

1/2

kapia pepper

(or bell pepper, slices)

1/4

fresh cucumber

(slices)

1-2

tomatoes

(slices)

2

pickled cucumbers

(picked in brine)

3

tbsp

homemade guacamole

(as needed)

a few slices of your favorite bread

(I used sourdough bread)
Instructions
Prepare the ingredients as needed: cook the broccoli in water for a few minutes until done, prepare the boiled eggs as indicated below and make sure that you have the guacamole ready (see my guacamole recipes below).

Prepare all the other ingredients by slicing them as you find fit.

Slice the hard boiled eggs in half, remove the yolks and replace them with 1 tsp of guacamole (for each of the half eggs).

Arrange everything on a plate and serve with your favorite healthy bread.

That was it! Enjoy and share with someone you love!
Notes
Note that the the pictures show only 1 serving 🙂
Here are a few other plates that you might enjoy: