Check-out this yellow Morning Sunshine Smoothie made with healthy fats, plenty of veggies and only a few sweet fruits. This combo will give you energy all day long without those blood sugar spikes that you get from sugary drinks (most store bought smoothies included).
You will love this morning sunshine smoothie
This smoothie is perfect when you simply want to grab something healthy before heading outside in the morning. It's one of those "advanced" smoothies that I like putting together when I feel creative in the kitchen. It's also one of the most interesting blends that I've made in a while.
So why would you blend this smoothie at home instead of buying one from the store? Let me tell you why:
Homemade is simply better.
This smoothie is naturally sweet.
This smoothie will give you plenty of energy.
It's loaded with healthy nutrients.
Homemade is cheaper and more delicious too.
It's fun to blend your own smoothie and you will feel great!
You control the ingredients list meaning you can use only the best ingredients.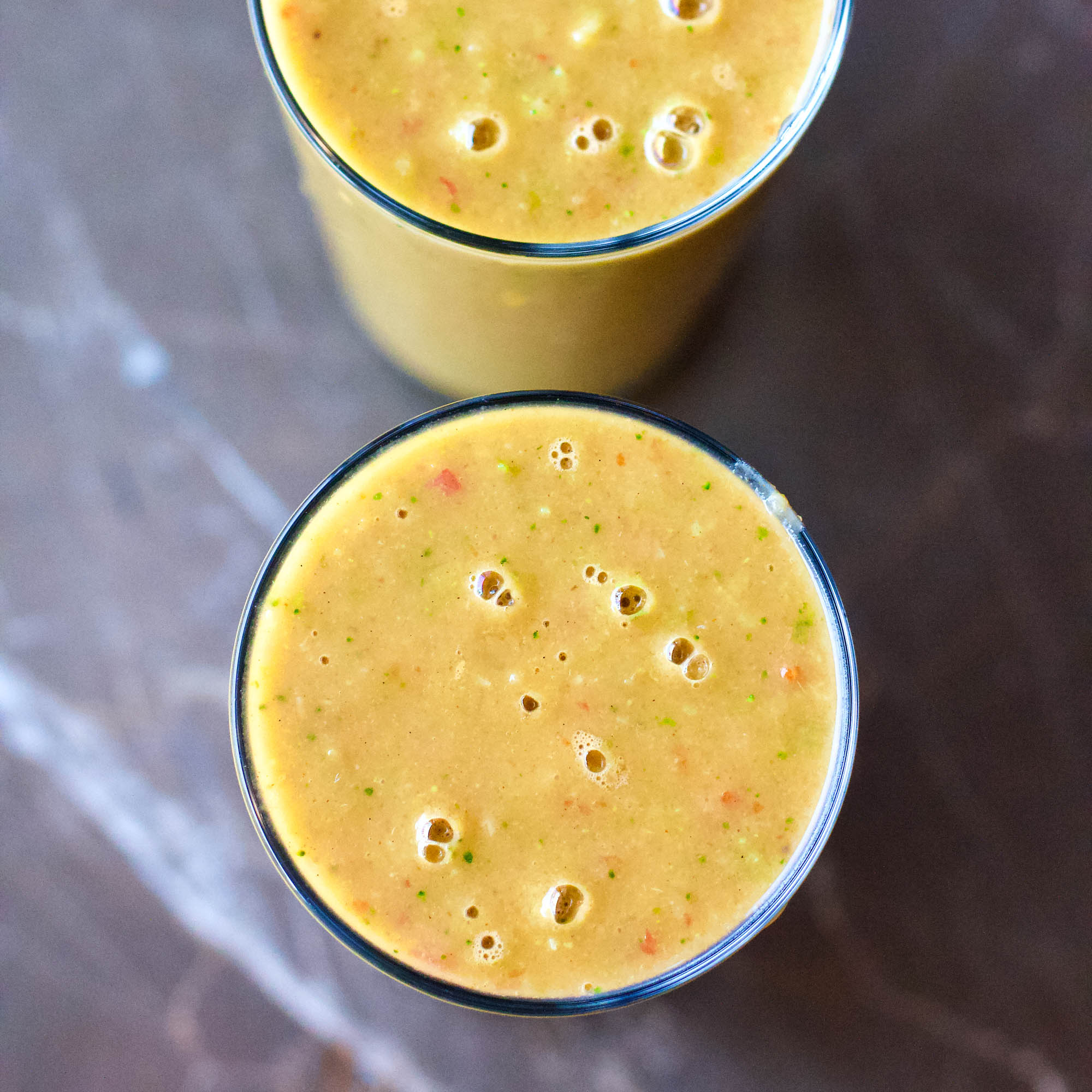 Secrets from a smoothie lover
Would you like to know the secret to making the perfect smoothie? It's easy! Just go out and buy all sorts of plant-based ingredients: fruits, veggies, fresh or frozen, exotic or local, spices and superfoods Bring them home and wash them, place them in the fridge and wait until the next morning.
When you'll wake up you'll feel instantly inspired by all the colors, textures and aromas of those fresh plants in your fridge. I promise you that you will feel like a child running outside in a spring sunny day.
Follow you inspiration from there (or my recipes) and you'll be making a delicious smoothie in no time!
As a general rule, my smoothies are always prepared with plenty of healthy fats, lots of vegetables, and only a few fruits, plus spices and superfoods. This is roughly my formula for making delicious and healthy smoothies.
Now that you know how to put together the perfect smoothie, it's time to get blending!
I hope you'll enjoy this smoothie as much as I did and I wish you all the best in your journey. Don't be a stranger around these parts!
If you try the Morning Sunshine Smoothie don't forget to let me know what you think and if you liked it. I'd also appreciate if you would write a review below.
Planning on sharing a photo around? Tag it @refreshmyhealth on Social Media so I can follow-up with you and we can be smoothie buddies.
What's your favorite smoothie recipe? Will you try this yellow-looking smoothie? Tell me what you think.
Morning Sunshine Smoothie
Servings:
4
smoothie glasses
Print Recipe
This yellow-looking smoothie is made with healthy fats, plenty of veggies and only a few sweet fruits, giving you plenty of energy all day long without spiking your blood sugar. Just blend and enjoy!
Ingredients
1

avocado

(skin removed, seeded)

1

banana

(skin removed)

1

golden apple

(cut in big pieces)

1

clementine

(skin removed, no seeds)

1

big slice

lemon

(organic, with skin, cut in 4)

6

frozen broccoli bouquets

1/2

green kapia pepper

(sliced big)

1

tomato

(sliced big)

1

tbsp

extra virgin coconut oil

1/2

tsp

cinnamon powder

1/2

tsp

ginger powder

1/2

tsp

turmeric powder

pinch of

vanilla extract

1/2

tsp

Himalayan salt

1/2

long espresso

(cold, optional)

250-300

ml

water

(or enough to cover the ingredients)
Instructions
Peel, chop and cut all the ingredients according to my instructions.

Blend on medium to high speed until everything looks smooth and creamy.

Your smoothie is now ready! Wasn't that easy?
Notes
You can always swap water for coconut water, coconut milk, almond milk or cashew milk. While coconut water comes with electrolytes that help maintain a healthy balance in your body, the others will also add plenty of healthy fats to your smoothie, making for a creamier drink.
Feel free to skip the coffee if you don't take caffeine, it'll work just fine without it.
One side note on the lemon: if you're not using an organic lemon make sure to remove the skin before adding it into your smoothie. Most conventionally grown citrus fruits are sprayed with chemicals which remain in the lemon skin even after you wash it.
More yellow smoothie inspiration