Make ahead healthy recipes like this Butternut Squash and Apple Cake are a great way to have a grab-and-go healthy snack at all times … and eat it too!
What makes this snack cake recipe so good? You get a dose of cinnamon infused apples and butternut squash, mixed with plenty healthy fats from coconut, almond flour and eggs. But you'll also get a few other delicious extras and a lot of love in every single bite. Let's go!
This butternut squash and apple cake is family approved, and it's great as breakfast or snack, perfect with a hot cup of tea or coffee!
Ingredients for this butternut squash cake
butternut squash – perfect for fall
apples – use your favorite kind
extra virgin coconut oil – oh, those healthy fats!
eggs – this cake is a great way to eat them
almond flour – don't you love gluten-free flour?
raisins – to make this cake sweet, we use raisins instead of refined sugar
vanilla and cinnamon – this cake is infused with these amazing spices
Himalayan salt – a small quantity goes a long way every time
cranberries – use them to give a subtle sweet and sour flavor to cakes or pies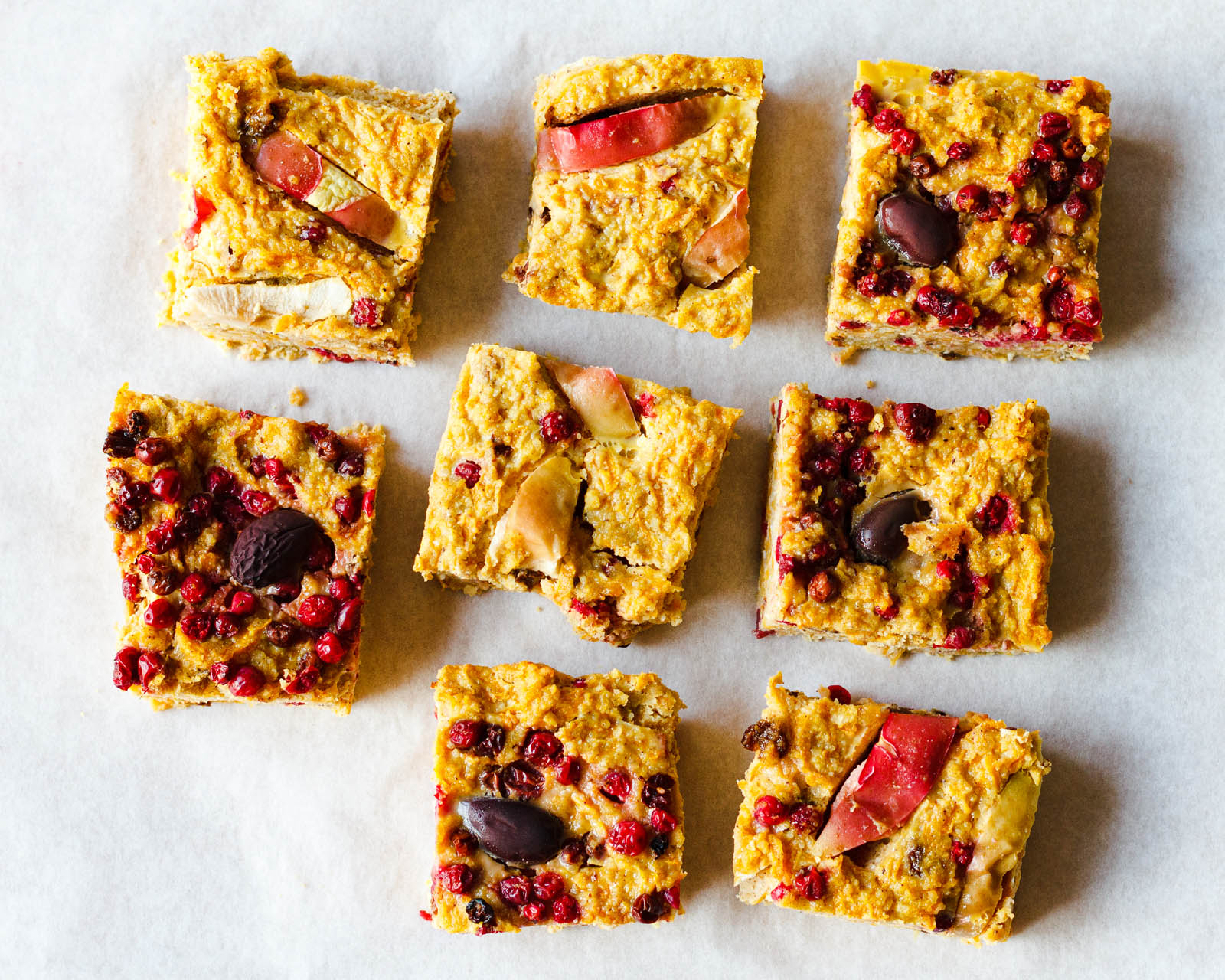 How to make this butternut squash dessert
You don't have to be a chef to make this butternut squash and apple cake. These are the basic steps that you'll have to follow:
Cook the apples and butternut squash in a skillet.
Mix together all dry ingredient and add beaten eggs on top, forming a batter.
Incorporate the apple and butternut squash mixture into the batter above.
Incorporate the cranberries into the batter.
Pour the batter in a tray and decorate on top with more cranberries.
Bake in the oven for 30-40 min until toothpick comes out clean.
Remove from the oven when done and set aside for 10 min to cool down.
Enjoy fresh or store in the fridge for 3 days.
This low-carb cake can be customized!
Why stop at this recipe when you can create endless variations? Here are a few quick ideas:
Add different extras inside the batter: walnuts and pecans are always great in any cake.
Use different types of berries: blueberries, raspberries, strawberries and even sea buckthorn.
Use chocolate inside the cake or on top: 85% dark chocolate is my favorite). I also love 90%, 92%, even 99%, and I always make sure to buy FairTrade brands that use only quality cacao.
Use a mix of gluten-free flours: instead of going all-in with almond flour, you could also use a mix of coconut flour and almond flour, or simply use coconut flour instead of the almond flour that I used. Make sure to also add a bit more liquid as well because coconut flour absorbs more water.
Eat this cake with full-fat whipped cream: add 1-2 tbsp of homemade whipped cream on top of a serving to transform this cake into an exquisite dessert.
If you or someone you know is watching their sugar intake, give this low-carb cake a try. It won't spike your blood sugar, and it's just as delicious as "regular" cakes made with traditional flours. Seriously!
If you make this recipe, be sure to let me know how it turned out. Leave a comment, share a photo and tag it #refreshmyhealth on your Social Media!
No Fail Butternut Squash Apple Cake (Low-Carb & Delicious)
Print Recipe
This butternut squash apple cake is a great way to have a grab-and-go healthy snack at all times … and eat it too!
Ingredients
Cake Filling
1

medium butternut squash

(aprox 800g with skin, skin removed and grated)

4

medium apples

(grated)

1

tbsp

extra virgin coconut oil

1

tsp

cinnamon powder

1/2

tsp

vanilla powder
Cake Batter
5

eggs

200

g

almond flour

2

tbsp

raisins

1-2

tsp

cinnamon powder

1/2

tsp

Himalayan salt

80-100

g

cranberries

(fresh or frozen)
Decoration
a few

slices apple

80-100

g

cranberries
Instructions
Add grated butternut squash and grated apples to a skillet. Also add cinnamon powder, vanilla powder and extra virgin coconut oil.

Cook over medium heat until all the natural juices from the butternut squash and apples have evaporated. Make sure the butternut squash is soft enough to be eaten.

Steer constantly making sure the mixture in the skillet will not stick. This process should take you around 10 minutes or so.

Once the contents of the skillet are cooked, remove from heat and set aside to cool down.

We'll now take care of the cake batter …. Crack the eggs into a bowl and beat them well with a whisk or fork.

In another bowl mix all the dry ingredients: almond flour, raisins, cinnamon powder and the Himalayan salt. Add this mixture of dry ingredients over the beaten eggs and incorporate slowly.

Next, it's time to incorporate the cooked and cooled butternut squash and apple filling into the batter. Using a spatula, add the contents of the skillet over the batter, mixing gently to incorporate.

You should end-up with a batter that's neither liquid nor thick (something in-between). If your batter is too thick, consider adding one more egg. In case the batter turned out on the liquid side, consider incorporating a bit more almond flour.

Last step is to incorporate the cranberries … use a spatula to incorporate them slowly into the batter.

Slowly pour the entire batter into an oven resistant dish and decorate on top with a few cranberries and apple slices (optional).

Preheat the oven at 180-200 Celsius and bake for 30-45 minutes or until the cake becomes solid. Check regularly to make sure that you don't over bake, in which case your cake will end-up a bit dry.

Remove from the oven when ready and set aside for 10 minutes to cool down. Cut into desired portions and transfer on a plate.

DONE! You can serve it fresh or store it in the fridge for up to 3 days.
Notes
You won't need any kind of levering agent like baking soda or baking powder, this cake will already be very soft out of the box.
This cake is great when served hot from the oven or cold from the fridge. You can enjoy it as breakfast or as a grab-and-go snack.
Have you made low-carb apple & butternut squash cake before? Would you give this recipe a try? Share in the comments!