This red beet vegan ice cream recipe holds a special place in our heart because it was the first ever homemade vegan ice cream that we've made. It's smooth and naturally creamy, vegan and low-carb, plus it's delicious and you have to try it!
This is the story of how this beet ice cream recipe came together.
We were living in Norway at the time, it was late autumn and the weather wasn't pretty. It was cold and cloudy outside, and that morning was no different than other mornings.
We got up late and made ourselves a cup of black coffee (my wife's recipe) skipping breakfast as we usually do. But something was different in the air… it was the day we'd make our first vegan ice cream.
Our first homemade ice cream
In the last years we shifted our way of eating towards consuming more and more plants, enjoying low-carb desserts (many are raw) and plenty of freshly made smoothies.
Today we decided to hit one more checkpoint and make our first vegan ice cream.
We'll be trying a pretty simple recipe that requires only 3 ingredients and no ice cream maker. Our ice cream recipe is based on the following amazing vegan ingredients: banana, avocado and beetroot.
You'll also need a *powerful blender that can chop frozen ingredients*, but that's about it, Sounds pretty simple, right? Well … let us see!
Frankly, we have no idea how it's going to turn out or if it's going to be edible in the end. We're looking for that creamy ice cream consistency and a refreshing taste, but at this point we don't know what to expect.
Ah … the excitement of trying a new recipe that you're inventing right there on the spot. Is this recipe going to work? Maybe we should look in a cookbook instead! How do you even obtain that creamy ice cream consistency that we all love? Will my blender crash when mixing all those frozen ingredients?
A few minutes later …
The ice cream fairy has spoken loud and clear!
I'm happy to report that our beet ice cream is ready now. It turned out unexpectedly delicious and you can find the full recipe below (see recipe card at the end!).
We quickly took a few pictures and ate the whole batch right there on the spot, so I guess this is solid proof that our beet vegan ice cream turned out pretty good after all.
We LOVED this beet ice cream and we hope you'll love it too. It was:
Refreshing
Perfectly Sweet
& Naturally Sweetened
Gorgeous
Nourishing
Creamy
Healthy
& Easy to make
Great as breakfast or dessert
This was the story of making our first banana and beet ice cream. If you decide to try our recipe, let us know and please consider leaving a review below if you like it.
Share a photo on Social Media and tag it @refrehsmyhealth so we can see how it turned out for you. Cheers, friend!
Have you made beet ice cream before? Would you try this simple Beet Vegan Ice Cream Recipe? Share your thoughts in the comments!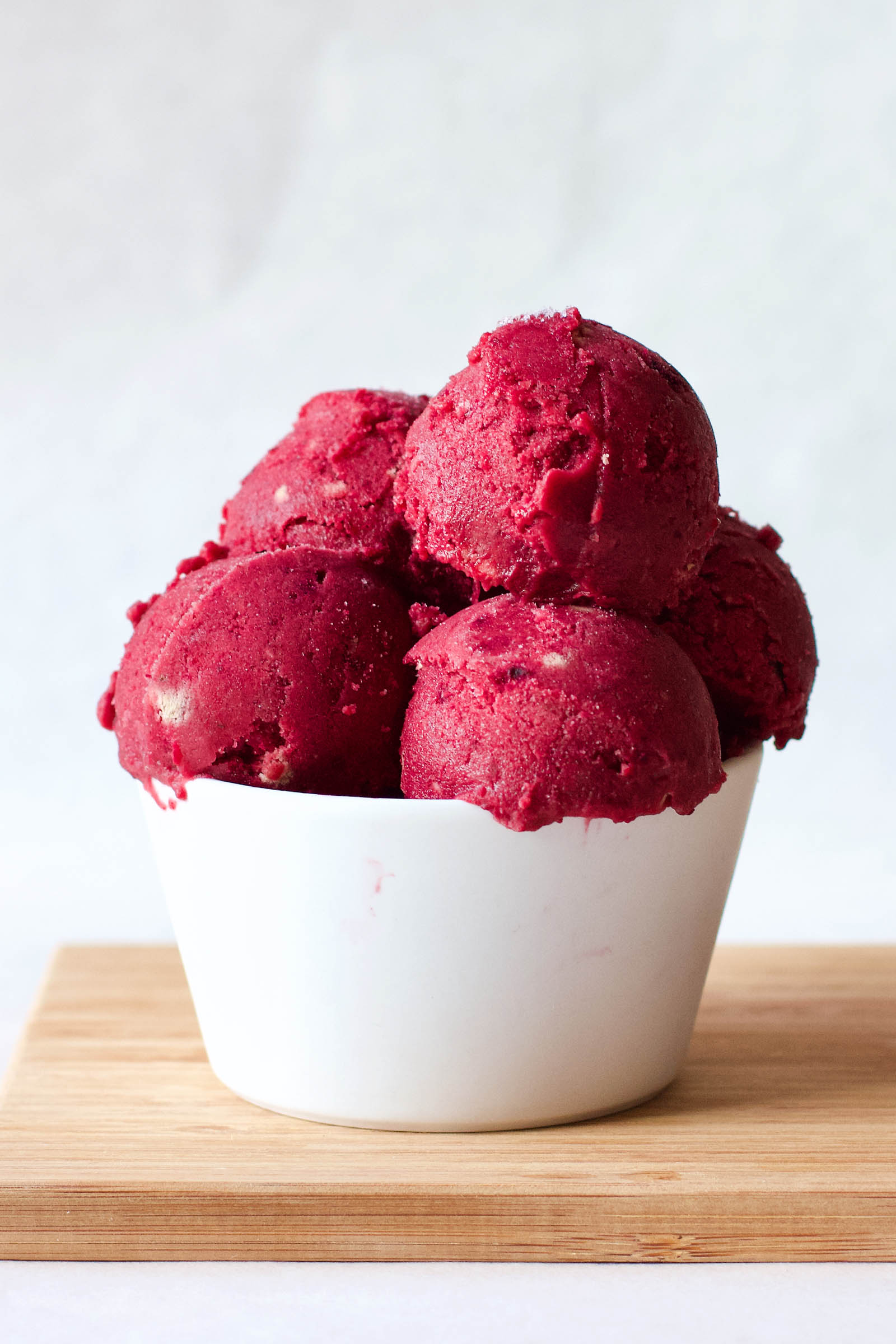 Red Beet Vegan Ice Cream
Servings:
3
servings (4 scoops/serving)
Print Recipe
This red beet vegan ice cream really hits the spot for me. It's smooth and naturally creamy, naturally sweet and low-carb, plus it's delicious and always nourishing. You have to try it to really appreciate it!
Ingredients
4

medium

bananas

(peeled)

1

big

avocado

(skin and seed removed)

1

beetroot

(peeled, chopped big)
Instructions
Prepare the ingredients by peeling and chopping them as indicated.

We need to freeze the ingredients before processing them in the blender. Take 2 plastic bags and place half of the ingredients in each bag.

Move the bags in the freezer for a few hours, until frozen.

Remove from the freezer, remove frozen ingredients from bags and transfer them into the blender. Let them sit in the blender for 5-10 minutes before processing (since they are rock solid and your blender may have problem processing ice-like ingredients).

Using the pulse and high-speed settings, process the ingredients until they reach a creamy soft consistency. Stop the blender from time to time and scrape the contents towards the center of the blender jar.

Once your ice cream has reached the desired texture, transfer into a bowl and portion into desired sizes using an ice cream scoop.

DONE! You can serve it as is or store in the freezer for up to a week (and even longer).
Notes
Important -  Since we deal with frozen ingredients here, you will need a powerful blender that can easily chop everything with an ice-like consistency.
While there is more than one way of making healthy vegan ice cream, for this recipe we'll be freezing all the ingredients prior to blending them into ice cream.
It may sometimes happen that you'll be left with small chunks of ingredients that haven't been completely blended (a piece of avocado here, a piece of beetroot there, etc). That's totally acceptable and I wouldn't worry too much about it.
The whole blending process can be a little noisy since we're dealing with frozen ingredients and a high-speed blender.
Some of my favorite desserts
If you'd like to check out other tasty desserts on Refresh My Health: