In case you're looking for the ultimate delicious vegetable smoothie, look no further then our Refreshing All Veggies Red Smoothie. Wondering what makes this smoothie so special? Let me tell you!
It's one of the most creamy and thick smoothies that we've made in a while, with an absolutely perfect sweet taste. And it comes packed with real wholesome plants that will keep you nourishing all day long.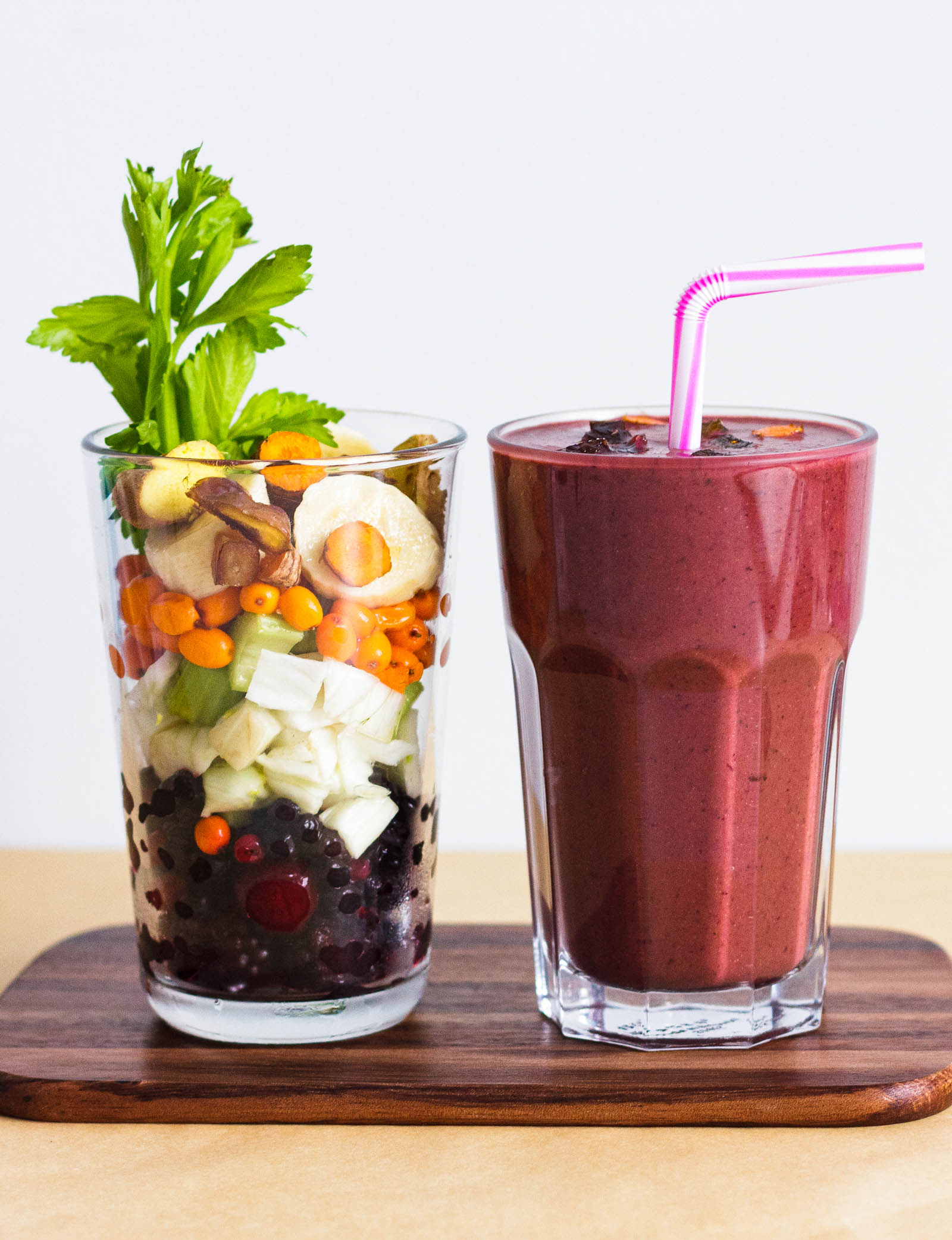 You will love this vegetable red smoothie
Calling all smoothie lovers out there … this all veggies red smoothie is:
Packed with all kinds of real fruits and vegetables
The perfect way to start the day!
Creamy and Thick
Perfectly blended
Naturally Sweet
Tastes like banana and beets combined
Low in carbs and made with healthy carbs
Packed with all kinds of beneficial nutrients
Has vitamins and minerals from berries, fruits and vegetables
But also phytonutrients, raw enzymes and gut-friendly fiber
VEGAN and absolutely DELICIOUS
Ingredients for our healthy homemade smoothie
Lightly Boiled Veggies – I used lightly boiled green beans, sweet potato and broccoli that were prepped the evening before.
Avocado – One of the best way to blend a creamy and thick smoothie.
Banana – Banana blends perfectly with avocado making for an even creamier smoothie.
Celery stick – Recipes like this one are the perfect way to hide vegetables that you wouldn't eat as often.
Fennel – A bit sweet and somehow similar to celery, fennel will certainly add a special flavor to your smoothie.
Broccoli Bouquets – There is no such thing as too much broccoli … plus I had some broccoli leftovers in my fridge.
Cucumber – I like using organic cucumbers because I also eat the flesh and I want that to be as healthy and nutritional as possible.
Apple – Make sure to remove the seeds and please do use your favorite kind of apples (I used golden apples for my awesome red smoothie).
Frozen Berry Mix – I used frozen blueberries and cranberries but you can certainly use any kind of berries you want. Using frozen berries will certainly make for a more refreshing smoothie.
Frozen Sea Buckthorn – Maybe not as common as other types of berries but certainly super healthy and "good-for-you". Sea buckthorn is somehow similar to cranberries but has a stronger flavor and is definitely a nutritional powerhouse.
Fresh Mint Leaves – If you keep fresh mint in the house, go for it!
Ginger powder – I use ginger powder all the time.
Fenugreek powder – Certainly not as common as ginger or turmeric powder, but please don't let this stop you.
Cinnamon powder – What a blessing of a plant, wouldn't you say so?!
Lemon – I used a slice of organic lemon with skin.
Himalayan salt – A bit of salt balances the aroma of your smoothie.
Dried Dates – We all know that dates are sweet but what most of us don't know is that dates are a good source of electrolytes, namely potassium and magnesium
Water – Use enough water to cover the ingredients and a bit more to help your blender mix everything smoothly.
I hope you'll love this all veggies smoothie as much as we did. Please consider letting me know what you think about it by leaving a review and a rating below.
Don't forget to @refreshmyhealth on Social Media and to spread the love by sharing this post!
Thanks for reading so far and I hope to see you on the next recipe!
Refreshing All Veggies Red Smoothie
Print Recipe
Are you looking for the ultimate delicious healthy vegetable smoothie? Check-out this Refreshing All Veggies Red Smoothie that comes packed with real wholesome nutrients. Enjoy!
Ingredients
1/2

medium bowl

lightly boiled veggies

(green beans, sweet potato, broccoli)

2

avocados

(seedless)

1/2

banana

1

stick

celery

1

slice

fennel

a few bouquets

fresh or frozen broccoli

5-10

cm

cucumber fabio

2

golden apples

(seedless)

5

tbsp

frozen berries mix

(blueberries + cranberries)

2

tbsp

frozen sea buckthorn

fresh mint leaves

1

tsp

ginger powder

1

tsp

fenugreek powder

1

tsp

cinnamon powder

1

slice

lemon

(organic)

1/2

tsp

Himalayan salt

2

dried dates

(seeded)

600

ml

water

(or enough to cover the ingredients)
Instructions
Add everything into your blender, including water.

Blend on medium to high until everything looks smooth and creamy. If it looks too thick, just add more water.

Serve fresh or store in the fridge for 2-3 days.
Notes
Color: a special kind of red
Texture:  very creamy and thick, perfectly blended, some seeds from the berries
Taste: sweet from red beet, banana and berries, with a light kapia pepper aftertaste
Other breakfast-ready smoothies to try!