This refreshing and creamy green soup packs many different colored vegetables, including healthy spinach. It's very easy to make, perfectly creamy, low-carb, vegetarian and super tasty.
Here's what defines this soup best. It's:
Creamy
Very Green
Easy to Make
& Healthy
Loaded with healthy vegetables
Optionally vegan
Perfect lunch or dinner
Ingredients List
We'll be using quite a few ingredients but this doesn't mean that making this creamy soup should be complicated.
For now, let us take a brief look at the ingredients used:
Frozen Spinach
Sweet Potato
Carrots
Celery (preferably stick)
Fennel
Bell Pepper
Garlic
Onion
Jalapeño
Himalayan Salt
Herbs: Dill and Parsley
Full-Fat Sour Cream
Cherry Tomatoes (to decorate)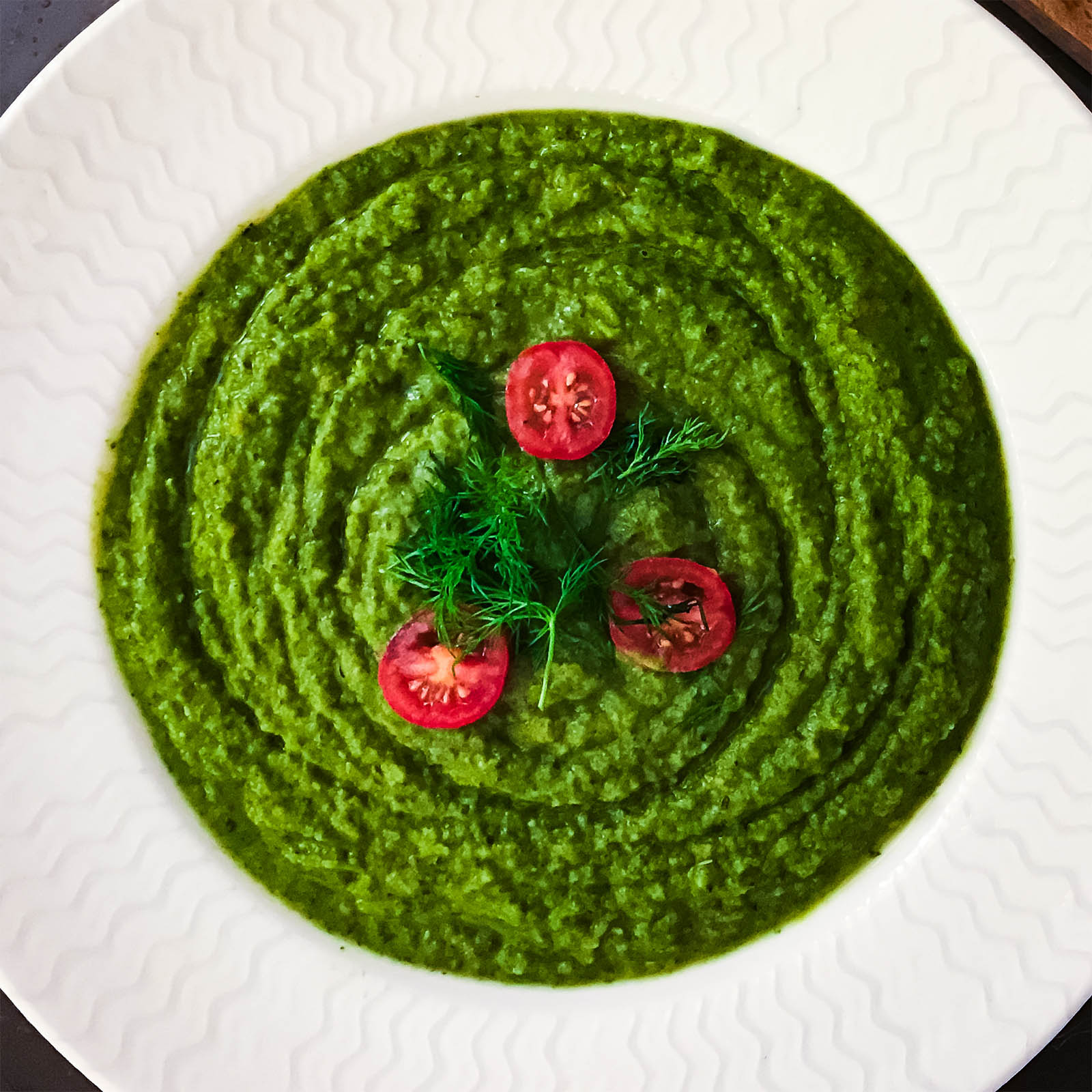 Steps to make Refreshing Creamy Green Soup
Start by cooking the spinach in water until soft (takes 2-3 minutes). Set aside to cool down.
In another pot, add all the other vegetables. Bring yo a boil and cook until soft. Set aside to cool down.
Add all the cooked vegetables plus spices into a blender. Also add a bit of the liquid used to cook the vegetables.
Blend until creamy and smooth. Add full-fat cream as you blend until reaching that perfectly creamy consistency.
Ready! Pour into a soup bowl or a big plate, garnish and serve.
How to serve this creamy green soup
You can definitely serve this cream soup by itself or you can pair it with things like Greek olives, various types of raw nuts, avocado, your favorite hard or soft cheese, and even raw garlic and onion.
I served my portion with the following extras:
Comté Cheese – French origin cheese, aged for 18 months, made from raw milk
Cherry Tomatoes – perfect sweet and sour flavor
Kalamata Olives – they're full of healthy fats!
Green Beans – boiled green beans for extra protein plus vitamins A and C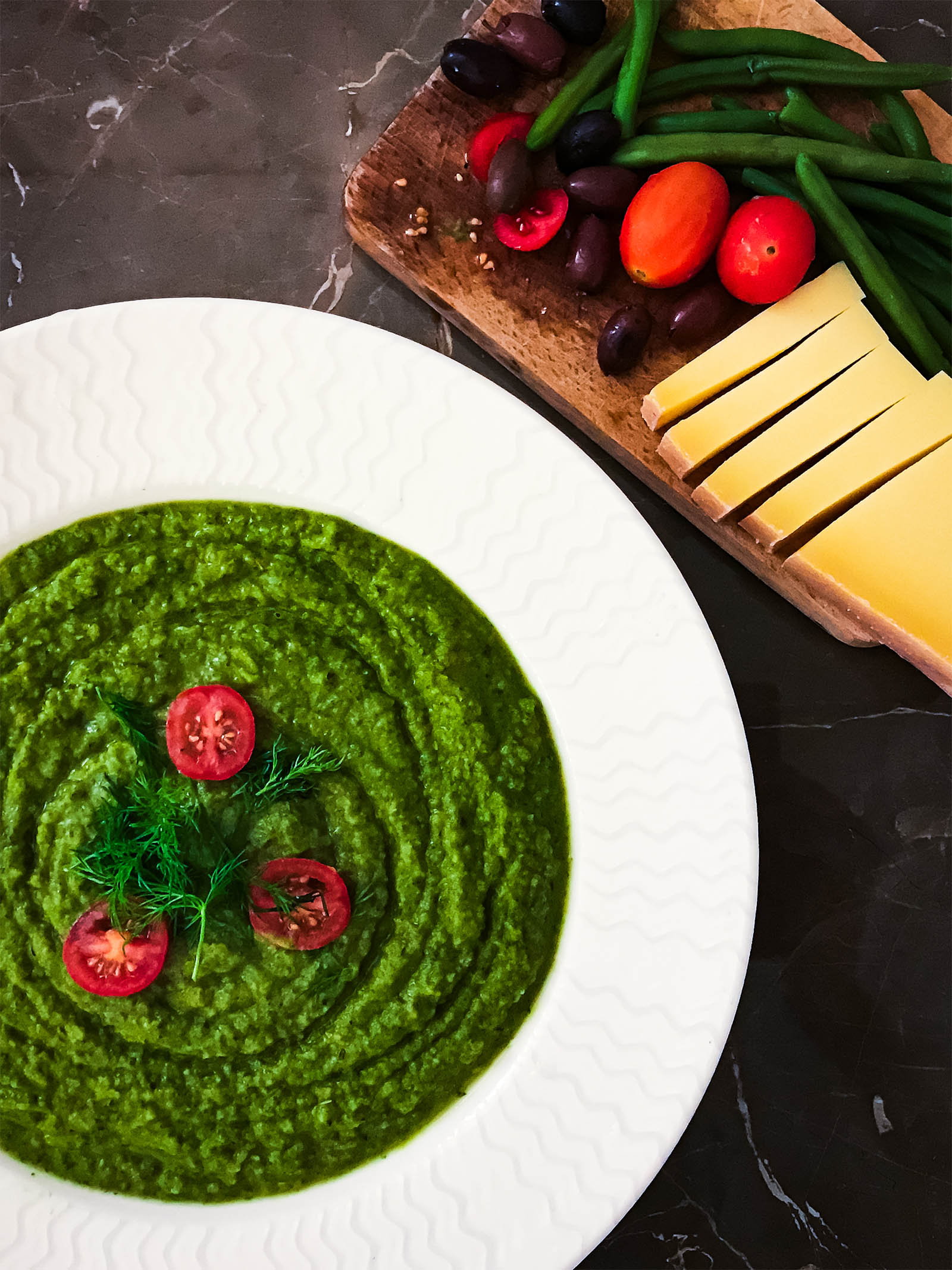 Health Benefits associated with our green soup
This soup has a perfectly creamy texture and a wonderful fresh taste. You know this already. But what really makes this soup healthy? Well … here's a breakdown of the ingredients used and their associated health benefits:
Frozen Spinach – Spinach comes packed with lots of healthy nutrients like vitamins, minerals, enzymes, phytonutrients and healthy fiber. Spinach is also responsible for the green color of this soup.
Sweet Potato – When I think at sweet potatoes, I instantly associate them with resistant starch (a healthy type of fiber). Sweet potatoes are also famous for having vitamins A, B and C, plus some minerals.
Carrots – Like sweet potatoes, carrots are loaded with vitamin A, plus B vitamins and vitamin C. They also provide some minerals.
Celery and Fennel – These two vegetables are a perfect match for any soup. Celery and Fennel are loaded with various phytonutrients that have antioxidant properties. They are simply wonderful plants that I also like using in my smoothies.
Bell Pepper – Together with carrots, celery and fennel, bell peppers are part of almost all my soup recipes. They're loaded with B vitamins and vitamin C, as well as different phytonutrients.
Garlic, Onion, Jalapeño – They come with unique phytonutrients like flavonoids, sulfur-containing compounds, or organic acids. Plus they enhance the flavor of any soup.
Full-Fat Sour Cream – I use it for two reasons: as a way to easily mix those cooked vegetables into a perfectly creamy soup, but I also use full-fat sour cream for adding beneficial healthy fats that will transform this soup into low-carb and keto friendly meal. You can also replace full-fat cream with avocado or extra virgin coconut oil, ending-up with a vegan recipe instead.
Himalayan Salt – I use it for its pure taste and high mineral content. Note that natural saline salt works great as well.
Give this recipe a try and I bet you won't regret it! This soup works great when you have a cold, when you feel tired or when you simply want something "green" to eat. It's guaranteed to heal you from the inside out and it's great for your gut flora as well.
Enjoy this creamy green soup and share it with your loved ones. Sharing is one of the best ways to spread love all round you!
What's your favorite cream soup recipe? Would you try this green creamy soup? Share your thoughts.
Refreshing Creamy Green Soup
Print Recipe
This creamy green soup packs lots of colored veggies, including that super healthy spinach. It's very easy to make, perfectly creamy, low-carb, vegetarian (or vegan option) and super tasty.
Ingredients
200-250

g

frozen spinach

(cooked)

1

sweet potato

(peeled, cubed)

2

medium carrots

(sliced)

1/2

stick

celery

(or 1/4 small celery root)

a bit of

fennel

(chopped)

1

bell pepper

(chopped big)

2-3

cloves

garlic

(chopped)

1

medium onion

(peeled, cut in half)

1

jalapeño

(chopped small)

pinch of

Himalayan salt

fresh herbs: dill and parsley

3-4

tbsp

full-fat sour cream

(for vegan use extra virgin coconut oil or avocado)

decorate with cherry tomatoes and fresh dill
Instructions
Boil the spinach separately for 2-3 minutes until soft. Set aside to cool down.

In another pot, add together all the other vegetables: sweet potato, carrots, celery, fennel, garlic cloves, onion, bell pepper, and jalapeno.

Bring to a boil and cook until the sweet potatoes are soft enough to be smashes with a fork.

Once the vegetables are cooked, set aside to cool down. Separate the vegetables from the water, but don't throw away the water just yet.

Once the vegetables and spinach are at room temperature, add them into your blender. Also add Himalayan salt, fresh herbs and full-fat cream.

Include a bit of water, just enough to make it easy for your blender to chop and mix everything nicely. *Hint:* use the remaining water from the cooked vegetables.

Blend until you reach the desired consistency. Consider adding a bit more water if your blender has a hard time pureeing everything.

That's it! Pour into a big plate or a soup bowl, and decorate with sliced cherry tomatoes and fresh dill. Serve hot or at room temperature, or reheat if needed. Enjoy!
Notes
If you want to make this as a vegan recipe, you can simply replace the full-fat sour cream with avocado or extra virgin coconut oil.
When blending all the ingredients, it's important to pay attention to the consistency. Too much water will ruin the creamy texture of this soup. I suggest to start with just a bit of water and add more water only if your blender has troubles pureeing the ingredients.
When I say full-fat sour cream, i'm referring to cream made from milk that has a fat percentage of at least 35% and preferably unpasteurized. Depending where you live, i can be sour cream, creme fraîche, or other local variations.
Similar cream soup recipes
Would you like to explore other cream soup recipes? I've listed some of my favorites below: