This Simple Cacao Berries Smoothie is loaded with all the healthy nutrients that your body needs every day in order to thrive – vitamins, minerals, healthy fats, protein, phytonutrients and enzymes. It's very easy to make, with a creamy texture and a natural cacao taste that you will love.
This is simply one of the best smoothies I've made so far. There's no question about it! I know I've said this before but this recipe tops all the other wonderful smoothies.
This smoothie looks and tastes amazing. It's:
Creamy
Thick
Satisfying
Easy to make
Cacao infused
Berries infused
Packed with nutrients
Antioxidant-rich
Healthy
Red
What's in the Simple Cacao Berries Smoothie?
Let's break down this recipe piece by piece … or should I say ingredient by ingredient! Here's what this smoothie is made of:
Blueberries – This smoothie is loaded with blueberries and who doesn't like blueberries, right? Besides being tasty, blueberries are loaded with phytonutrients, fiber, vitamins and minerals while being very low in carbs.
Celery and Fennel – When it comes to blending smoothies, celery and fennel are two of my favorite green plants. They come with a special "green" taste while adding many nutrients to any smoothie. With time I learned how to appreciate celery and fennel and with it my smoothies changed for the best.
Healthy Fats – I've included different sources of healthy fats (extra virgin coconut oil, avocado and coconut butter) that will help you tackle hunger but also provide your body the clean fuel that it needs in order to thrive.
Healthy fats have so many health benefits that I just don't know where to start ….How about teaching your body how to burn fat for energy? keeping hunger away? mental clarity, more energy, better sleep? or how about keeping those hormones in their natural order? Yes, good fats are here to stay because they are good for you.
Whey Protein Powder – For this smoothie I used whey protein powder which is great if you want to recover fast after an intense training session (or when you need a quick protein boost).
If you're eating vegan you can use pea protein or hemp protein instead, the latter having less protein and some fat for the same serving. Or you can skip using protein all-together and it won't make much difference.
Protein will help you recover faster after a training session but has many other benefits in the human body. Think of protein as small building blocks for your muscles. Pay attention to your daily intake, because too much protein can lead to a few health issues (less is more here).
Cacao Powder – Cacao comes with lots of antioxidants, especially if you'll be using organic raw cacao powder. It also adds a subtle taste to your smoothie and that's always appreciated, wouldn't you say so?!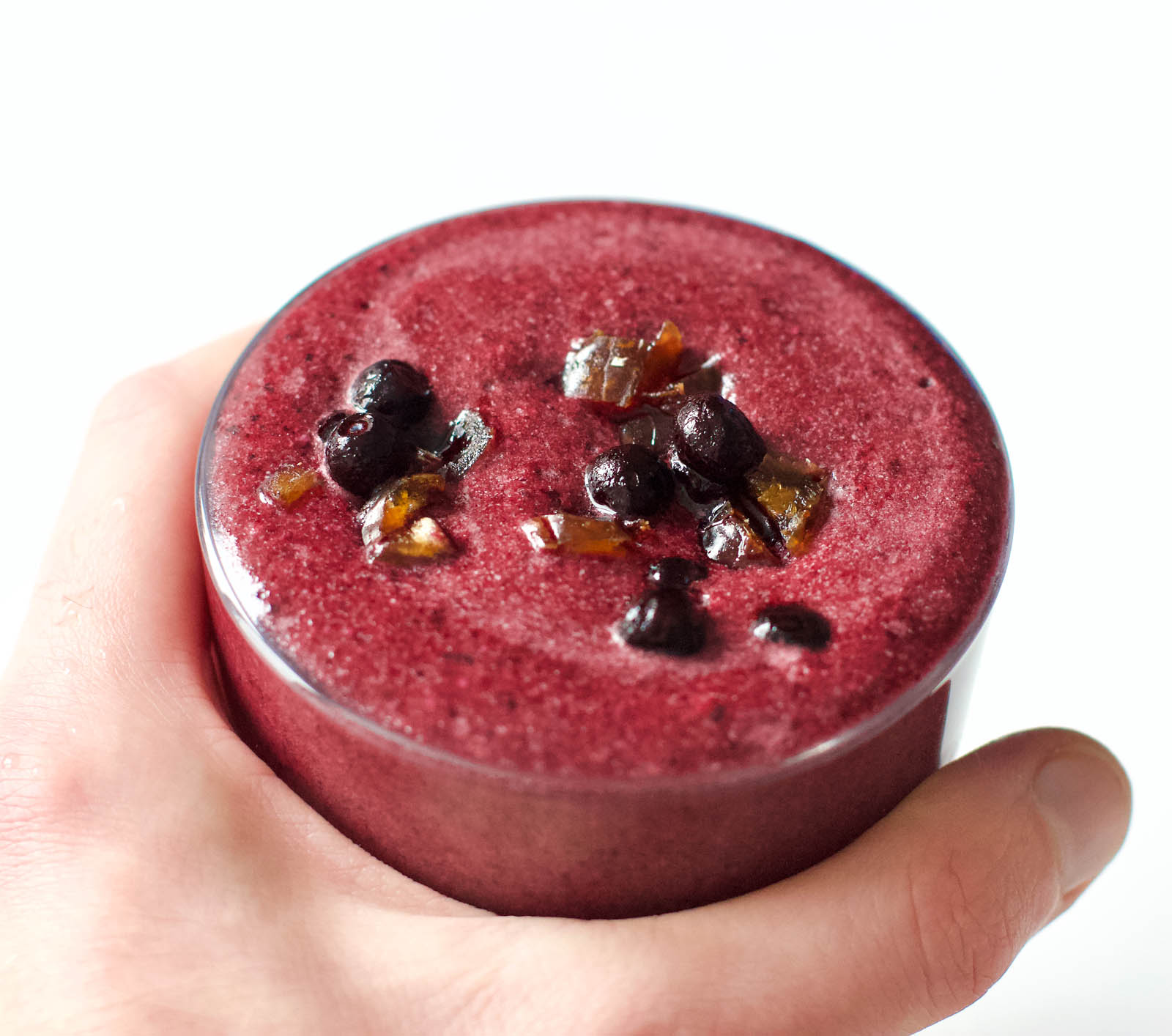 A balanced and healthy smoothie
This smoothie has it all – exciting taste, creamy texture, great nutrient profile but it's also going to keep hunger away. Sounds too good to be true, right? Well … it's the real deal and I'll tell you why.
This smoothie is so much more than being just another "healthy" drink. This recipe comes with quality proteins, lots of soluble fiber and healthy fats. It's going to give you the energy you need on a daily basis without too much effort.
Blend this smoothie and your mind and body will thank you because you'll be giving it the fuel to power your entire system.
This simple Cacao Berries Smoothie works great as a breakfast smoothie or as a recovery smoothie, and only takes a few minutes to make. What are you waiting for?
I hope you'll enjoy this recipe as much as we did. If you decide to try it, please let me know how it turned out and maybe consider leaving a review below.
If you share a photo on Social Media, don't forget to @refreshmyhealth so I can follow-up with you. Cheers, friend!
How often are you drinking smoothies? Would you try this recipe? Share in the comments below.
Simple Cacao Berries Smoothie
Print Recipe
This smoothie is loaded with all the healthy nutrients that your body needs on a daily basis. Plus it's very easy to make, has a creamy texture and a natural cacao taste that you'll love. Make it and enjoy your health journey, dear friend!
Ingredients
1

avocado

(skin and seeds removed)

300

g

frozen blueberries

1

big scoop

whey protein powder

(or pea protein powder)

1

tsp

raw cacao powder

(optional - skip if the protein powder has chocolate flavor)

1

stick

celery

(chopped)

1

slice

fennel

(chopped small)

2

tsp

extra virgin coconut oil

3

tsp

coconut butter

pinch of

Himalayan salt

1/2

lime

(juiced)

300

ml

water

decorate with chopped dates and frozen blueberries

(optional)
Instructions
Prepare the ingredients and add them into the blender, including water.

Blend on medium to high speed until your smoothie looks creamy.

Pour into glasses and finish by decorating with chopped dates and frozen blueberries.

It's ready! Serve fresh or store in the fridge for 2-3 days.
Notes
Color: deep dark red
Taste: raw cacao taste
Texture: creamy, well mixed
Inspiration in every recipe
Looking for more recipes like this one? I've gathered for you some of the easiest smoothie recipes in my catalog: