Reading Time:
4
minutes
Do you like whipped cream? Of course you do! This simple keto whipped cream dessert is ready in 5 minutes and ready to impress anyone.
If you're like me and love your whipped cream, you definitely should try this recipe! It's so much better than what you would get in the restaurant or what you can buy at the store.
This one's prepared with 100% natural ingredients so it has plenty of "good-for-you" nutrients, as opposite to all the products that you can find everywhere. Plus it's super tasty and you only need 4 simple ingredients to get it perfect.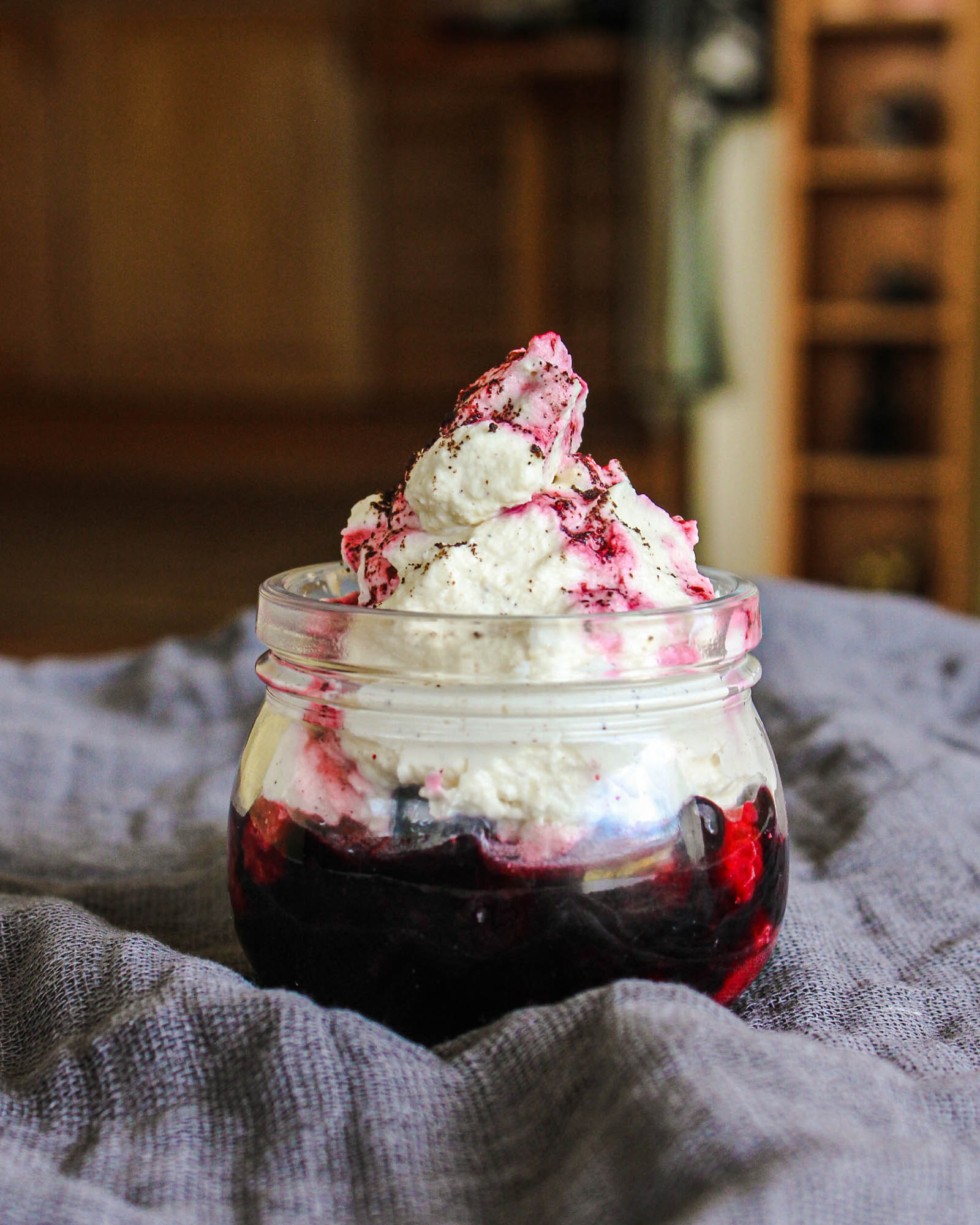 One of my first homemade desserts
I must confess that this is actually one of the first desserts I made as part of my health journey. It holds a special place in my heart and I remember that both me and my wife were so impressed with it. This was nearly 3 years ago … that's how fast time flies!
Here's what I like most about this simple keto whipped cream dessert:
Healthy – You'll be using full-fat raw cream which comes with all the benefits of raw milk. But you'll also be using lots of berries, which translated to plenty of ptytonutrients compounds (antioxidants alert). So yeah, it's super healthy!
Fresh – You'll prepare this dessert yourself and you'll do it from scratch. No pre-anything, no additives, no bad stuff today. Don't worry, it's super easy to make and super fresh.
Tasty – I mean … berries, raw cream, coconut sugar (just a bit), plus vanilla and cinnamon. That's my wife's favorite recipe and I must agree with her.
Cheap – This desserts costs about as much as 1 big coffee that you would buy in the city.
Keto Approved – All keto desserts should be tasty right? Plus they should come with plenty of healthy fats, be super low in carbs, and have some protein but not too much. Guess what? This one's no exception to the rule.
I invite you to try it, enjoy it and share it with others. Sharing is caring!
Love and positive vibes you beautiful person. Yes, You!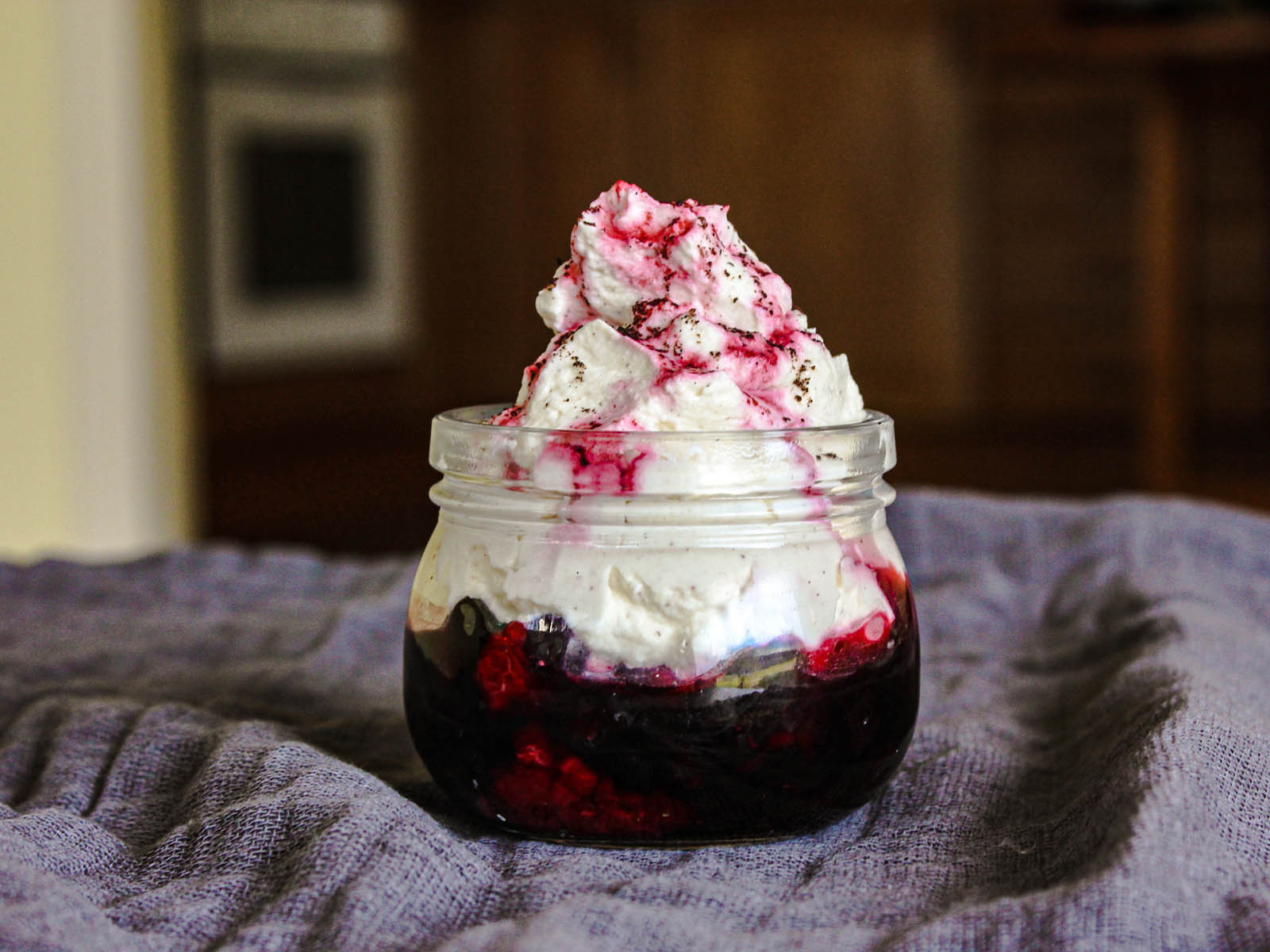 What do you think about this simple keto whipped cream? Would you try this recipe? (and how it turned out for you, if you did). Share below.
Simple Keto Whipped Cream Dessert
Print Recipe
Pin Recipe
Do you like whipped cream? Of course you do! This simple keto whipped cream dessert is ready in 5 minutes and ready to impress anyone.
Ingredients
Whipped Cream
250

g

full-fat raw cream

(full fat, unpasteurized)

2-3

tsp

coconut sugar

½

tsp

vanilla powder

½

tsp

cinnamon powder

(optional)
Bottom Layer
100

g

frozen berries

(blueberries, raspberries, cranberries or strawberries)
Instructions
Whipped Cream
Make sure that your raw cream is cold enough (from the fridge). The same goes for your whisk and bowl.

Add full-fat raw cream, vanilla powder and coconut sugar into a bowl.

Using a hand whisk, mix gently until your cream starts to get thicker and thicker. This is going to take about 3-4 minutes.

Do not over beat! Observe if your whipped cream is solid and doesn't fall down from the whisk. That's when you know your whipped cream is ready.

Store in the fridge and remove before consuming. Enjoy!
Putting it Together
Using a wide glass (or cup), add your frozen berries just half way through.

Fill the rest with whipped cream (cold from the fridge).

Decorate with cinnamon powder, vanilla powder and a few berries.
Notes
With whipped cream there's always a chance to ruin the texture. To avoid this, always use raw cream that was kept in the fridge prior to beating it, and make sure to use a cold and dry bowl and whisk. Make sure to place your bowl and whisk in the freezer, for 30-45 seconds prior to working on the cream.
For best whipped cream, make sure to use true unpasteurized full-fat raw cream (creme fraîche). Next best thing is to use full-fat whipping cream.
Always use cream that was kept in the fridge or is cold enough, otherwise you'll end-up with over-whipped cream.
Instead of mixing using a manual whisk, you could use an automated mixer and have it ready in about 1 minute.