Perfect to pack for lunch to take to work or for a picnic in the park, this Steamed Vegetable Salad Lunch Box is filled with different vegetables (including cruciferous), olives and crunchy nuts. You can adjust this recipe according to your needs and dietary preferences, and you can easily use it as the base for creating delicious variations for the whole week.
I'm kind of a big vegetable person. I like vegetables a lot and I consume steamed vegetables daily, which is what we are using here as the base for our vegetable salad lunch box.
This delicious steamed vegetable salad was put together by us during our travel to Berlin. We "invented" this recipe while preparing lunch in advance for a whole day of walking and visiting the city. Lastly, this easy vegetable salad gave us energy for the entire day, to visit and walk around Berlin for hours and hours.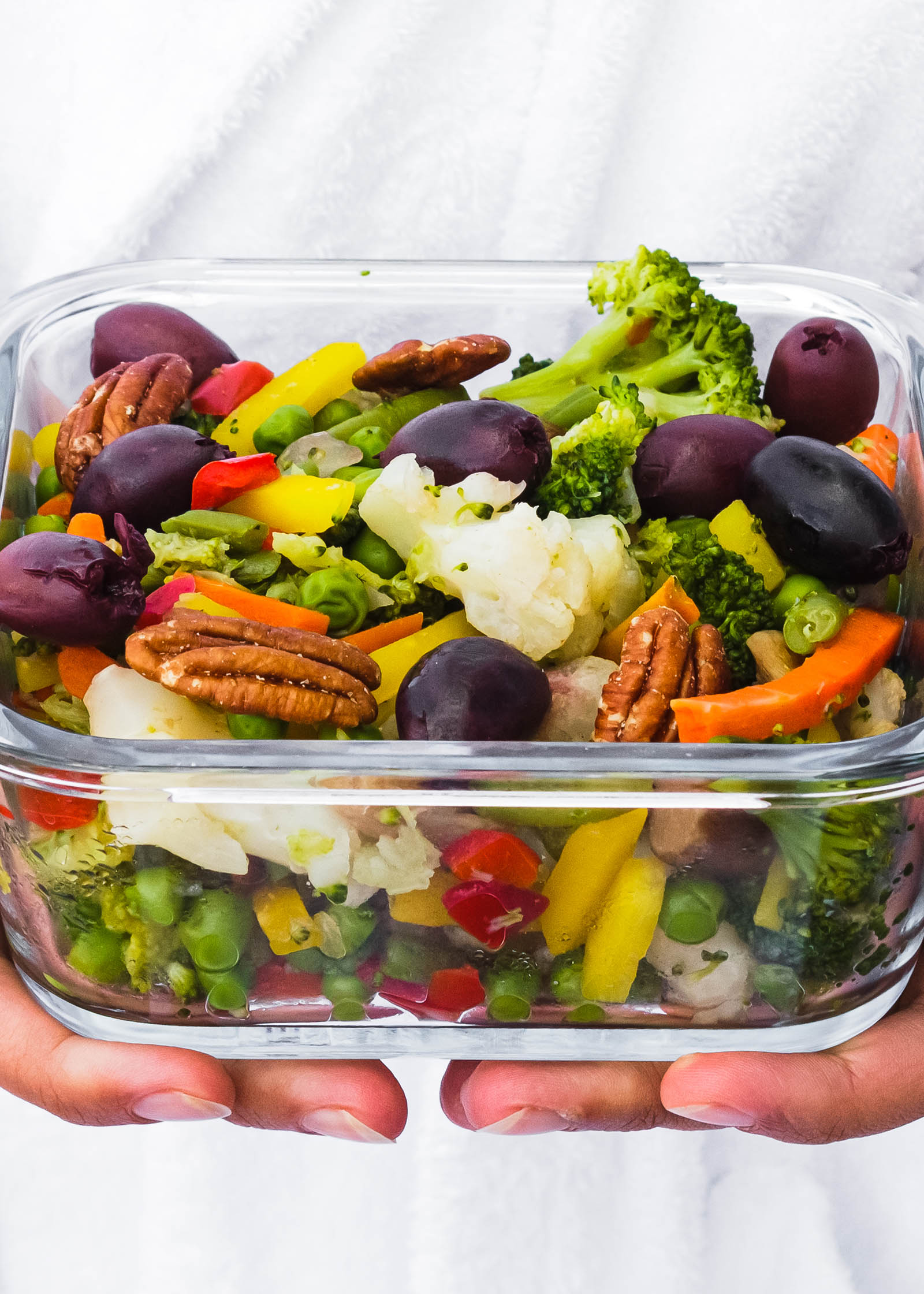 What goes into this steamed vegetable salad?
This streamed vegetable salad recipe doesn't call for any kind of special or pricey ingredients. As always, my advice is to invest in quality ingredients since that will give more flavor (and nutrients )to any recipe, not just this one.
And while we're discussing the basics for this recipe, know that you don't have to have prior cooking experience in order to make this steamed vegetable salad.
You'll need only a few simple ingredients in order to make this vegetable salad, as follows:
Frozen Vegetable Mix – I used an organic frozen veggies mix made of the following vegetables: broccoli florets, cauliflower, yellow carrots, carrots, green beans, green peas, red peppers, onions. Alternatively, you can assemble your own mix of frozen veggies or use fresh veggies instead of a frozen mix.
Pecans – Alternatively use walnuts, make sure to use raw nuts.
Kalamata Olives – Any kind of olives will do just fine. Sometimes I may use green olives or maybe wrinkled olives (for instance, zaromenes olives).
Himalayan Salt – Use as much as you need.
Herbs – Thyme, Parsley or Dill, optional.
How to steam vegetables without a steamer
The base for this salad is made from steamed vegetables. You can steam vegetables using any of the following methods – using a steamer, in the oven or in a large pot on the stove.
For this recipe, I'll explain how to steam vegetables using the stove top method, as follows:
Choose a pot that is deep enough to hold the vegetable mix of your choice (with or without a matching size lid).
Fill the pot with water half way through and bring to a simmer (around 85 degrees Celsius, close to the water boiling temperature).
You can add the frozen vegetables while the water is still at room temperature, or you can add them when the water has reached the simmering temperature. Either way it'll work just fine.
Cook the vegetables a few minutes in steaming water, until they are fork tender. Actually use a fork to test the veggies, making sure they're tender and exactly as you like them.
Once vegetables are ready cooked and tender, discard water and transfer to a bowl.
Let the steamed vegetables cool down for a minute, and season with favorite spices and salt.
Last step is to put together the salad recipe according to my instructions found in the Recipe card.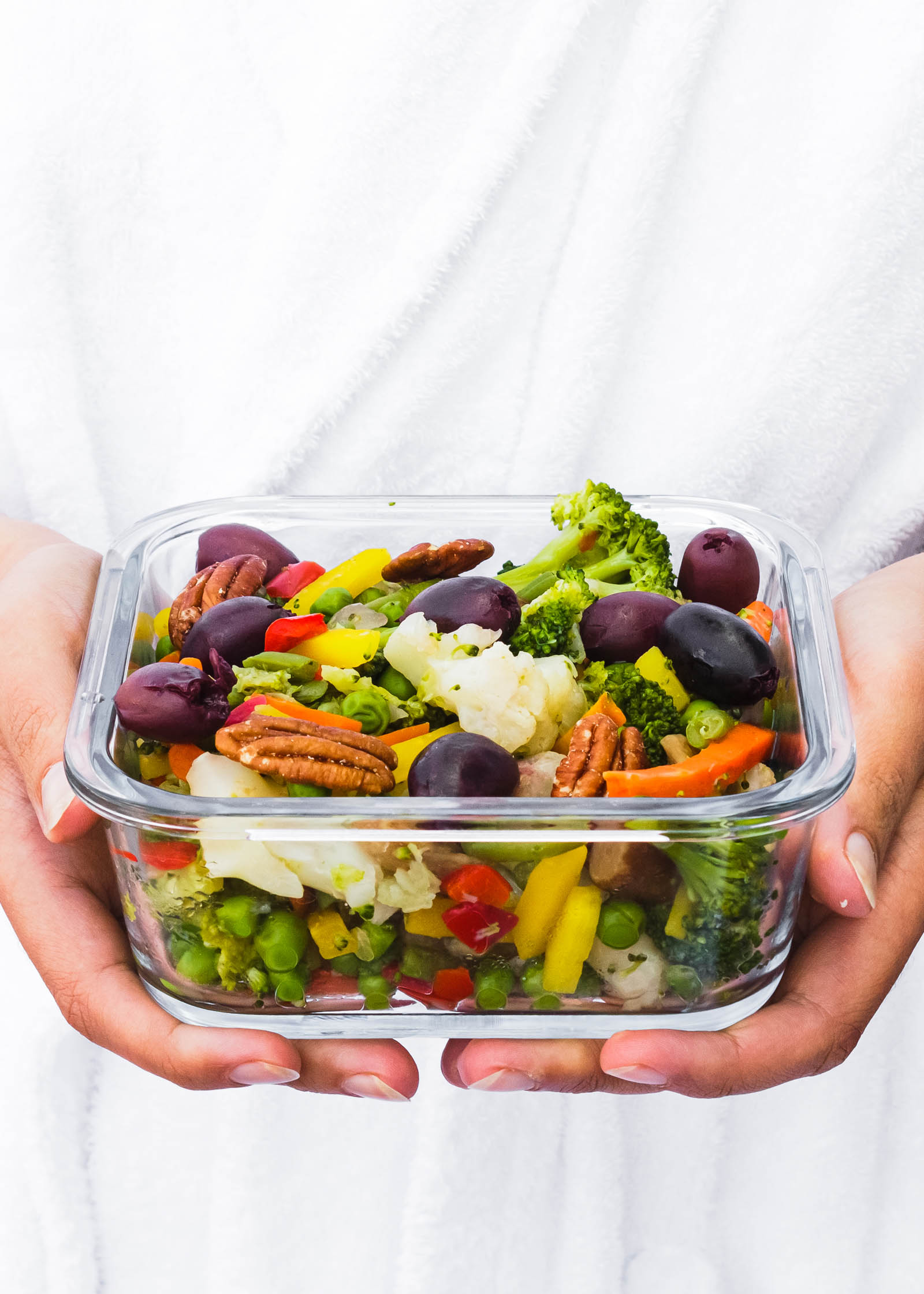 Reasons to make this steamed vegetable salad
This is not your average lunch box salad.
For starters, it's meatless!
Second, it's extremely flavorful, filling and super healthy – basically the three things I'm going for with any good meal.
Third, it's made using lots of vegetables, including broccoli and cauliflower.
And lastly, it is super easy to make – just 10-15 minutes and only a few simple ingredients required (mostly frozen vegetables that you can buy from any store).
Does lunch get any better? Probably.
Am I happy with this steamed vegetable salad ? Yes, I am super happy and proof is the fact that I'm eating this kind of food at least a few times a week (lunch or dinner).
I'm pretty sure that you are going to LOVE this lunch box vegetable salad. I know it. It's:
Easy
Natural
Healthy
Low-Carb
Satisfying
Veggie-Packed
Filling
Fresh
Fast – 15 minute or less!
& Delicious
If you make this delicious steamed vegetable salad lunch box, do let us know! We're rather excited with it and we think you will be, too.
Leave a comment, rate it, and don't forget to tag a photo of your lunch box @refreshmyhealth on Instagram! We'd love to see what you come up with. Cheers, friends!
Steamed Vegetable Salad Lunch Box | Healthy & Delicious!
Print Recipe
Perfect to pack for lunch to take to work or for a picnic in the park, this steamed vegetable salad lunch box is filled with different vegetables, olives and nuts.
Ingredients
600 - 750

g

frozen vegetable mix

(broccoli florets, cauliflower, yellow carrots, carrots, green beans, green peas, red peppers, onions)

10-15

kalamata olives

handful of

pecans

1

tsp

Himalayan salt

thyme, dill or parsley

(optional)
Instructions
Steam vegetables for a few minutes until tender. Follow my instructions in the post for more details on how to steam vegetables stove top.

Once vegetables are ready, remove steaming pot from heat, discard water and set the steamed vegetables aside to cool down in a deep salad bowl.

Sprinkle herbs and salt, and use a wooden spatula or a fork and incorporate spices into steamed vegetables.

Finish by adding raw pecans and kalamata olives, as many as you feel like. Use a spatula to mix the steamed vegetables together with pecans and olives.

DONE! How easy was that? Now you're ready to pack this lunch box and visit the park.
Notes
Feel free to adjust the quantities and ingredients based on how many servings you need to make.
This steamed vegetable salad can easily be stored in the fridge for a day, and can be prepared in advance the night before.
You can definitely switch pecans for walnuts, or kalamata olives for green olives (or why not change both).
Feel free to include your favorite extras. Things like leek, onion, garlic, or your favorite dressing, all of these will give this salad a new spin.
Need some raw veggies in there? Give this recipe a summer vibe by throwing in a celery stick, a few slices of cucumber and a tomato!