Thick and creamy, with a refreshing taste, this vegetable green smoothie is definitely one of the best! It definitely packs lots of ingredients but this doesn't mean that it's hard to blend. In my opinion, this delicious green smoothie is a must-try for every smoothie lover!
We start from the classical avocado and banana combo and we built up from there. We use lots of veggies, a very special kind of berries and health enhancing powders. The result? A refreshing green smoothie like no other.
You will love this vegetable green smoothie
Calling all smoothie lovers out there … this refreshing green smoothie is:
Packed with all kinds of green fruits and vegetables
Infused with fresh cabbage
Perfectly blended
Creamy and Thick
Easy to drink
Naturally Sweet
Sweetest green smoothie ever!
Low in carbs
Balanced with healthy fats
Packed with all kinds of beneficial nutrients
Vegan and Awesome!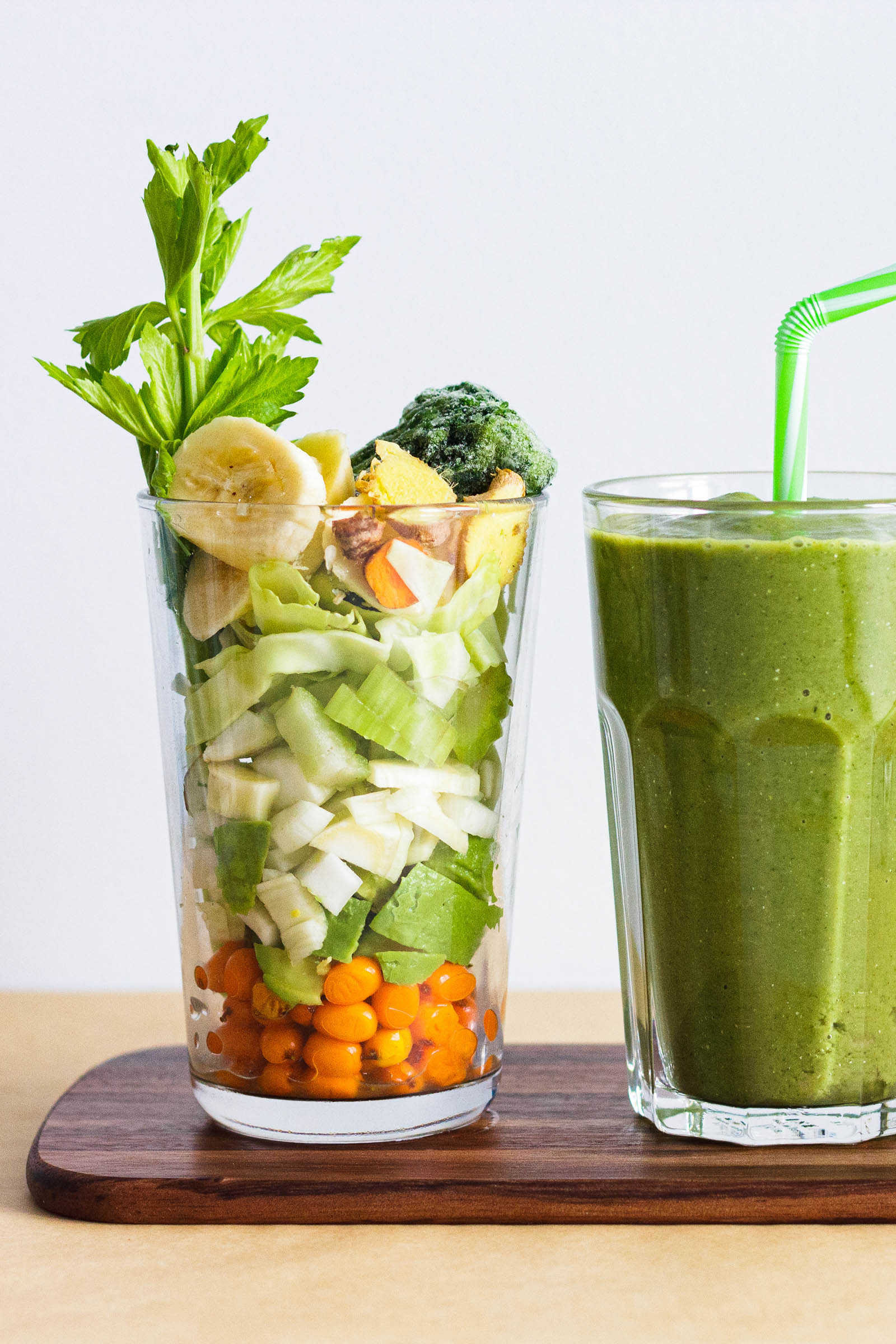 Ingredients for our Refreshing Vegetable Green Smoothie
Cabbage Leaves – Here's a simple way to sneak in some green leaves into your smoothie. Feed that blender some love!
Frozen Spinach – For me, frozen spinach is almost a staple in my daily smoothies. What a great way to eat that raw spinach!
Frozen Sea Buckthorn – These orange berries grow wild in my home country, Romania. In case you can't find them where you live, you can use cranberries instead.
Avocado – My favorite way to add plenty of healthy fats (plus other beneficial nutrients) to any smoothie. Simply peel the avocado, remove its seed and throw it into that blender jar.
Banana – Wow! For me, banana is the perfect partner for the avocado … not only in smoothies, but also for nice creams.
Celery stick – Lots of beneficial nutrients in a small package.
Fennel – Fennel blends perfect.y with the celery stick from above.
Lemon slice – I used a slice of organic lemon so this means that I kept the skin on since it's free of pesticide residues.
Fresh Turmeric – I had fresh turmeric in the house so I used it, but you can also use turmeric powder if you want.
Fresh Ginger – Same as above, use either fresh or powdered ginger.
Dried Dates – Remove seeds before adding those dates into your blender … or else!
Ginger Powder* – Yes, I used ginger powder separately from fresh ginger. I love ginger in smoothies but it's one of the best antioxidants out there.
Raw Cacao Powder – You can add it or skip it, but I had great raw cacao powder in the house soI decided to add it to my smoothie.
Pomegranate Powder – This isn't a regular in my smoothie recipes, I happen to use it only a few times and this is one of those recipes. You can definitely skip it if you don't have it, I only used it for its health benefits.
Dandelion Powder – Not a regular ingredients in my smoothies but a bit of variation doesn't hurt, right? Like with the pomegranate powder above, I used it for its health benefits.
Cacao Butter – Cacao butter in smoothies is something that you will definitely not find anywhere else. Cacao butter is an unknown ingredient by itself, adding it to smoothies is something different. The outcome, you may ask? Well … try it for yourself but know that it is magical!
Fresh Dill – Alternatively you could use parsley or basil.
Himalayan salt – A bit of salt works wonders in terms of balancing those healthy fats.
Water – Avoid adding too much water or your blender will have troubles cutting the ingredients. You'll have to add just enough water to cover the ingredients and maybe a bit more. Less is more here!
Why spring cabbage in a smoothie?
Let's change the focus a bit and concentrate on one of the ingredients that you don't see too often in smoothies: spring cabbage.
Spring cabbage is one of the least talked plants and yet it comes with so many health benefits that include: prevention of type 2 diabetes or the fact that it's loaded with antioxidants that have just been discovered and are studied intensively.
Other benefits of fresh cabbage include cancer fighting, anti-inflamatory, antioxidants potency, digestive tact support or cardiovascular support.
Do you still thick cabbage is a bit weird to use in smoothies? I know I don't!
I hope you'll love this all veggies smoothie as much as we did. Please consider letting me know what you think about it by leaving a review and a rating below.
Don't forget to @refreshmyhealth on Social Media and to spread the love by sharing this post!
Have you used cabbage in smoothies before? What's your favorite leafy green to use in smoothies? Share in the comments.
Super Refreshing Vegetable Green Smoothie
Print Recipe
Thick and creamy, with a very refreshing taste, this vegetable green smoothie is definitely one of the best and a must-try for every smoothie lover. Blend and enjoy!
Ingredients
5

leaves

spring cabbage

150

g

frozen spinach

(4-5 big pieces)

2

tbsp

frozen sea buckthorn

2

avocados

(skinless and seedless)

2

bananas

(peeled)

1

stick

celery

1

slice

fennel

1

slice

lemon

(organic)

fresh turmeric

fresh ginger

2

dried dates

(chopped)

1

tsp

ginger powder

1

tsp

raw cacao powder

2

tsp

pomegranate powder

1

tsp

dandelion powder

4

tsp

cacao butter

fresh dill

1/2

tsp

Himalayan salt

600

ml

water

(lots of veggies already have water)
Instructions
Add everything into your blender, including water.

Blend on medium to high until everything looks smooth and creamy. If it looks too thick, just add more water.

Serve fresh or store in the fridge for 2-3 days.
Notes
Color: pure light green
Texture: blended perfectly, smooth, easy to drink, creamy
Taste: sweetest green smoothie ever with a spicy aftertaste - it definitely feels like a green smoothie