Check-out this ultimate guacamole sandwich that I've put together in under 5 minutes, in my hotel room. This simple vegan sandwich is prepared using sourdough bread, homemade guacamole, plus olives, tomato, bell pepper, cucumber and apple slices.
This sandwich is all about eating healthy while keeping kitchen time to a minimum. In fact, this sandwich was prepared in my hotel room, while I was traveling this summer.
You'll love this guacamole sandwich because it's simply delicious and comes packed with healthy fats, vitamins, minerals, fiber and plenty of phytonutrients (and antioxidants) to keep you nourished all day long.
Here's what defines this sandwich best. It's:
Pure Joy
Nourishing
Delicious
Incredibly easy to put together
Loaded with Plants
& Healthy Nutrients
& 100% Vegan
No sugar. No refined seed oils.
Plenty of Healthy Fats
Easy to add your favorite extras
This sandwich doesn't come with a specific guacamole recipe, but you can use any of my other guacamole-inspired recipes:
I hope this simple recipe will inspire you to eat healthy, no matter what. I truly believe that eating healthy doesn't have to be complicated or expensive. After all, if I can eat healthy in a hotel room, you can do it too at home, in your fully equipped kitchen. Right?! Right!
Pro Tip: This sandwich works great as breakfast or lunch, but also as a quick snack or even as recovery meal after a training session. Feel free to add your favorite extras and nourish your body (and mind) with all those "good-for-you" nutrients.
Enjoy this vegan sandwich with someone you love! … And don't forget to spread the love by sharing this post!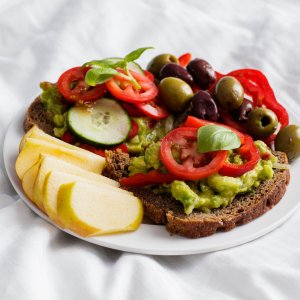 The Ultimate Guacamole Sandwich (Vegan)
Print Recipe
Check-out this healthy vegan sandwich that I've put together in under 5 minutes, in my hotel room. Enjoy a simple guacamole sandwich with olives, bell pepper, tomato, cucumber, apple slices and sourdough bread.
Ingredients
2

tbsp

homemade guacamole

(recipes links in article above)

2

slices

sourdough bread

(organic)

1/2

red bell pepper

(slices)

10

olives

6

slices

cucumber

1

tomato

(slices)

1/2

apple

(slices)

basil leaves

(optional)
Instructions
Prepare all the ingredients as indicated in the parenthesis.

Using a tsp, add guacamole on top of each slice of bread.

Top it with bell pepper slices, tomato slices and cucumber.

Place on a plate and decorate with olives, more bell pepper slices and basil leaves.

That was it. Enjoy and stay positive!
Other super simple recipes like this one