Try this Yellow Superfood Smoothie supercharged with nutrient-rich plants like avocado, berries and vegetables. Not only is it deliciously creamy, it's also packed with phytonutrients (antioxidants included), vitamins and minerals, enzymes and gut-friendly fiber, to support a healthy immune system.
Enjoy the magic of life with a glass of superfood smoothie on the side!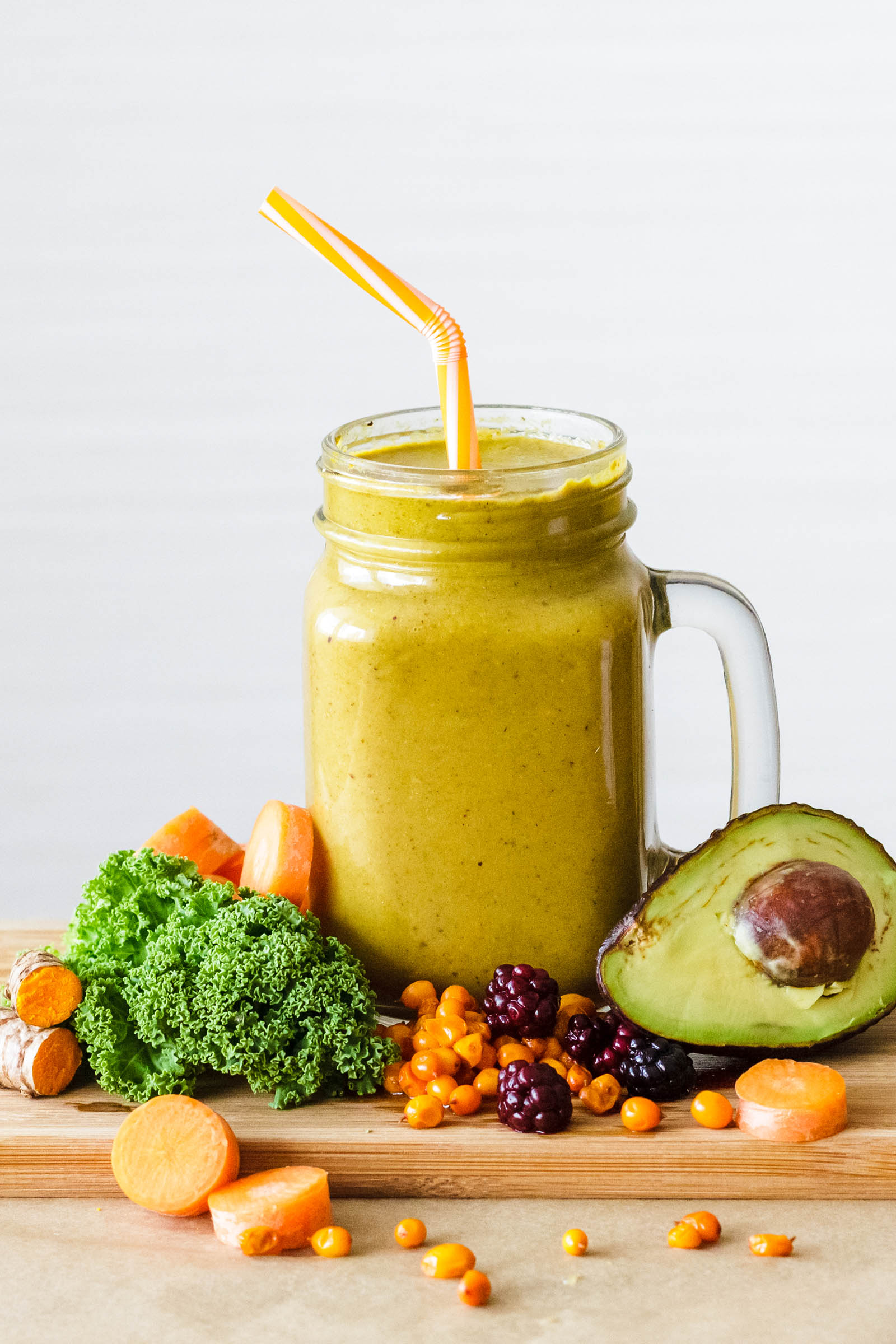 You will love this yellow superfood smoothie
Calling all smoothie lovers out there … this superfood smoothie was:
Nutritious
Thick & Creamy
Sweet and Sour
Fun to Make
Easy to Drink
Well Mixed
Delicious
Satisfying
Vegan
Reasons to blend this Yellow Superfood Smoothie at home
I must confess that this Yellow Superfood Smoothie was pure bliss! Here are a few reasons why you may want to try this smoothie recipe at home:
Homemade is always cheaper and better.
You get to control the quality of the ingredients used.
Made using an assortment of vegetables and only a few fruits.
Packed with real unprocessed nutrients.
Naturally sweet and free of added sugar (or any kind of sweetener).
And generally free of any bad stuff.
This smoothie will energize you without giving you a blood sugar spike (insulin spike).
Easy to digest, this smoothie won't raise your blood sugar like those fruit smoothies often do.
Packed with vitamins and minerals to upgrade your immune system.
Loaded with raw enzymes to help your system digest food easily and thrive all day long.
You'll also get a wide range of phytonutrients from all the plants used (and even more health benefits).
Packed with soluble and insoluble fiber to keep your gut and whole body healthy.
Great for nourishing your skin, nails, hair, enhance digestion and generally great for the whole body.
Perfect when served at any time of the day.
It's one of those smoothies that you'll fall in love with.
Homemade is simply better!
Share this Yellow Superfood Smoothie with someone you know! And if you like it, don't forget to leave us a comments and a 5-star rating using the comments form below.
Are you on Social Media? You could even share a picture and tag it @refreshmyhealth on your favorite Social Media network. Sharing is caring!
What was the most delicious smoothie that you've ever made? Share it with everyone here!
Yellow Superfood Smoothie with Avocado, Berries and Vegetables
Print Recipe
Try this Yellow Superfood Smoothie supercharged with lots of "good-for-you" plants like avocado, berries and vegetables. Not only is it deliciously creamy, it's also packed with antioxidants, vitamins and minerals, enzymes and fiber, to support a healthy immune system. Blend and enjoy|
Ingredients
1

banana

(peeled)

1

avocado

(skin and seed removed)

1

leaf

kale

(stalk removed)

4

small

carrots

1

slice

fennel

(chopped)

2

tbsp

extra virgin coconut oil

3-4

tbsp

frozen berries mix

(blackberries + sea buckthorn)

1/2

small

lettuce

1

green apple

(or another type, seedless)

3-4

dried prunes

(seedless)

1

slice

lemon

1

tsp

cinnamon powder

1

tsp

turmeric powder

(or a few slices fresh turmeric)

1/2

tsp

Himalayan salt

500

ml

water

(or enough to cover the ingredients)
Instructions
Wash and prep all the ingredients, remove skin, seeds and cut plants as indicated.

Add everything into blender and cover with water.

Blend on medium to high speed until you obtain the desired creamy texture.

Serve fresh or store this smoothie in the fridge for about 3 days.
Notes
For this smoothie we use two different types of berries: blackberries and sea buckthorn. Since sea buckthorn can be rather hard to find sometimes, feel free to replace with cranberries or maybe another type of yellow berries.
Replacing sea buckthorn berries with cranberries will shift the color of your smoothie from yellow towards orange. Keep this in mind in case your smoothie will differ from my pictures.
---
Color: light brown to yellow
Texture: well mixed, thick, creamy
Taste: sweet and sour (use sweet berries)